Any suggestions on how i can lighten my bike up without loosing the Ti componentry?
Current spec and pics below (decals changed between shots!).
Thanks.
R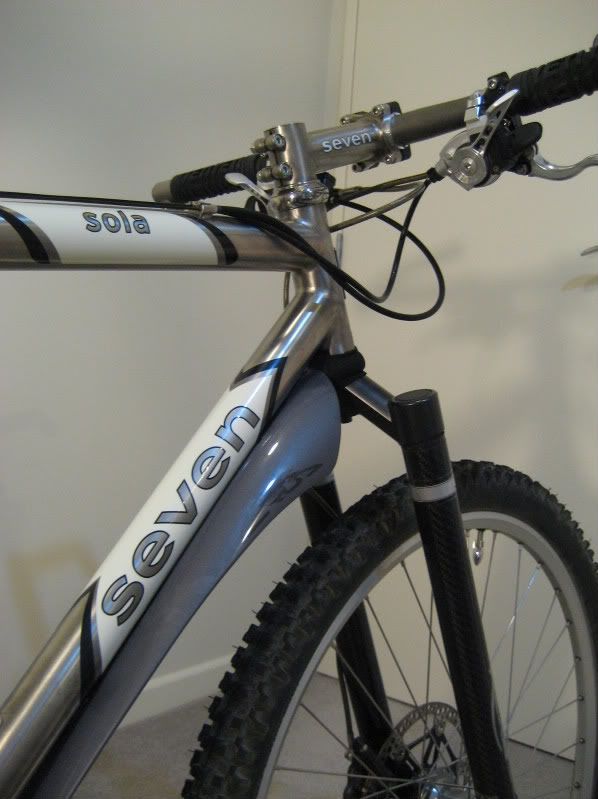 Frame: 2005 Seven Cycles 18 inch; Olympic Edition.
Forks: Pace Carbon/Titanium RC31
Headset: Chris King Titanium
Top-Cap: Enigma Titanium
Seat Post: Litespeed Titanium
Seat Post Clamp: OMNI Titanium
Bottle Cages: King Titanium (not pictured)
Bottom Bracket: FSA Platinum Pro Titanium
Saddle: Flight Titanium
Stem: Seven Titanium
Bar: Ibis Titanium
Bar Ends: Onza Titanium
Skewers: Salsa flip-offs Titanium
Bolts/fastners: Titanium
Rear cassette: Cycle Dynamics Titanium
Cranks: Middleburn Duo RS8 (2x9 setup)
Rings: Middleburn 32 + 44 (Hardcoat)
Brakes: Hope M4s (floating rotors, braided hoses, Goodridge sintered pads).
Shifters: SRAM X.O (trigger for rear mech, grip-shift for front mech)
Rear Mech: SRAM X.O
Front Mech: SRAM X-Gen (swap for ?XTR or ?Campag record)
Chain: SRAM PC 991
Cables: Gore Ride-on
Pedals: Crank Bros Egg Beaters stainless steel with Titanum axles
Hubs: Hope Pro II
Rims: Mavic 717 Disc Specific
Tires: Panaracer Fire Pro Kevlar 2.1
Grips: Yeti Speed Grips
Other stuff:
Carbon-fibre brake levers
Double butted spokes
Dave's Chain Device
Crud Catcher