Having problems with my old Colnago C50 so decided to get something new until I can get it sorted out.
Always fancied a S2 but don't like the latest paint schemes so got a 2012 frame for a good price. Have a few things left to do, will post again when it's finished.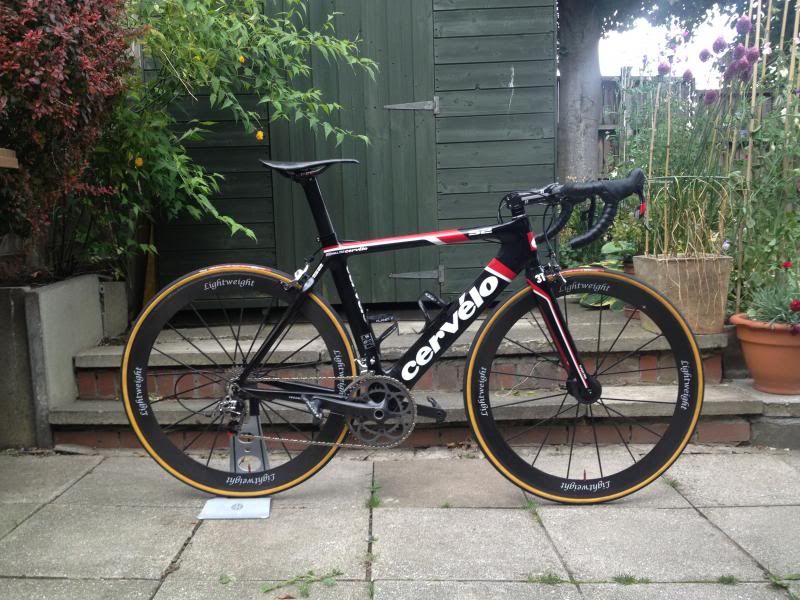 Cervelo S2 2012 54cm with standard frame, fork, headset, seat post and clamp.
Sram Red 2012 20 speed, other than:
- cranks are old Force as Ibought the wrong Red ones. To be replaced with Red Compact
- FD is also Force as I couldn't set the new one up. Will have to go into the shop to have it fitted!
- OG1090 11-26 cassette
Lightweight Standard GII with Vittoria Corsa Evo SC 23mm and Planet X carbon / ti skewers
Token X Wing saddle with logos removed
Look Keo Classic pedals
3T Ltd stem 110mm
3T Ltd Ergonova 42cm bars with Lizard Skin tape
Planet X Carbon bottle cages. Been threatening to change these for years!
K Edge Garmin mount
Weight as above 6.35kg. Hoping to get best part of 100g off with the cranks and FD.
Would love to get it under 6kg but think I'll struggle without spending big £s.