When I say other I mean this one:
viewtopic.php?f=10&t=100331
Also coming to an Australian Member.
OK, this year I turned 40 and like any self respecting MAMIL * my thoughts turned to rewarding myself with a suitable present - a new frame.
*MAMIL - Middle Aged Man in Lycra
Now, I am a big fan of LOOK and well as Time bikes, I like the way they ride, they are compliant, a little lazier in the geometry and you can do long distances and not be buffeted around, and besides - everyone has Italians, so these were both high on my list. My current ride, soon to be my wet bike is a circa 2003 KG 461Hr that I purchased "New Old Stock" from the local distributor for a bargain price in about 2006/7 (can't really remember now) By then it was a discontinued model, indeed an entire generation old, and they had pulled the fork for something else and so I got a great bike at a bargain price.
Picture coming but:
59cm KG461Hr
DA7800
DA7700 Brakes
Initially FSA SLK cranks, but swapped out for some compact Deda "D-Power"
Deda Fork
Deda Cockpit and
Had a Deda seat post, but swapped it out for a LOOK one
Look Keo's
Training on Reynolds Solitude with Gatorskins and Racing on Reynold Attack with Vittoria CX Tubulars
Sella Italia Thoork Saddle
Bottle cages and CS200Cad
It is a reasonably big bike with Classic geometry, proper 100% "hand made in France" lugged unit, it isn't a light frame but it is reasonably solid under my 195cm 90kg frame, it rolls at about 8.3 kg or well below 8 with the Tubs
Definitely good enough to race on and I did for the last few years.
But... The Bike is actually too small for me, I am cramped and that will some times show up in my breathing, especially where you cramp in the solar plexus
Also, being a sprinter, being tall (with lots of leverage) and reasonably heavy and powerful (1400W or so) I could definitely get a good sway into the bottom bracket and I know the bike was actually ready to be retired from racing. Fine for Training, Fine for a Wet bike, but just time
Initially the idea was to get a new Light modern stiff bike (maybe with a entry groupset) and transfer the gear I wanted to keep. Then I started looking and the bikes I wanted were actually still too small... and If I was going to pay out $5k plus on a frame that was unacceptable.
The 695 was a prime candidate, (and in Mondrian - thank-you very much!), but with the proprietary stem and shorter Top tube length than my current 59, I know it just wasn't an option (The XXL is 585mm, and the full extension of the stem is 120mm) 586SL would actually have made more sense
TIME's come up to 58 cm long, although at least the stem could be swapped for a 140mm
It was researching the TIME's that another French manufacture came up, some one I have heard of, but never seen in Australia - until now - CYFAC
And now Cyfac has an Australian distributor, and a retailer with Dan at Artisan Cycles ( artisancycles.com.au )
I quickly convinced myself i needed a custom bike, 20 years ago I had a custom Cecil Walker, but sadly they are a shadow of the old days
I started looking around at local builders (after all Baum, Llewellyn, Gellie are all top tier internationally) and some internationals, but came back to the romance of a French frame and Cyfac (this is not logical - i know)
Custom Carbon Fibre is attractive, almost unique, but way too dear for me, so the decision came down to Aluminum or Steel, with Carbon rears possible as well. As a race bike Alloy would be more logical, but it seemed more disposable, and once again romance has an effect... Once I saw this bike:
http://cyfac.com/Pages/Products/Product ... ctId=15042
I knew I needed to get XCR
The decision was made, the measure was done, the paint was chosen, then I had a big accident in a race so everything was delayed - bummer
I came off sprinting for the win in a local Handicap, 3 of us I was the fastest, pretty much a sure thing, then down hill at over 60kph, chain dropped and I went over the bars, broke my clavicle in 3 places, coarse open chip roads also tore the crap out of my hips, knees and shoulder (which is still causing issues because it is delaying the surgery) and not to mention my head, which now has a bald spot that previously didn't exist... lucky I had a helmet on. This resulted in the order going in just before Christmas, as opposed to the beginning of December.
The original intention was for me to pick the bike up in France as I was going on 6 weeks holiday, but delays (above) at my end and the factory put it about 8 weeks behind, ah well, this is a long term love affair anyway!
I DID however get to visit the factory meet some key staff, including Bernard, who would be welding my frame, just like he did for Pantani, Indurain, Viranque...
Oh and the paint shop is impressive with their detail
Here are pictures of the frame in build: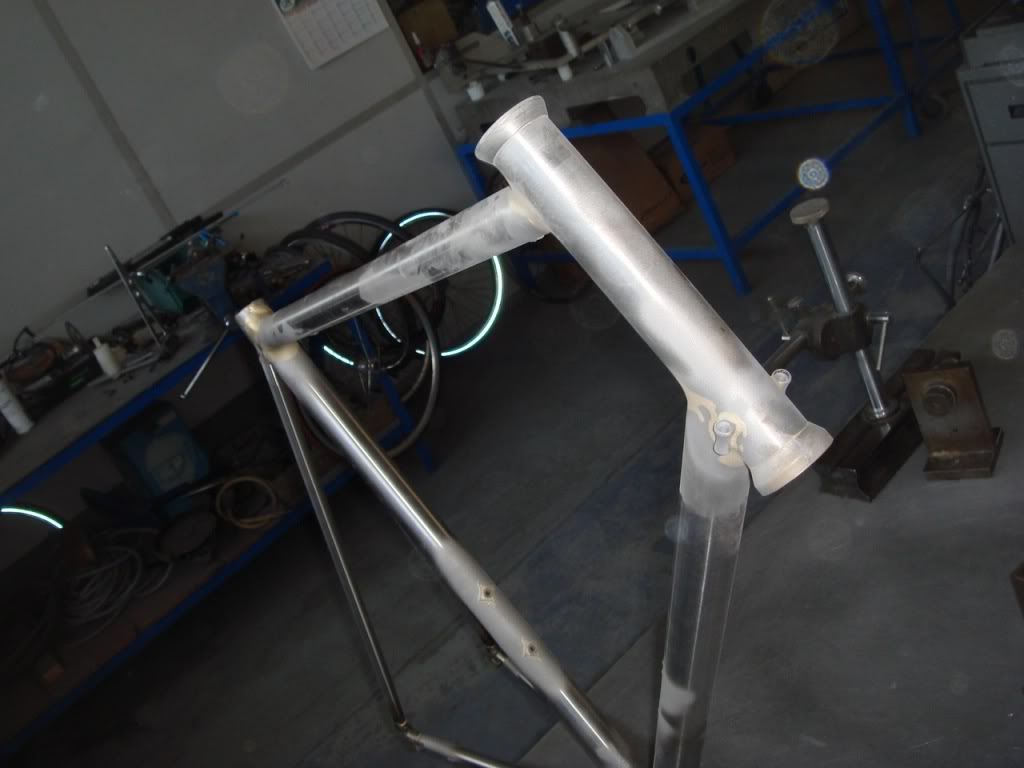 As you can see the rear has literally just been brazed in those pictures
I loved the polished look, it wasn't done in house, they send it out and there is a small surcharge for it.. though nothing like Lynskey charge for polish!
I also wanted a little bit of extra colour, to tie in some of the accessories and highlight some of the silver and braze (gold) BLING!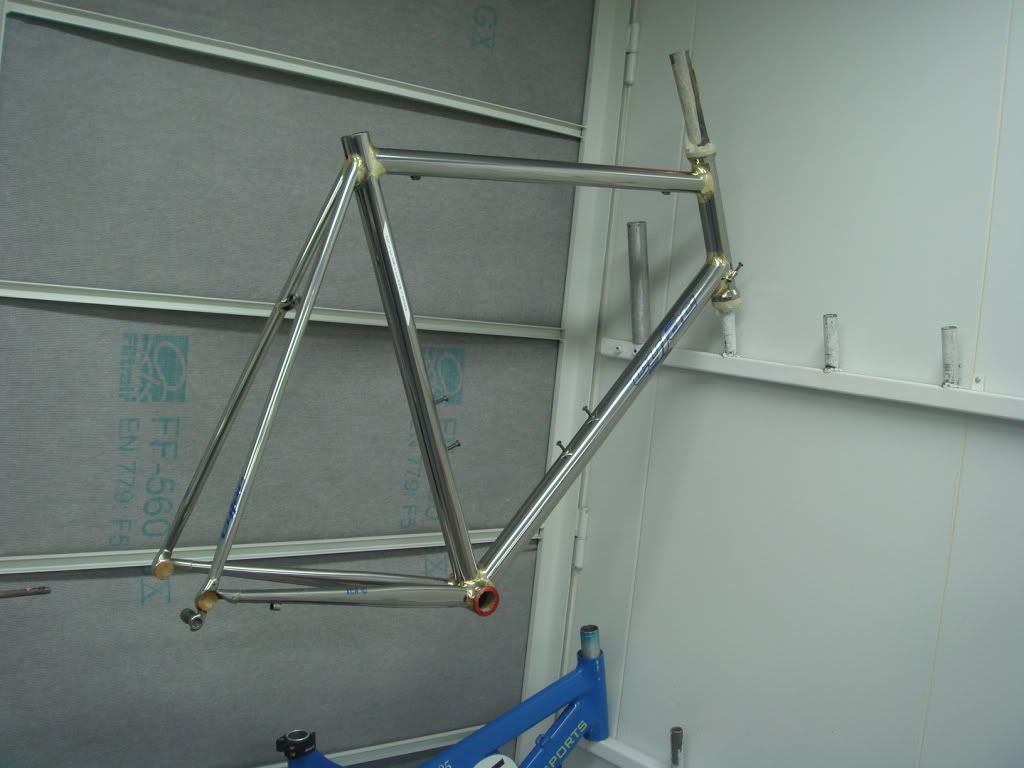 I am not 100 sure the while with black writing works as intended, the writing doesn't stand out enough, once the seat goes on it will change from this, though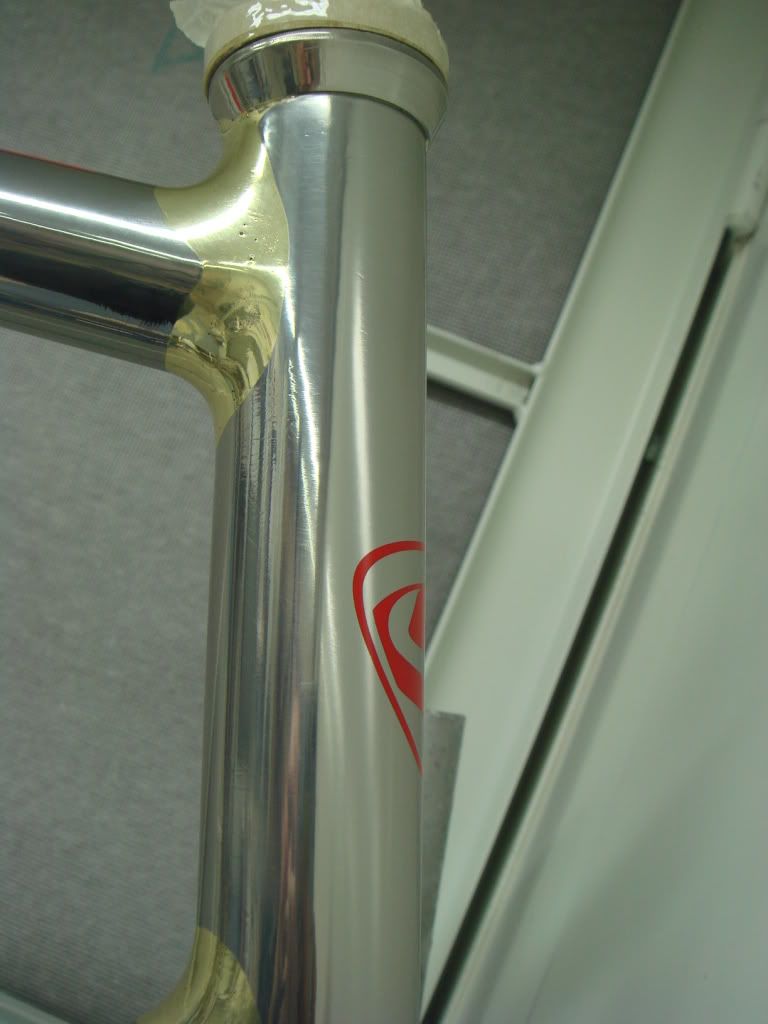 I thought about having the cyfac solid (like on the rear stays) but think the outline is better in this size
My favourite detail, by far
They then put a clear coat over everything, purely for longativity
I am also getting a custom painted fork, cages, and seat post, but will post those up later, again, the detail is it key
The delay has allowed a bit of change to my build, as I was able to save (6 week euro holiday notwithstanding!)
I am now swapping out to Campagnolo, and Chorus 11 was chosen as a balance between performance, weight and cost. I bought it at an obscene price while in Italy around 30% less than PBK/Wiggle/Ribble/anyone else
I had to convert my Hubs for the Tubs, which Reynolds sell a kit for. I had a spare seat, I won at a club raffle, pedals (Speedplay CrMo)were at a silent auction for very cheap
So the only thing to go are the Bars, which I have gone for 3T Rotundo LTD, I am over shallow bars,
Lastly the stem, which I am tossing up, The shop has a few sizes for me to try out but limited to 120mm on the Arx LTD, while the Team is available up to 140mm, if I get the Team it will be in Stealth/Black
Wow, monster post - More to come