Is there a trick to installing and releasing KCNC Ti Skewers?
Whenever I have to remove them, I find myself having to fiddle with them to get them just right.
Personally, I suspect I may be over-tightening them.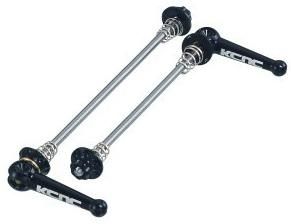 I'm thinking about going back to the OEM 2011 Mavic Ksyrium Elite Skewers (130g) which
never gave me any problems. Easy on/easy off. And, I never felt unsafe with them ever.
Thing is, I've lost one of the OEM Skewers so I'd probably have to get another set which
I'll be totally fine with for the sense of security they provide along with the ease of use.
It would slab 85g "more" back on my bike, but it's one area where I don't feel like taking chances.
Before I get out of the KCNC Ti's, I want to be sure that their difficulty in installing isn't "user error".