Well I saw the belt drive DisSent that Peter from Misfit Phycycles had developed and I was very intrigued by it. Spent some time on the phone with Peter and decided to take a hit for the team and get one. Getting this together took a while but from its maiden voyage I will say it was totally worth it. Kudo's to Ian from Spot Bikes, the American Gates Distributor with all his help and answering a 1001 questions I had.
Most of this build was stripped down from my other Misfit. What was new to this was the frame, belt and pulleys. From Peter's advice I decided to go with the new Gates Centerline Belt system. The Centerline makes alignment issues not as critical but I do have the pulleys lined up correct and Gates thoughts on larger pulleys allows less tension on the belt with no skipping. The pulley sizes are 46 tooth front and 28 tooth rear. Gates is coming out shortly with a 26 tooth and hopefully they listen to me and work on a 27.
The 27 would be a perfect match for my 34, 20 combination chain drive set up.
Gates also has developed an iPhone, iPad, iPod touch app that does many things including tension your belt by measuring the frequent of the belt in hertz by plucking it like a guitar string. This worked very well and I initially set mine at 55 hertz. After the initial ride every thing settled in and required re-tensioning which Ian told me would happen but once settled in I should not have to do this much or at all for a long time after this. FWIW 55 hertz is not that much tension and I did not experience any ratcheting even though I tried my hardest to make it happen.
Nothing happened on the first short dial ride. Everything was perfect.
The first ride was in a local forest preserve with about 10 friends and team mates hitting 15 miles of single track, fire road and some nice climbs including climbing a grass covered earthen dam by a lake. The was very steep and if it was going to ratchet this would be where but it didn't. The belt ran silent and engagement was instant. I'll admit I was concerned about the way the dropout holds the frame together for the belt but this worked very well. Hard cornering was a very solid hook up with the rear tracking perfectly.
I will give a updated review after I get a bunch more hours on the "new toy" but for now I'm loving it and felt it was worth the money and time spent.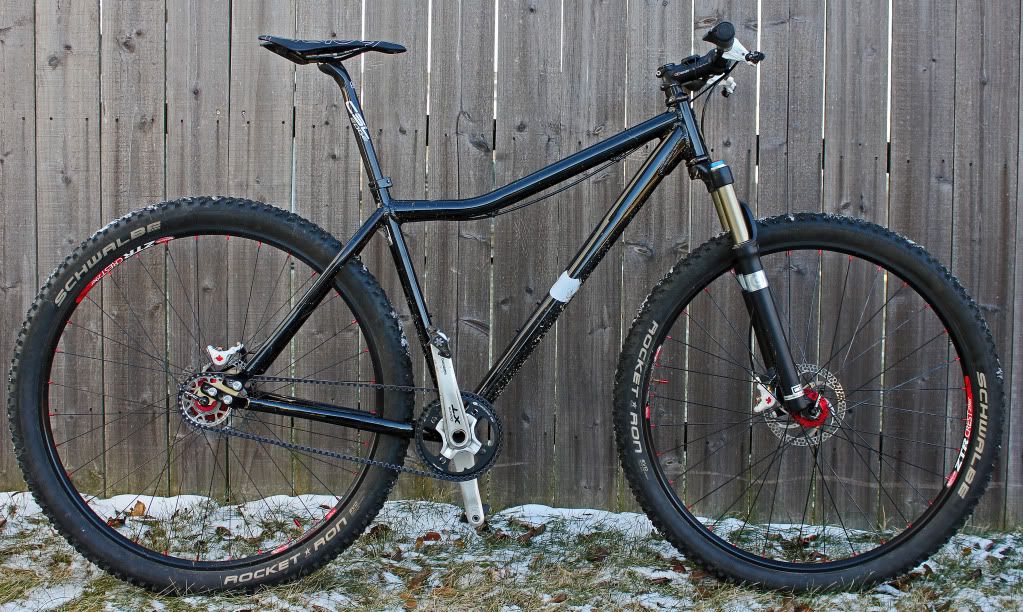 I felt it appropriate to show it dirty after the first ride.
PS Somehow I buggered up the sticker on the right side hence the apple. A Mr. Stupid move.