A little bit of history first. Unlike previously, in 2008 racing season I discovered that
I'm mentally and physically ready for time-trialing and first time did a TT race properly.
I enjoyed it too. I finished 2nd in Bosnia & Herzegovina National Championships in Elite
category. The plan was to go one place better in 2009.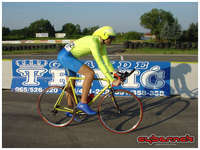 Unfortunately, in 2009 I got ill during the first part of the season and never managed get in
shape that year. In 2010, I even decided to build a dedicated TT bike. However, a twisted
ankle nailed me to bed for a couple of months, so that was another season put to waste.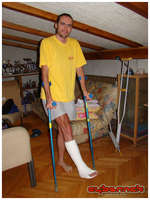 We are in 2011 now. Third attempt at the National title and time to build a new old-stock
2008 Scott Plasma frameset I bought last year. It's pink, as it's a Contessa (women)
model, but with normal men geometry
.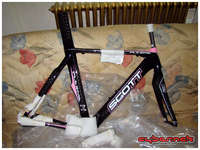 A quick mockup using my Spinergy wheels. The plan was to make red stickers to cover
the pink bits and redo the wheel stickers in a different style too.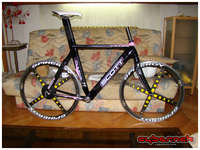 Full-size photos:
http://photos.cybernck.com/plasmanck