I know some of you get Frankie-B's (and the team's) newsletters from Cho Oyu.
Still, for those that don't, I think it is really worth reading the newsletters and looking at the photos.
This is an
incredible
undertaking by a wonderful Forum member, who is now preparing to do a summit attempt (double the height of his previous highest peak). The writing is terrific and the photos are really great.
I thought I would compile the newsletters to date here, in one place.
I added some nice photos I found of Cho Oyu in Newsletter #4.
I know this is a long post. But it is worth it, imho.
Go Frankie!!!
_____________________________________________________________
Frank
Name: Frank Berkhout
DOB: September 1, 1980
Profession: Fitness instructor
Hobbies: Mountain biking, sports climbing and mountaineering
Favorite climbing area: Sports: Les Ecrins. Alpine: Chamonix
Favorite mtb trails: Houffalize (Belgium) Groesbeek (Netherlands)
Highest mountain So far: Mt. Blanc du Tacul at 4,248 m.
Least favorite mountain: Looking back, this is tough. If I dig really deep I think it was the tour from Cabane de Trient in Switzerland back to Chamonix (France). For whatever reason I got sick and threw up on the glacier, while we (I and my climbing partner) were roping up. On our way back to Chamonix we had to descend a (near) vertical 30 meter cliff. There was no room to place any protection so we had to descend it without any protection. We had to climb to the glacier below. Most of the places we tried to stand on broke free when you put any weight on it. We had quite a tough moment there.
Ambition: Really? Ehm, long term: to summit all fourteen 8,000 meter peaks and return safely from them. Short term: To have fun in live and maybe become a physical therapist.
http://www.chooyu2006.nl/en/index_eng.htm
Welcome to the 2006 Dutch Cho Oyu Expedition
Cho Oyu literally means the Turquoise Goddess. Standing 8,201 meters tall, it is the sixth highest mountain on earth and one of the fourteen 8,000 meter peaks, approximately 20 miles or 30 kilometers West of Everest and right at the border of Nepal and Tibet. In September and October 2006 a Dutch expedition will attempt to summit Cho Oyu from the Tibetan or North side.
Fund raising objective
We will do more than climbing. In October 2004 during the Dutch Baruntse expedition Pasang Sherpa, one of the high altitude porters, died of high altitude sickness. To support Pasang's family as well as to improve working and living conditions of mountain porters generally, the expedition members organized a non-profit foundation, the Education and Family Support Nepal Foundation, so as to raise funds. The 2006 Dutch Cho Oyu Expedition supports EFSNF by creating awareness for the porters' plight and raising funds. See "Fund Raising" for more details.
Itinerary
The 2006 Dutch Cho Oyu Expedition will follow the normal route to the summit. At 5000m we will set up base camp, to be followed by an Advanced Base Camp (ABC) as do most Cho Oyu expeditions. ABC will be located on a glacier at an altitude of 5,800m,1,000m higher than the summit of Mt. Blanc! From ABC we will set up three high camps on the mountain. Camp 1 will be at 6430m, Camp 2 at 7160m and our last camp, Camp 3 will be at 7560m. From Camp 3 we will try to summit.
_____________________________________________________________
Newsletter #1
August 12, 2006.
Peter and Frank take delivery of the RBGAN satellite
modem from one of our sponsors, KSC, based in Eindhoven, Netherlands. We get
a demo in the backyard - it works. Just to be sure, we do another test back
at Frank's place. As expected, it still works. The RBGAN will allow us
access to the internet (via Inmarsat satellite) - which means mails to and
from our website administrator, and perhaps even more importantly, weather
forecasts
_____________________________________________________________
Newsletter #2
September 1, 2006.
After a long flight, with several stopovers (the first of which was at Heathrow, with endless security checks and a Gulf Air flight that was several hours delayed) last night we finally landed in Kathmandu amidst a beautiful sunset. Tendy and two of the high altitutude climbing sherpas (Santa and Pasang) picked us up and took us to our hotel (Moonlight Hotel) through the usual chaos of millions of honking cars and motorcycles, pedestrians, rikshas and bicycles, and then a few stray dogs and cows. The cacophony of sights and sounds and the smell of diesel and gas exhaust fumes is almost overwhelming - always great to be back in Kathmandu. Afterwards we had dinner at the Rum Doodle bar, which is a mountaineering "hall of fame" - on the first floor at the "Everest Summitteer Club" board you can find autographs of all the living and past legends like Sir Edmund Hillary, Reinhold Messner, Ed Viesturs, Anatoli Boukreev, Pete Athans, and many many more. There is a tradition that exp
edition and trekking groups leave a size 60 cardboard foot, decorated with signatures, paintings, and what all. Hopefully two months now, ours will hang there among the others on display.
This morning we met with Tendy, Santa and Pasang to talk through logistical and other details (baggage, itinerary, number of high camps, stoves to be used, radios, weather reports, high altitude food, et cetera). We already know Santa and Dawa (who was not here) from previous expeditions. They make up a strong and dedicated, which will make all the difference in our chances to make a successful summit bid. We used the afternoon to go for some last minute shopping (snacks for the high altitude camps, heating pads, et cetera). Ronnie and Bram will join us tomorrow (Saturday). We are all in high spirits and look forward to the things to come.
Peter
_____________________________________________________________
Newsletter #3
September 4, 2006.
We are busy packing our daypacks for our flight to Lhasa, early tomorrow morning. From Lhasa we will drive back to Tingri where we will meet the sherpas. They will travel by truck directly to Tingri and will take all the rest of the gear with them.
On Saturday we were interviewed by a representative of Miss Elizabeth Hawley. She is something of a legend among climbers, having painstakingly gathered every detail about every mountaineering expedition that has been in the Himalaya for the past several decades which are now available in "Himalayan Archives" (itinerary, how many climbers, names and professional occupation, whether any auxiliary oxygen is used on the climb, how many high camps, et cetera). Don't worry about finding her - she will find you when you are in Kathmandu. Later on Saturday we are joined by Bram and Ronnie, and later in the evening Tendy treats us to a welcome dinner for the entire team (including sherpas and kitchen staff) at his favorite Korean restaurant (highly recommended). Afterwards some of us go for a night on the town, ending up at Sam's Bar.
On Sunday morning Tendy gives us our tickets for Lhasa as well as some practical advice ("Never fight with the jeep drivers, the yak man or the liaison officer - no matter if you are right - they always win"). In the afternoon we hike up to the beautiful Swoyambhu Monastery where we are witness to several Buddhist prayer and blessing rituals. After picking up bags full of souvenirs, and escaping the clutches of many more souvenir sellers who will just not take no for an answer, we manage to get back to Thamel alive and well. Later at night we have an excellent dinner at Kathmandu Guest House (chaotic service but great food). We have gained several pounds over the past few days - it is about time to head out for the mountains.
Peter & Frank
_____________________________________________________________
Newsletter #4
September 9, 2006.
Whoever has seen the movie "Seven Years in Tibet" is in for a reality check when entering the town of Lhasa. During 50 years of occupation the Chinese have left a lasting impact on Tibetan life. Instead of an ancient Tibetan town, Lhasa is a modern town with four lane highways, shops and commercial signs all around - many of them in Chinese. Only when you get to the inner city, the old traditions of prayer flags and endless streams of devout Buddhist burning juniper branches in stoves are to be seen - closely watched by Chinese police and military that seem to be everywhere. The Jokhang temple and the Potala Palace (which is now turned into a permanent museum of Tibetan and Buddhist art and culture) are very impressive. The Tibetans are extremely friendly and hospitable, and always eager to talk to foreigners - as limited as their command of English (or, for that matter, our command of Tibetan or Chinese may be).
It is painful to see that the authentic Tibetans get all the lowly paid jobs, whereas the Chinese immigrants have the best paying jobs. On the other hand, the Chinese have made significant improvements in the infrastructure and have made significant upgrades in terms of modernizing housing and telecommunications. Major road constructions are scheduled for the Friendship Highway - resulting in much faster and more convenient ways to travel through Tibet.
Tomorrow we leave for base camp, and then for advanced base camp in two days' time. Some of us are suffering from the high altitude, resulting in headaches, colds, and a slight lack of appetite. In days to come, as we will further acclimatize, these symptoms will hopefully disappear with time.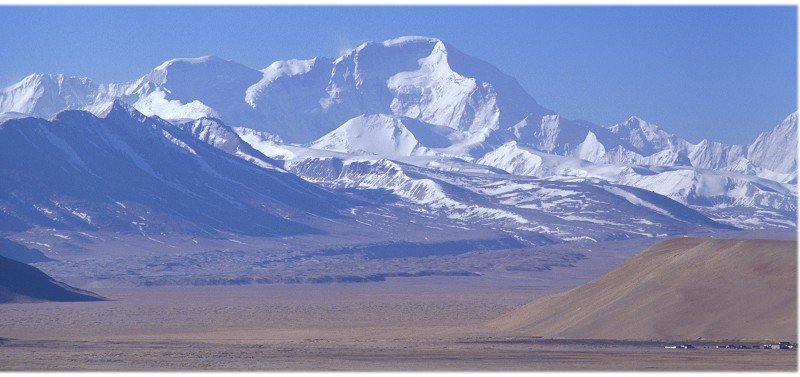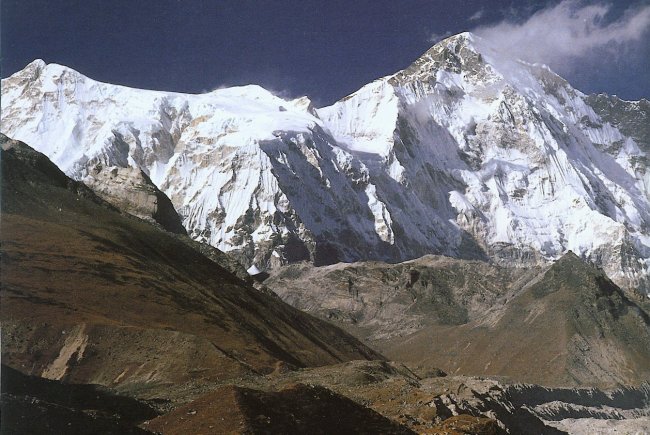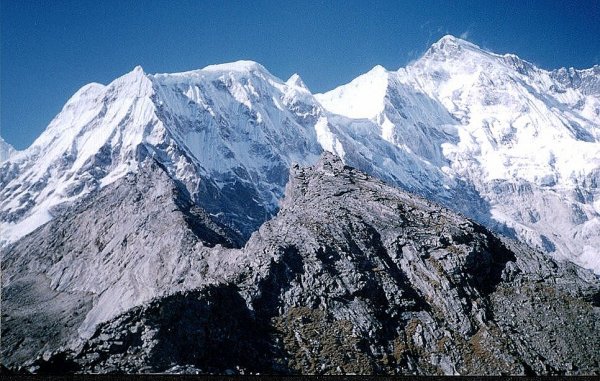 _____________________________________________________________
Newsletter #5
September 14, 2006.
ABC of the ABC (Advanced Base Camp)
A= Acclimatisation. After a fast ascent to 5700 meter were all feeling reasonable good.
B= Bathing. Finally we can wash our clothes and ourselves!
C= Chaos. Because there are way to many camps in this small spot.
From Tingro we drove to Chinese Base camp in under an hour. During the drive we had our first fantastic view on the Cho Oyu. We stayed two nights in Chinese Base Camp (4850 m) for acclimatisation and climbed to 5650 meter, the height of the Elbrus, the highest mountain in Europe. From Chinese Base Camp it was a four hour walk to Intermediate Camp. Again we didn't go any further in order to acclimatise our bodies. We woke up in a white world and loaded our 27 yaks with our 1636 kg of gear. After five hours climbing on a lateral morene we arrived at the Advanced Base Camp (ABC), our home for the coming weeks. It was quite a shock arriving here because there are about 45 expeditions and some of them even took power generators with them! Fortunately our camp has an amazing view on Cho Oyu. Today is a compulsary relaxing day and everybody did some washing. Tomorow a Lama (Boudhist priest) will make a Puja. This is a ceremony for pleasing the mountain gods. After this we can start the real climbing!
Greeting from the whole team!
Dirkjan
__________________________________________________________
Newsletter #6
Friday, September 15.
In the morning we have our traditional "puja", a Buddhist ritual where a Lama seeks the blessing and the good spirits of the mountain Gods. In the process our climbing gear (boots, crampons, ice axes) and we personally are blessed, as well. The lama recites religious chants and we burn juniper branches. The entire ceremony takes about an hour.
Saturday, September 16.
Peter, Berry, Tom, Ronnie and Willem leave for Camp 1 at 6400m. The final part of the journey takes us across the "killer slope" - about 400 metres of up to 60 degrees spree of loose gravel and stones, ending up in snow and ice. Quite a finishing touch to an already long trek across moraines, which offers a magnificent view of ice pinnacles and massive mountain ranges left and right. Camp 1 is built on a narrow ridge with steep ridges on both sides, leaving little room to set up camp. Given that there are over forty expeditions on the mountain this season, it is pretty cramped up there and you have to watch step as well as be careful to get clean snow for cooking ("don't eat the yellow snow").
Sunday, September 17.
Tom, Berry, Ronnie and Willem decide to spend an extra night in Camp 1 while Peter descends to ABC. Bram suffers from an intestinal infection and is forces to turn around halfway to Camp 1 at 5900 meters. A nearby French physician prescribes antibiotics, to be taken during the next five days - needless to say that Bram is unhappy. Frank and Dirkjan do not feel up to the killer slope yet and decide to turn around as well at 6029 meters.
Monday, September 18.
Tom, Berry, Ronnie and Willem descend to ABC and the entire team is back in ABC.
Tuesday, September 19.
Dirkjan, Peter and Frank again leave for Camp 1, to be followed by our sherpas Santa, Dawa and Pasang who intend to set up Camp 2 at 7100 meters. Ronnie, Tom, Berry and Willem stay in ABC to regain strength. Bram is restless and has difficulty coping with the five day antibiotics course; he cannot wait until the 24th, and the last day of his course, is over. Dirkjan, Peter and Frank arrive in Camp 1 safe and sound and enjoy a "Globetrotter" meal, notwithstanding any adverse effect the high altitude has on their appetite. The altitude is having an effect on electronics, too: MP3 players and anything electronic with a hard disk give out at altitudes above approx. 5500 - 6000 meters (technical note: hard disks are a sealed "black box" which operate in a vaccuum, the difference in air pressure inside the black box and the atmospheric pressure above 6000 m causes all types of mishaps). The laptop from which these updates are types, is noticeably slower, too.
____________________________________________________________
Newsletter #7
Friday, September 22.
Yesterday Berry, Ronnie and Willem left for Camp 1. Peter has climbed from Camp 1 to the icefall at 6700 meter, after which he has descended to Camp 1 and, after spending the night at Camp 1, back to ABC. Berry, Willem and Ronnie spent the night at Camp 1 and today started for Camp 2. Halfway Ronnie decided to turn around and is now back in ABC, joining Tom, Dirkjan, Bram, Peter and Frank who spent the day playing cards. The weather is still foul, with moderate to heavy snowfall and winds. Our weather forecasts indicate that this weather type will dominate over the next few days. After the weekend the weather will likely improve. If so, more of us will attempt to climb to Camp 2 to spent the night there so as to acclimatize.
_____________________________________________________________
Newsletter #8
Monday, September 25.
On Thursday 21 September Ronnie, Willem and I (Berry) set off for Camp 1, notwithstanding the deteriorating weather. Our planning is to climb to Camp 2 on the next day. The next morning (22 September) the weather is still not very promising. None the less we decide to strap on our boots, crampons and climbing harnesses. The first time during this entire trip. Ronnie has spent a lot of time testing his equipment and setup and fears he will not be able to reach Camp 2 before dark. Accordingly he decides to turn around and head back down to ABC.
The route from Camp 1 to Camp 2 is very steep right from the start. Sherpa's from other groups have fixed ropes on most of the route; however we do not need them yet. After three hours of intense climbing we reach the Icefall, the most technical section of the entire climb. The icefall is a near vertical ice wall of 60 meters height. With fixed ropes on two sides. (left to ascend and right to descend.) The ice and snow to the left of the ice wall are very mushy and our crampons have barely, if any, purchase on the snow. Accordingly ascending is extremely strenuous. (especially at 6,700 meters) After the icefall we have to negotiate several more steep sections. Finally after eight hours of climbing we reach a stormy Camp 2.
We quickly scramble into our tents and start melting and cooking snow and getting ready for the night. Sleeping at 7,100 meters is an altitude record for both Willem and myself. The storm is relentless and all through the night our tents are buffeted ferociously, allowing little sleep. The next morning, Saturday 23 September, the weather still has not improved. It is foggy, windy and all of our tracks of Saturday are wiped out. Yet we decide around 9 am. To decend to a warm and relatively comfortable ABC. We have to rappel at a number of places and the rappel down the 60 m. vertical icefall is spectacular. Rappelling down at 6700 meters is something one doesn't do every day. Camp 1 is really stormy. After a long day we finally reach ABC - Tired but happy to be back "home".
Berry.
_____________________________________________________________
Newsletter #9
Monday, September 25.
Because of heavy snowfall that fell here in the past few days we weren't able to charge the batteries of the Laptop and the modem. Therefore we weren't able to send constant updates.
Frank
_____________________________________________________________
Newsletter #10 - First Summit Attempt!
Wednesday, September 27.
Peter & Frank Summit attempt.
Out of 54 expeditions that are or were on the mountain this fall, some 11 are left (including ourselves) that seriously contemplate making a summit attempt. Earlier, many expeditions were waiting until one of the larger expeditions (the Chinese, Himex) would break trail and fix ropes.
With the massive snowfall during the past week however, some of these larger expeditions have decided to abort summit attempts (Himex, IMG) while others (the Chinese group) do not seem to have clear intentions to summit at all or at least in the near future.
At the same time, the weather has changed back to sunny and clear skies, and most weather forecasts indicate clear weather with relatively low winds at least throughout the rest of this week, if not also for the following week. In light of the foregoing developments, yesterday leaders and sirdars (i.e., leaders of the Sherpa teams) of most of the smaller expeditions (including but not limited to ourselves) have agreed to combine forces so as to prepare for a summit attempt this weekend.
Each expedition will make make available one or two Sherpas who in the course of Friday and Saturday will help to break trail and fix ropes on the more exposed or difficult parts of the route (Icefall between Camp 1 and Camp 2, Yellow Band above Camp 2). First of all however, two highly experienced Sherpas from Alpine Ascents will judge whether, in light of considerable snowfall of the past week, the mountain is safe for climbing (avalanche danger).
If they give the green light, then on Friday we will start climbing to Camp 1, to be followed by a climb to Camp 2 on Saturday, for a summit attempt this Sunday, 1 October. Should the Sherpas deem the mountain too dangerous yet, then most expeditions will probably abort their summit attempt and leave. In that instance we will wait and see - after all, in theory we have still until October 6 to launch a final summit attempt, and the snow may further stabilize next week. Let's keep our fingers crossed however that things work out this weekend - after all, strength lies in numbers, certainly in this instance.
As soon as we get word from the Sherpas we will keep you posted.
Peter & Frank
ABC after snowfall.
View of Cho Oyu.
Puja.
Camp 1.
(This last pic is really amazing, imho...well, they all are!)