This is my second BMC bike. The first one was basically given to me, so it was not brand new and eventually the dropouts in the frame has failed and it is gonna be replaced under warranty.
Since I'm racing for local BMC dealer the new bike needed to come from BMC brand. SLR01 is way to expensive and SLR02 is very similar to SLR01, the problem was that SLR02 is not sell as a frameset. So I have bought SLR02 Ultegra, because of nice colour scheme. I have stripped everything down and starting to build my own bike. It is a bike for racing - I wanted for the parts to be reliable, stiff and relatively cheap. So no carbon handlebars or stem.
Groupset needed to be electronic - I was on my 7970 Di2 for too long. Every time I needed to switch for a manual gruppo I appreciated how great the Di2 actually is. You dont even know that there is something like FD/RD and you can completely focus on the race. Ultegra Di2 6870 is probably almost as good as Dura-Ace, but from my experience Dura-Ace will handle racing demands much better. And the look of 9070 is simply stunning.
I was disappointed with my Zipp 404 - I mean the rims are awesome. I even love the way the 404 looks and what a sound they make, but the hubs? Oh god, never again. It was the old model from 2011, but friends had problems with 2013 hubs as well. So I was looking for something more bombproof and hopefully more rare. Contacted local dealer for Veloflex/FMB/A. Dugast and I have actually discovered he is selling Corimas as well. Get better deal on "S" version (Different hubs and spokes) and I they are great. Stiff, butter smooth hubs and handle road buzz quite well.
Didnt really have a time to make nice photos, so just this crappy one.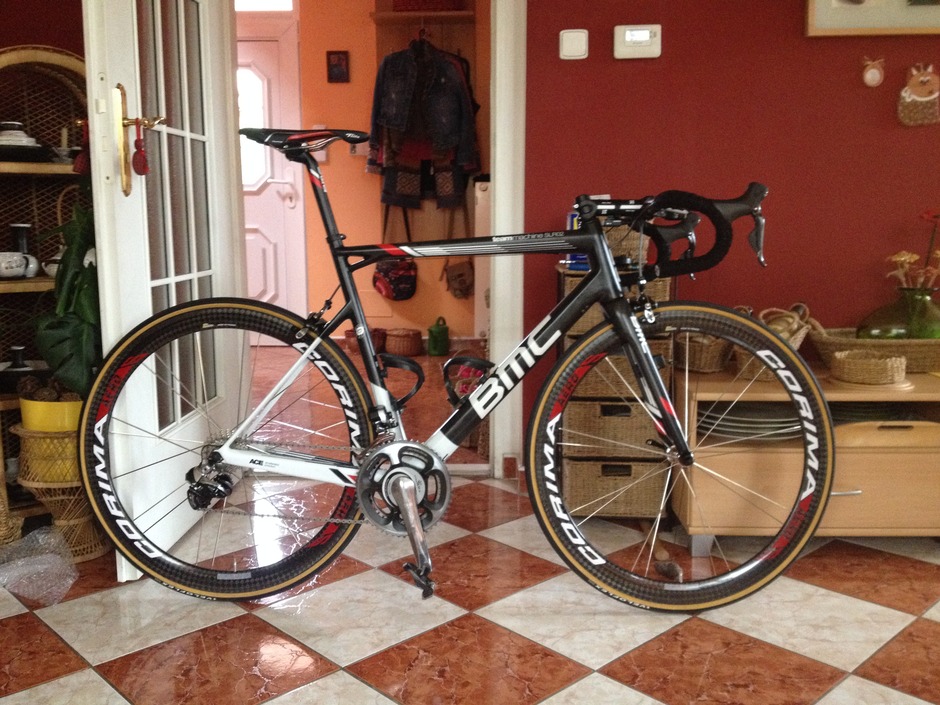 The parts eventually shape up like this:
Frame:
BMC SLR02 57
Fork/Headset:
BMC
Crankset/Bottom Bracket:
Dura-Ace 7900 SRM 53/39 (7800 Arms)
Drivetrain/Chain:
Shimano Ultegra 6800 11-25 // Shimano Dura-Ace 9000
Derailleurs/Shifters:
Shimano Dura-Ace Di2 9070
Handlebars/Stem:
3T Rotundo 42cm // 3T ARX 130 -17°
Saddle/Seatpost:
Selle Italia Flite Flow // BMC 18mm setback
Brakes/Pads:
Shimano Dura-Ace 9000 // SwissStop Yellow FlashPro
Front Wheel/Hub/Tire:
Corima Aero "S" // Veloflex Roubaix 25
Rear Wheel/Hub/Tire:
Corima Aero "S" // Veloflex Roubaix 25
Accessories:
Cables: Shimano
Computer mount: FlyBar 2.0 for Garmin
Tape: 3T Team Tape
Bottle Cages: Tacx Tao
Hope you like it!
// Typos and photo