Hey guys, so I've been lurking around for some time and figured it's about time I introduce my self and get a bit of a build thread going so it encourages me to document each individual weight making future upgrades easier. First off a bit about myself.
I am almost 22, 6'2" and 67Kgs. Been riding my whole life mainly doing social and distance rides. Any races I entered where mainly distance ones and just rode them for completion. I've outgrown my old ride long a go but just never replaced it being on the poor student budget. I just recently completed a 6 series race and loved it! So will definitely be doing more and am now in the process of building up a bike. I am currently on a 26er and always get told I should be on a 29er with my build so I am very excited to experience what all the hype is about with the 29er.
Here is what I am moving up from, was a little bit fancy back in its day. 10.5Kg's: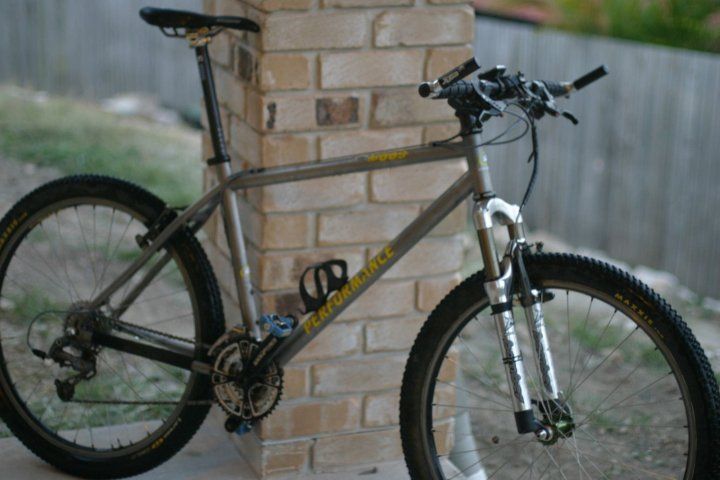 The bike has a budget of $5000AUD and my goal is to make it a light weight race ready bike under 8.5kg. But the catch is I need to keep it durable enough that I can ride it as my training bike with no hassles. Some people look at me crazy putting $4500 of componentry on a $500 frame but it makes perfect sense to me. Chinese frame manufacturing seems to have proven itself over the years with many happy customers and by going this route I can get a nicer wheel set which is where I hear it really counts. Where I live an 8.6kg (w/o pedals) Scott RC 900 is $8200.
The frame I have chosen is the IP-106 from xmiplay. I will post a picture of it's weight when it arrives in a few days. It is a 20" and I am expecting it to weigh in at 1330grams, which isn't the lightest when comparing it to a scott. But will make a nice 400 gram weight saving one day down the track. I personally really like the visual lines of this frame (basically a direct copy of the focus raven), and the geometry looks to be quite nice, very similar to the focus raven as well. Chainstays are on the shorter side at 440mm and HT angle is .5 degree steeper.
Here is my current build spec to go along with it, although it is still a work in progress.
Headset: Ritchey pro drop in is42, is52 tapered w/ mtzoom topcap/bolt - 90
Seatpost clamp: Mt zoom - 5
Rear axle: Shmano e-thru 142x12 - 90
Fork: 2012 RS Sid world cup rct3 - 1482
Front thru axle: Sram 15mm - 76
Drivetrain
Shifter: Sram XX1 grip - 80
Derailleur: Sram XX1 - 241
Cassette:Sram XX1 - 265
Chain:Sram XX1 - 232
cranks:Sram XX1 - 582
Cable housing: Stock Gore - 34
Cable: Stock Gore - 16
Bottom bracket: wheels man. bb30 - 45
Controls
Stem: Ritchey c260 wcs carbon tuned w/ ti bolts - 120
Bars: Mt zoom 740mm chopped to 660-700mm - 150
Grips: Extralite foam - 14
Seatpost: Chinese carbon - 186
Saddle: Sanmarco chinese replica carbon - 100
Pedals: Eggbeater 3 w/ wade ti spindles - 215
Brakes: Formula R1 levers w/ rx callipers w/ mtzoom ti caliper bolts - 470
F rotor: Stock formula 160mm - 90
R rotor: Ashia ai2 - 66
Wheelset
F Hub: Extralite hyper J bend 15mm - 85
R Hub: Tune kong 142x12 XD - 215
Spokes: Sapim cx-ray - 300
Nipples: Dt swiss alloy - 20
Rims: light bicycle wide carbon 29er 30mm - 770
Valves: american classic - 4
Tape: stans yellow - 10
Sealant: Stans - 100
F Tyre: 2.25 rocket ron - 520
R Tyre: 2.25 rocket ron - 520
Total weight 8.494kgs with pedals +/- a bit for variation.
This still leaves me a little room for upgrades down the track with tune thru axles, nokon gear housing, powercordz cables. If braking power is good then ai2 rotor up front. If I was to go super WW then I could do those above mods and furious freds and get under the 8kg mark with gears and suspension incl pedals. I am happy with an 8.5kg bike with a 1400 gram wheelset that should handle everything I throw at it, heard good things about every component selected for the bike. I am happy for you guys to pitch in with ideas on further weight saving and provide feedback on the build.