They came up for air at the TDU last month which piqued my curiosity. Posted some footage of pros smashing some KOMs in game. Think even Sagan lent his mug for selfie. Figured they'd be further off from a working demo but seems that they've made solid progress. Got a response from Michael Rogers (he's a founder at VirtuGo) on their beta forum about training and it seems like these guys are on top of the game in terms of their direction. Basically they've said that they want to be something between Zwift and TrainerRoad, so I pressed them on that point and yes, they will be taking training seriously - they have a team of sport scientists there and want to take professional training techniques to their end user.
Which is great news for us because Zwift is pants for training plans. Personally I was running TrainerRoad with Zwift, and that's pretty common now (you even see guys with TrainerRoad next to their name in game on Zwift). Two subs, two apps, two devices to get a workout in. Clearly not the most elegant solution. It's also costly, especially if you have more than one person in the house doing this (like us).
Had a go at the VirtuGo beta tonight, seems to be running well with the Neo, great connectivity, no drop outs, plug and play. Lots of crappy rubberbanding of the avatar but it's early days, I'm sure the netcode will be great soon enough.
What's most noticeable already is that VirtuGo is built on a better engine compared to Zwift. Clearly it's something much more powerful. They can cram in detail when they want, and they've showcased that on the bikes. At the moment a Factor and a Scott Foil. You can change the gruppo (Campag on there already), bar tape, wheels, pedals, etc. Even the avatar customisation has features Zwift stiff hasn't got today. Makes Zwift look like it was drawn by school kids.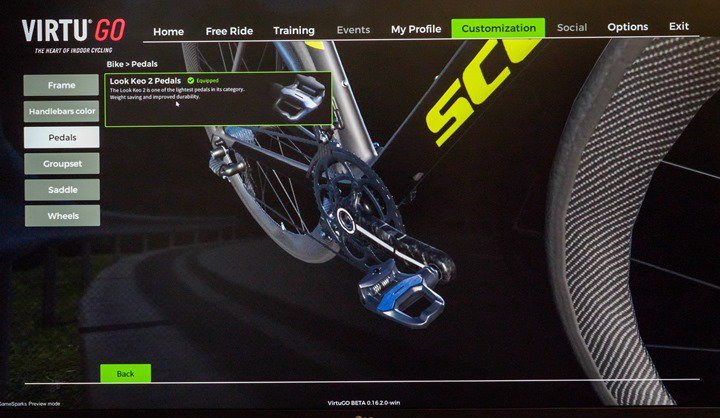 In terms of potential, VirtuGo is looking legit. I know RoadGrandTours is about to announce a change of direction, so won't pass judgement on them yet, but if I was hanging my hat on a Zwift competitor, I'd go with VG. Long way to go though, Zwift has big capital and their only real weakness is that they lack proper structured training for the more serious end user. They're busy expanding and being a business to impress investors. If Eric Min (Zwift CEO) gets clued in and starts taking training seriously, then it's probably impossible to catch Zwift for a very long time to come, unless you can draw some big capital and run a loss for years with a lower sub fee. There just isn't any other real gap that you can build a niche around. Most people don't prioritise the graphics, they'll head to where is popular and well, better marketed.
VirtGo beta:
http://virtugo.com