Hi Everyone,
I would just like to know who has these problems (see below) with the said title above and how did you go about fixing the problem.
1. I noticed that even thou the compression plug being applied as tightly possible with out damaging the spiral insides of the THM fork, there is still play on the the headset, about 1/16"., while rocking it back and forth. What is it that i'm doing wrong or is it supposed to be like that?
2. To end users that uses the THM CLAVICULAR SE crankset w/ the AX Vail, I noticed that once you have inserted the plastic spacer in the non-drive side, the crankset does not spin freely at all. If one was to spin it, it would only spin 25% of a circular motion, unlike with my Campy crankset installed in the BB cups, it spins freely. Since the THM does not spin freely, once pedaling it prevents you from pedaling at a 100%, it's as if the breaks are being applied while pedaling or a feeling of excess weight that I'm pushing on my legs as if I'm uphill (yes i have checked that there is no brake shoes are not rubbing on the wheels). If you have this same problem, is it normal or did you do something to remove this struggling feeling while pedaling?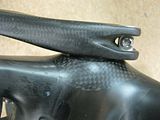 Thanks in advance everyone!