Hello, long time lurker, part time weight weenie here. I have learned tons from just reading threads, but I have a couple questions.
I am coming from a Caad9 moderate budget WW build and got it down to about 15.4lbs with pedals for a size 58. This was without dangerous WW parts since I am about 190lbs. Not bad with a ~1340g frame and 440g fork!
Here is a pic(I know I am not supposed to have a seat pack, but it was the best pic I had and I was on a ride at the time).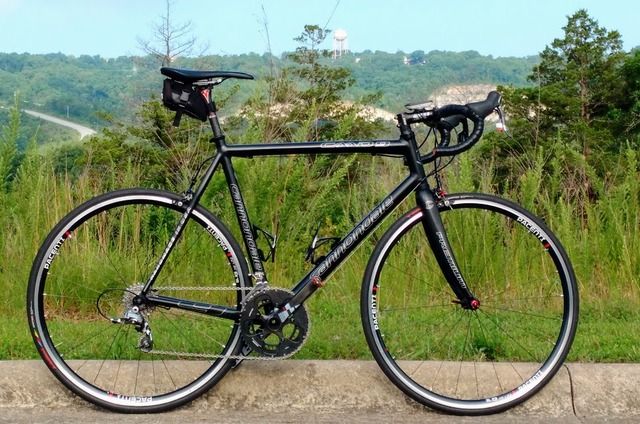 Anyway, I am looking to upgrade, and I know I am going to have to spend a lot to get much lighter, so I am thinking about getting a newer frame and then putting some of my parts on there while keeping the CAAD9 in the 16# range for crits, etc.
I have my eye on a couple frames, and I can't seem to definitively find the weights. I have read tons on here and other forums, in addition to reviews and can't find much on the Madone. There is speculation in the 1150g range, and I cant stomach the idea of gaining weight going to carbon(my WW brakes, seatpost, and hollowgram cranks won't transfer), but surely it isn't that much. I would gain comfort, stiffness, aero, etc. though.
Anyone have an idea of the weight of the frame, seat topper, fork, bontrager brakes?
I am also eyeing a supersix evo frame since they are in the $600ish range sometimes. Some reports and reading show ~950 for the entry level, others say 1100g, but I think they might be confusing with the standard non evo supersix. The benefit of the EVO is all my WW parts work, so a direct transfer would have that sub 14 without pedals, and less than 14.5lb with pedals, cages, etc. if the frame is actually ~1000g. Anyone know for sure?
thanks, everyone!