Hi,
I'm a proud owner of a Specialized Tarmac Elite which I've upgraded with an Ultegra Di2 groupset.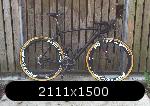 Last week I was in the bike shop and weighted my bike, and it was 8.6 kilo (8600 gram). Not that bad, but I think it's possible to get a kilo off.
I listed all parts in an excel sheet and came to a lower number, so I think I've forgot something.
Here is the Excel sheet of my listings:
https://www.dropbox.com/s/5sfybmjv19jmy0g/Frame%20gewicht.xlsx
My question is what you guys would recommend to replace? And for which alternative.