Ok, I managed to get one of these for a song. I guess USA colour scheme ain't that loved in France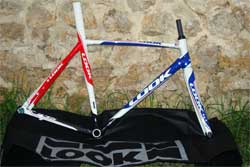 So, I've got....
Shifters and derailleurs- Dura Ace 7900
Brakes- Ultegra 6600 (though I'm thinking a black set would look best, maybe some Campag skeletons even though the mix/match might be nasty)
chainset- None yet, Got a line on a cheap Fulcrum Torq R?
Wheels-mix of Dura Ace 7801 Tubs (silver), Zipp 404's (2009ish w/ silver spokes).
Bars/Stem- FSA wingcompact and OS-120 stem (maybe Deda, need a long one, 130)
So I want this to look a bit kitch, but not ridiculously stupid, it's a fine line, I know. Maybe I should go w/ a silver theme and get a 7800 chainset and some Ritchey Silver stem/bar? Should I just stick to white? Do I go OTT and get stars and stripes bartape, red hoods, and stars and stripes decals for the zipps?