Moderator: Moderator Team
Posts: 208
Joined: Wed Jul 30, 2014 1:09 am
---
---
raisinberry777

wrote:

↑

Thu Jan 16, 2020 9:35 pm

They look like Campag levers with the shifters removed.
Agree, Campag levers. A little confused with the bartape method. RHS is outside to in. LHS is inside to out...?
---
---
---
I'll put two here:
1997 Spectrum Ti Super revamped with 80th Ani Super Record.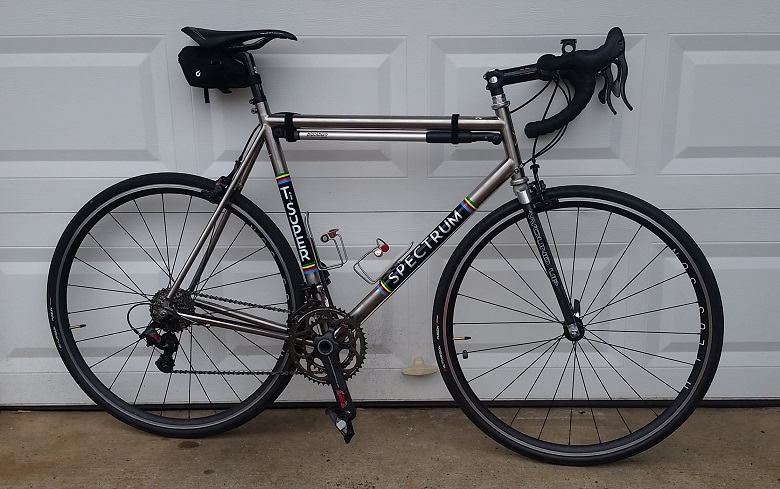 1985 Colnago Victory with Chorus 11s, Pic shows temp 52t SH chainset. The FD braze on is too high for the 34/50 chainset of the group. I have since got an Athena Carbon UT 39/52 chainset, not installed yet.
Orig Saroni Red and decals [don't zoom in too close] I have owned this bike since 1994-5 or so. Was my SS flip flop for first 15 years...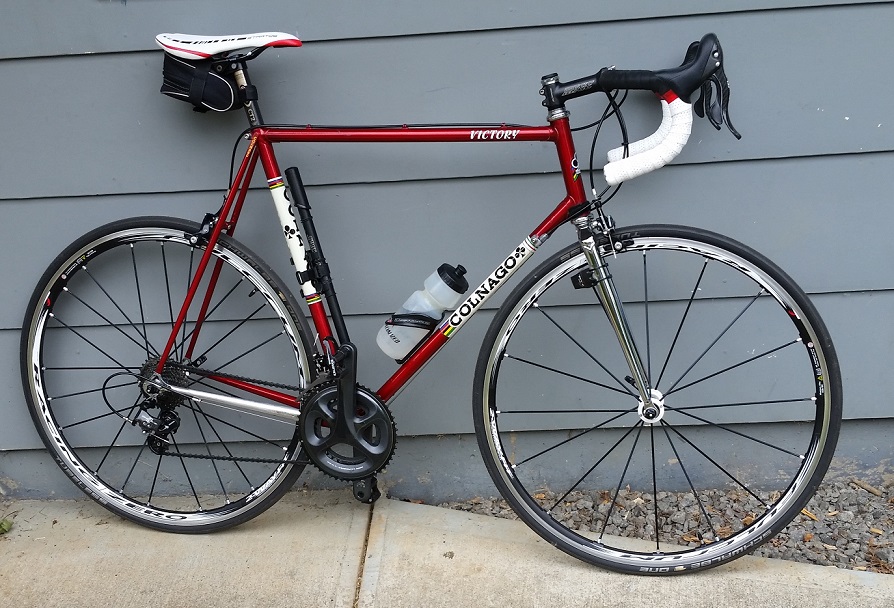 ---
Ever see these?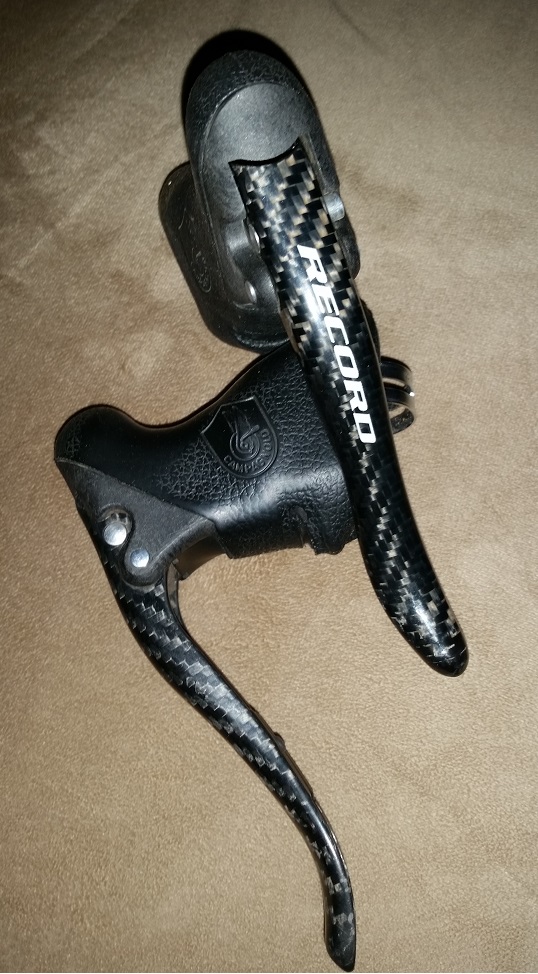 I got them for my Merckx Corsa repainted Molteni converted to SRAM Automatix 2 speed fun machine. Just not put them on yet, still deciding if I wanna keep the Rando bars...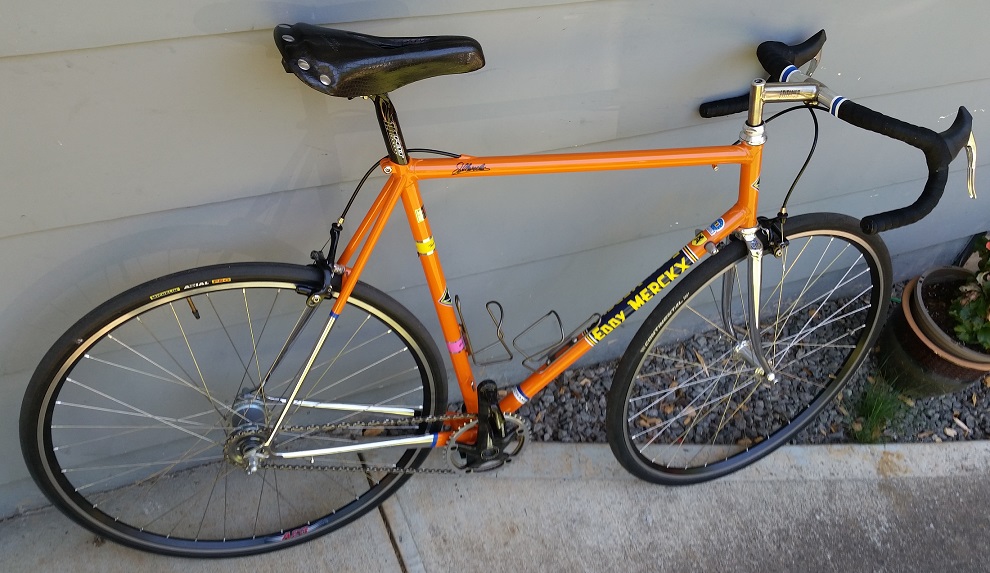 ---
---
I sold this RestoMod a while ago, but it is kind of a pinnical resto-mod IMO.
1972 Paramount Chrome. Got as frameset with perfect fit numbers for me in VGC and this was the outcome of the build.
Chorus Chainset/FD, and shimano 10s rear. Re spaced and dished 9 speed Dura Ace wheel, matching front, A23 rims with GP4000 sat out to 28mm for a nice sure feeling ride. 10 speed Dura Ace indexed BarCon for nice modern indexed and close ratios.
Brakes presented a little more of a challenge. These frames have right side cable route and a reverse rear brake caliper. Luckily the orig rear caliper came with it. So I de-scuzzed the caliper filing and sanding the casting ridges and polishing it up nice. Front I used was from a Di-Comp Grand Comp NIB pair that I had for forever and never used. Used the spare hardware from the rear GrandComp on the orig rear refurb caliper. I did have to use a Campy brake caliper drop bolt on rear, and wasn't happy that I had to eBay that for what they sell for. ;O
But this kept the vintage look nicely. Luckily I have strong gorilla mitts, because stopping it was an exercize in caliper flex and cable tension, coolstop salmon pads helped. Not for the faint hearted though...
Fast club rides no problem. In fact I wondered if the brazer had not diddled the butts on the tubes using longer butt/cuts down at the BB and TT/Headtube or something, for 531 it was stiffer than I expected it could be.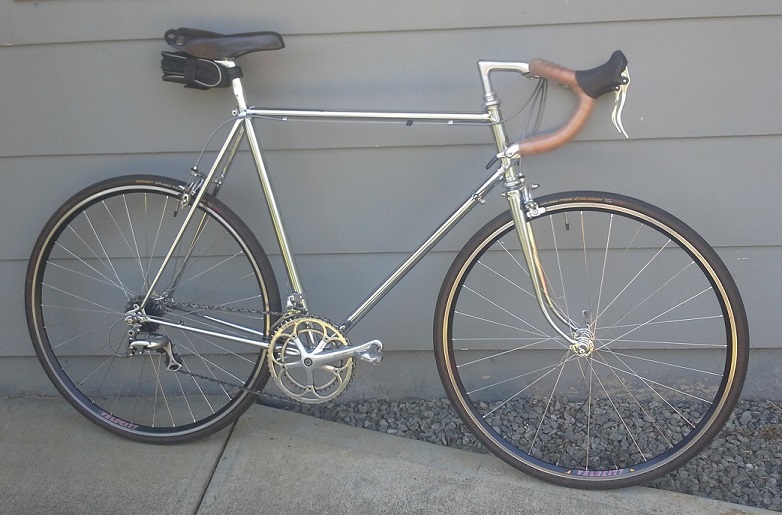 Unfortunately a fellow cyclist next to me at a stop had a clip-out mishap and fell over on me and the Paramount. 3 dents, bar con, pedal and QR ends gouged. And my right leg scraped pretty good and bleeding. He managed to crack a rib or two and mess up a freshly restored Tommasini as well. I lost interest with it due to the dents and let it go the next year.... Sheit Happens.
I never cared for the standard rake/trail on the pre 80s bikes anyway. My 85 Colnago restomod much preferred in the geom dept personally, especially up front. But the long chainstays, WB on the Paramount made for a well mannered handling for long ride that can be appreciated.
---
---
---
---