Hello, I have been reading this forum for a little while and just wanted to introduce myself as well as thank you guys for the wealth of information here. I'm american but live in taiwan and get to ride on very diverse terrain, from super mountains to flat coastline. The bike climbs really well, but I feel alot more comfortable descending 15-20% switchbacks, tracks extremely well. Hope you like it.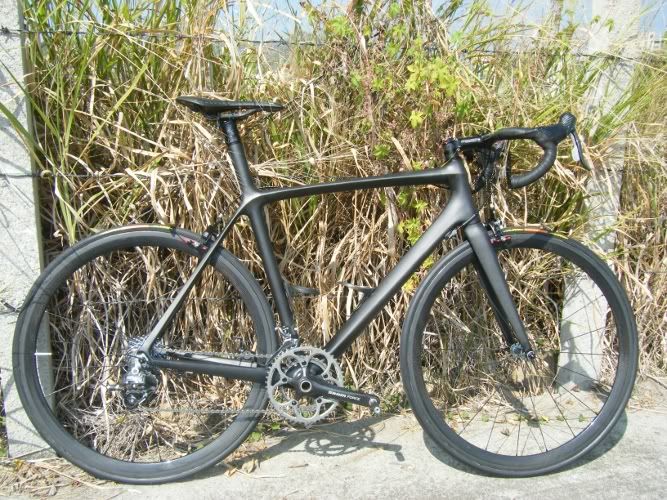 The weight came to 5925g with the Garmin sensors. I do have to admit to a very rookie WW move and that is loosing track of my weights per item, sorry. I got lost with the cables and then I put BTP clamps and hoods on.
Frame - 1140 cut
Fork - 385 cut
Handlebar - zipp contour sl(tuned) - 186 cut
stem - extralite road oc 100mm - 83g
headset - 78g
expander/topcap - Tune - 14g
ISP topper - Tune cappy - 74g
seat - fizik 00 - 138
shifters - 09 sram force (tuned) - lost
crank - 09 sram force
fd/rd - 10 sram force
BB - omniracer
brake cables - ilink
brakes - kcnc cb1
shift cables - mini ilink
38mm tubulars - 1201
tires - tufo s3 lite 215 - 430
cassette - Recon 11-27 - 106
skewers - kcnc
grip tape - easton
computer garmin 500 speed/cadence/heartrate
KMC 10spxl
Sorry again for getting lost. Any thoughts on getting this in the 12lbs range?