Hey everyone! I've been riding this bike for about a year now. I've been generally very happy with it, and have just been tweaking some little things here and there. I've been planning some changes and was hoping to get some input. I plan on getting into some racing this season, and I want to make some changes to get her race-ready. I think I can save some weight without sacrificing durability pretty easily. I also want to start training with a powermeter to help fine tune my process and define my goals accurately. Let me know what you think, and what changes you agree/disagree with.
Here's the current setup:
Ridley Helium '08
Frame
, Medium (56), 970g cut (all hardware incl.)
Ridley/4ZA
Fork
, 375g cut
Ridley
Seatpost Clamp
, 117g
FSA Integrated
Headset
, 80g claimed
SRAM Red
Group
, 50/36, 172.5, 11-25, 1985g claimed (sorry, didn't weigh components, but it's pretty standard afterall)
Ritchey WCS
Stem
, 110, -10, 110g (w/ Ti bolts)
3T Rotundo LTD
Bars
, 182g
Tune GumGum
Expander
, 10g
Generic
Headset Cap
and Ti Bolt, 9g
Generic Chinese
Saddle
, 97g
Look Keo Max 2 Carbon
Pedals
, 260g
KCNC
Skewers
, 44g
Reynolds Solitude Wheels, 1520g
Conti GP4000S Tires, 460g
Conti RaceLite Tubes, 160g
Powercordz w/ Gore Housings, 105g estimate
Deda water bottle holders, 50g pair
Cinelli Tape, 40g
As is pictured, it weighs 14.7lbs and that includes the cateye light (30g I think) and the rear skewer for the trainer (100g)
Here are a couple things I'm planning to change:
Computer - selling a Sigma Rox 9, so I can get a Garmin (model?) to match up with a powermeter
Wheels - selling my lighter wheelset (Rolf Prima Vigor SL w/ Vittoria Open Corsas) to help with a set of tubs (I'm thinking Enve 1.45 + Alchemy Hubs + CX Rays + Veloflex Ext)
Brakes - switch to the new EEs
Pedals - Switching to Speedplays
Powermeter - Quarq s975
So, I figure I gain 225g to get the powermeter and in putting a computer back on the bike, and I lose 700g with the pedals, brakes and wheelset. So, I'll come in around 13.5. Wheels and computer are priorities since I'm selling what I've got, then pedals and brakes, then powermeter.
And of course there will be some little stuff in between. I feel like there's some weight to trim off the seatpost clamp, and I'll probably change the saddle at some point (the edges of the nose just end a little too abruptly). Some tuning bits here and there (Ti bolts, front derailleur clamp, etc)
Anyway, here she is, let me know what you think of the plans.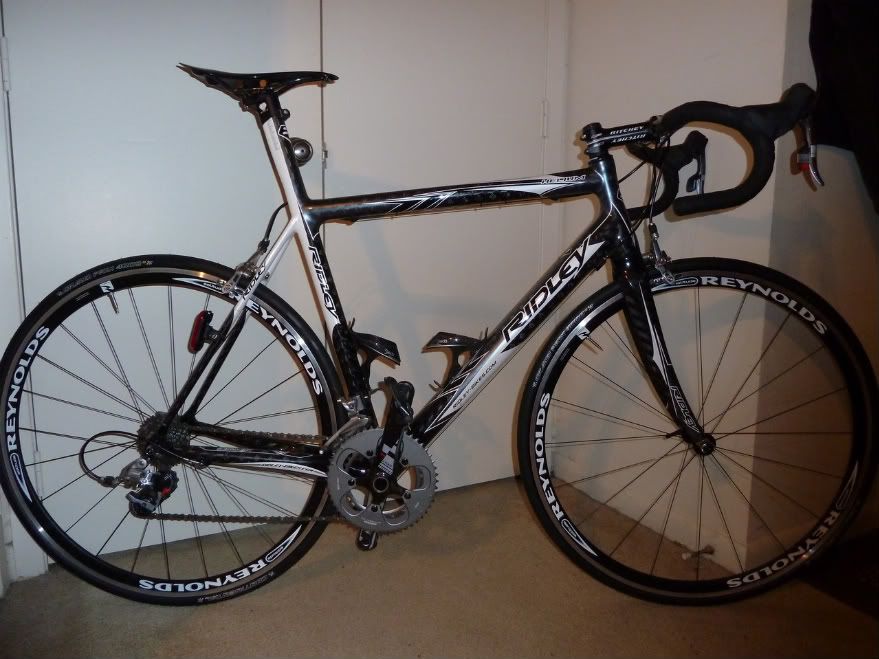 Thanks, Michael