This is one of the first 2010 Neo Exile Ultimate frames delivered and built up.
I previously rode a 2002 Giant TCR that weighed about 12.7lbs with some of the components that I have transferred to this frame. I took advantage of the new frame to get some new cranks (BB30), and a few other odds and ends. As the Giant had quite a sloping top tube, I like the more "traditional" geometry of the Ultimate with its almost horizontal toptube. The seat tube is 73.5deg, the headtube 73deg. This is a 58cm frame with 56.7cm top tube. The finish is matte UD carbon fiber.
With AX Lightness SRT42 wheels (built by Nico-thanks!)
Weight with Veloflex Extremes: 5.28Kg (11.7lbs)
With Edge 1.25 (built by Jason/FWB-thanks!)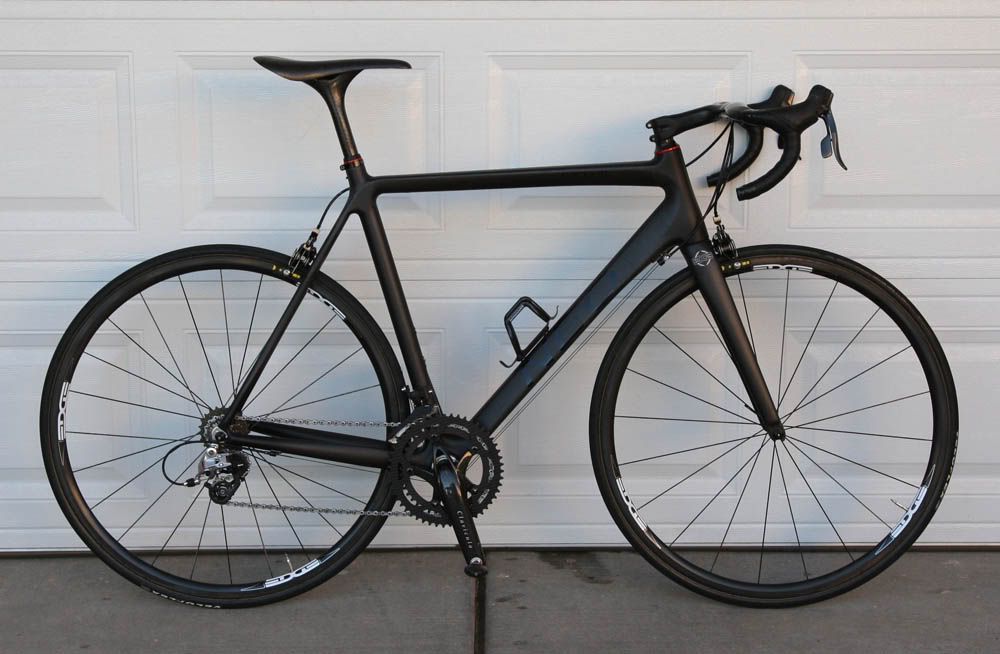 Weight with Veloflex Carbons: 5.24Kg (11.55lbs)
Here's the build list, with weight (gms)
Frame: Neo Exile Ultimate (975)
Fork: Edge tapered 1.5" (340)
Headset FSA Orbit tapered (80)
Topcap/Expander Soul-Kozak/Extralight (12)
Bar/Stem: FSA Plasma Compact-sanded (397)
Crank Arms: THM Clavicula (420)
Chain Rings FibreLyte CF 41/51 (76)
Pedals: Speedplay X1 (150)
Saddle: AX Lightness Phoenix premium (55)
Post: AX Lightness Daedalus premium (87)
Alt. Saddle: Custom CF integrated (117)
Seatpost sleeve: (20)
Seat Post Clamp: New Ultimate (8)
Brake Levers: SRAM Red - sanded + BTP hoods (290)
Brakes: EE + Swisstop pads (190)
Shift/Brake Cables: Nokon (90)
Rear Derailleur: SRAM Red (150)
Chain: DuraAce 7900 (230)
Front Derailleur: DuraAce 7900 (66)
Front Wheel: M5, Sapim, Edge 25 (330)
Rear Wheel: Extralite, Sapim, Edge 25 (450)
Alt. Front: Tune Mig45, Sapim, AX Lightness SRT42 (390)
Alt. Rear: Extralite SX, Sapim, AX Lightness SRT42 (495)
Cassette: KCNC Alloy 11-23 (110)
Alt. cassette: Recon 11-23 (88)
Skewers: Tune AC14 (33)
Tires: Veloflex Carbon (580)
Alt. tires: Veloflex Extreme (450)
Rim glue (20)
Handlebar Tape: Forte CF vinyl (40)
Bottle Cage: Emporelli carbon (15)
Total (measured): 5240(5280)g 11.6lbs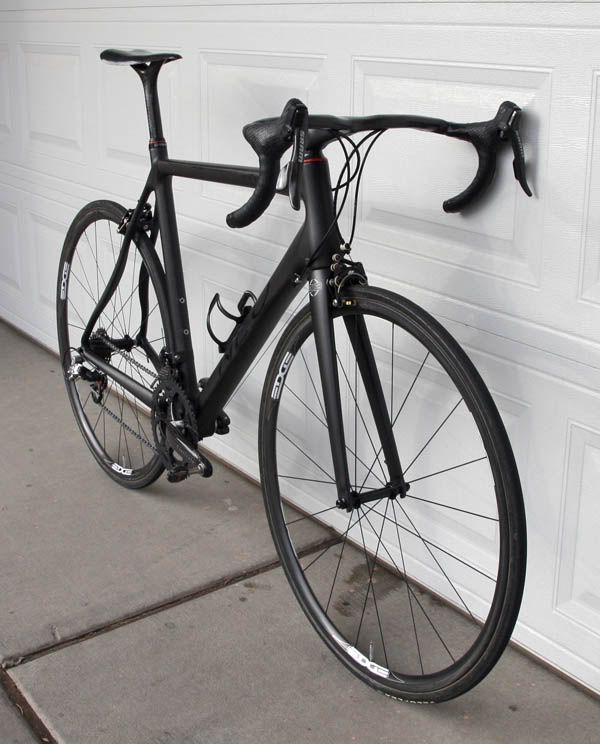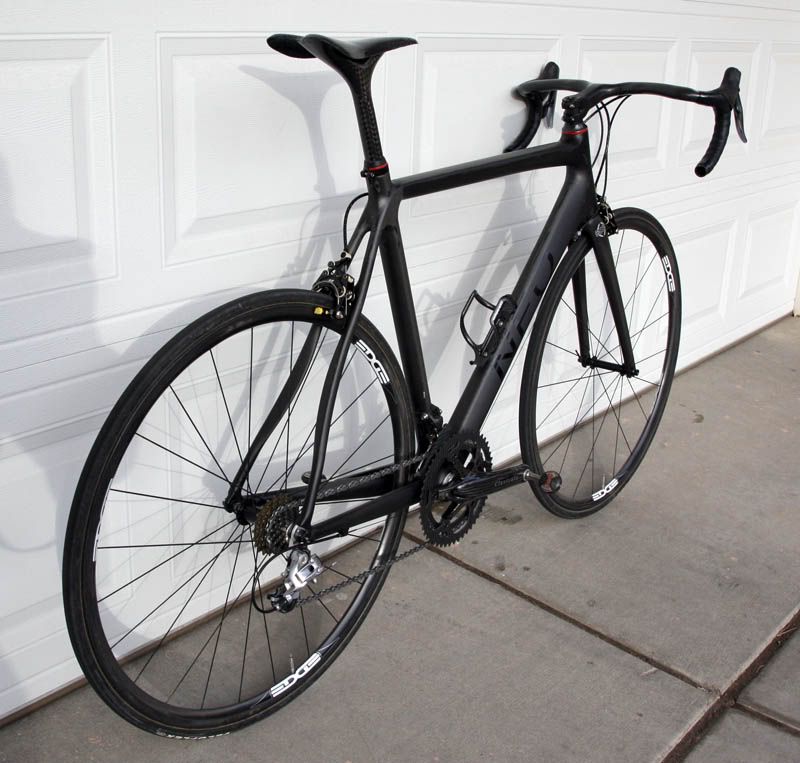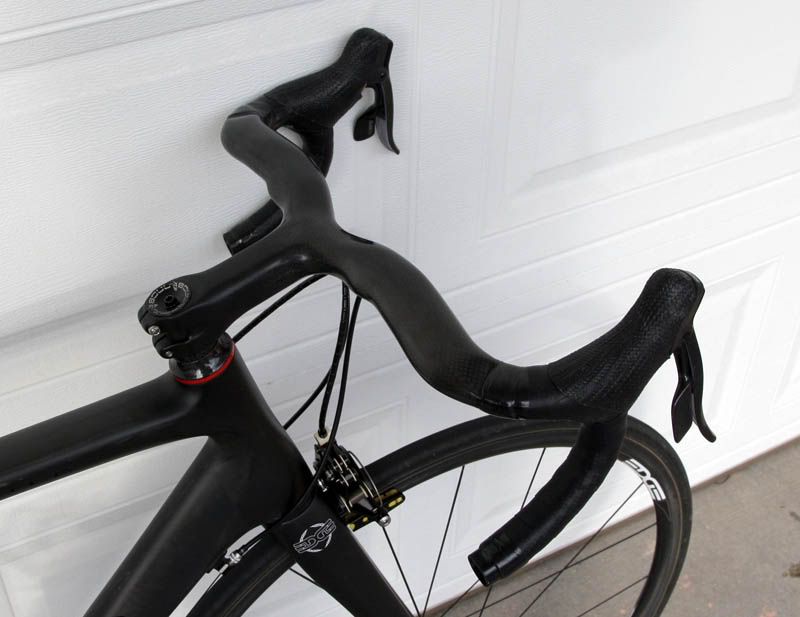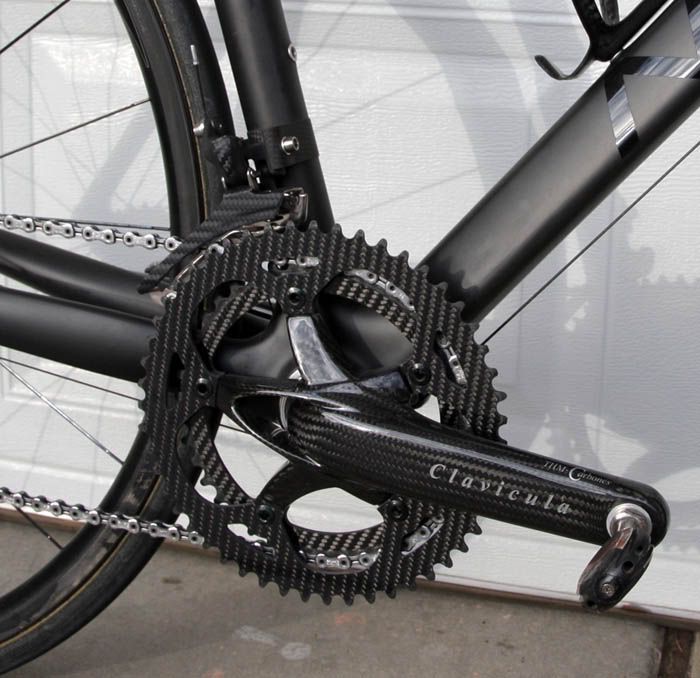 New saddle: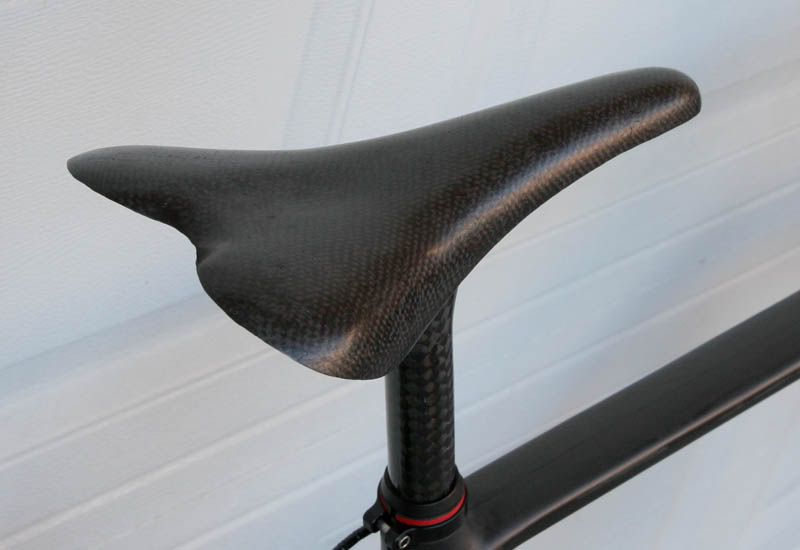 Initial ride report (60mi): I hate to gush, but this is an *amazing* bike! I can't think of a better descriptor than taut. Stiff, but with all the "dampening" character of CF. The 1.5" headset and Edge fork make for a solid, tight front end. The rear is very stiff also--making for crisp shift and solid braking. The whole bike is direct, connected--no shimmy, flex, wobble, nothing.
Subsequent ride report: I rode it for the second time (only) at the Tour de Tucson (108mi) and it really is a fantastic bike. I have had many bikes, but the last bike I had was a Giant TCR from 2002 (one of the first frames in the US), and so my comparison group consists of older frames made from steel, titanium and old CF (including a Specialized Epic!)
So, the Neo is a state-of-the-art design and correspondingly rigid, solid, light, vibrant, tight. I'd say it's almost a perfect bike for riding--it's everything without being any one thing exclusively. The Edge fork is fantastic--just there and solid as a rock. The frame has the CF "deadening" feel, but not dead at all. It damps road vibrations, but a little "buzz" is still felt on rough roads. The BB is stiff, and the rear end is tight. No flex, but I'm not a jammer. It climbs wonderfully, and a did a few climbs out of the saddle--perfect. I also did a short steep sitting bottom gear climb--it tracked very well.
The build quality is very high. I showed it to Jason (Madcow) from FairWheel and he admired it, recognizing that it was certainly of the latest design and build quality.
The matte finish is certainly the bomb--there were a couple of matte bikes at the ride (among the 6000 bikes there!!) and it stood out with the ultra-stealth look.