Good Evening
Just like to introduce myself to you all. Its my first post on here after a few months of reading. Anyway pleased to meet you all.
Hes my new bike. Its a 2012 MCipollini RB1000 in White/Red.
Originally i wanted a Dogma but had never heard about the Cipollini brand. After getting a Cipo recommended to me for my dream bike i was drooling straight away with the Dogma out of the window. Comparing the two frames side by side theres no comparision for me. I also love the exclusivity of owning a Cipollini and its actually manufactured by hand in Italy. i also will probably never see one where i live when i'm out and about. Its already had some head turning and comments on cafe stops.
After seeing the Black 2012 RB1000 on here i contacted Dave from Bicycle Richmond to enquire as i could not get any info on the 2012 range until after Eurobike. Unbelievably after much conversation by email etc and sending measurements in etc. Dave said he could luckily he could source a 2012 in white / red. As the importer luckily had one available in L. So after unbelivable customer relations by Dave i went down to Bicycle Richmond to get fitted up etc. I'm now probably the owner of the only 2012 white / red in the country till next year!
Here it is. Hope you like it. All comments welcome good or bad. Cheers.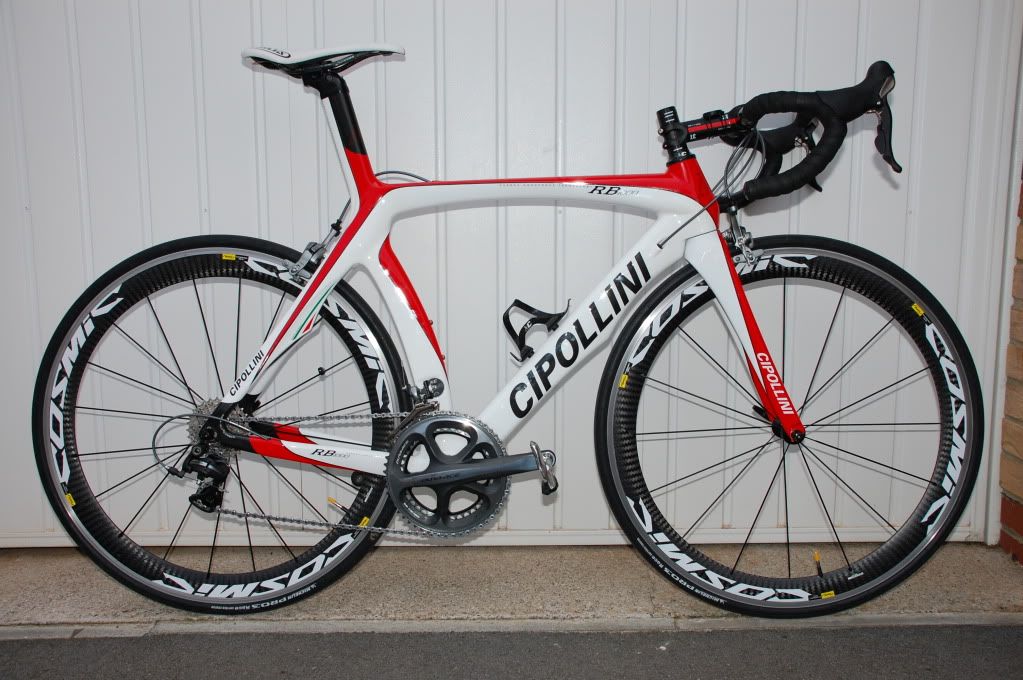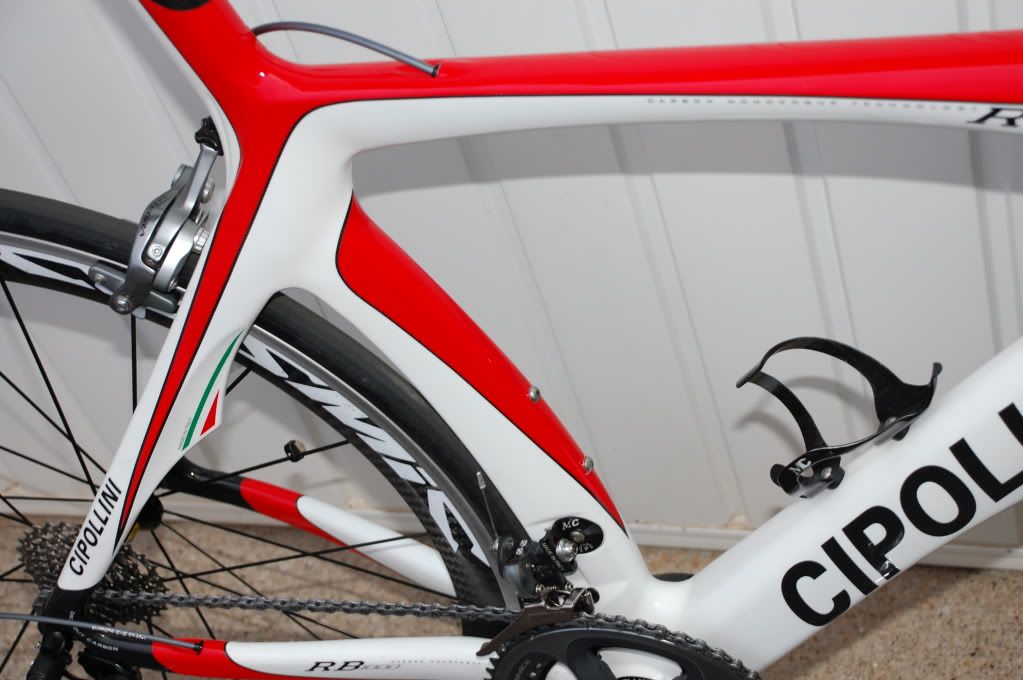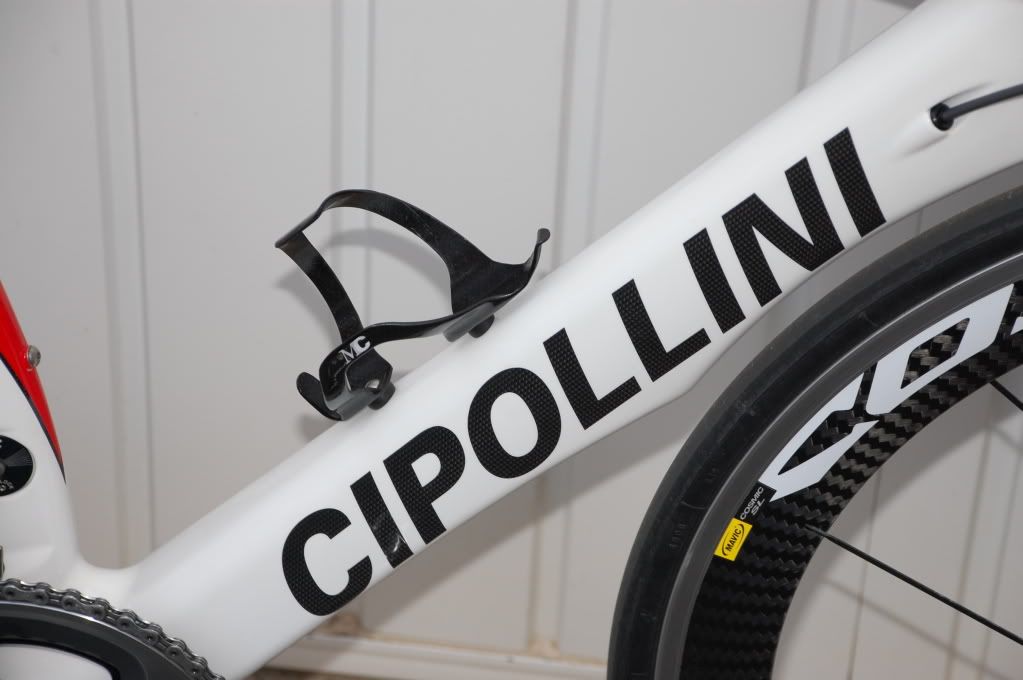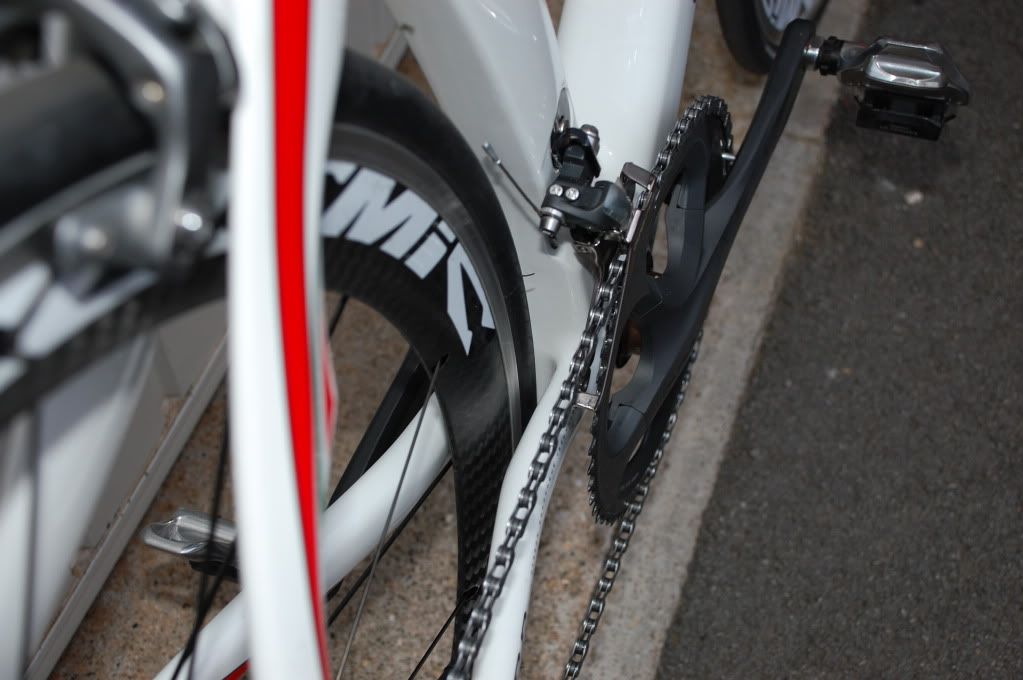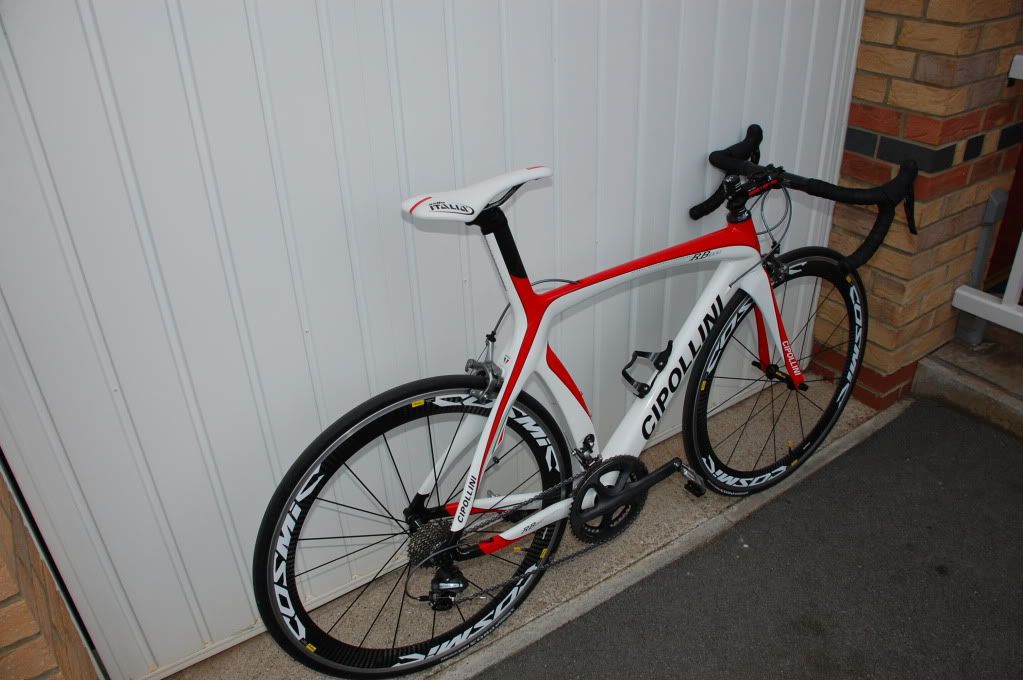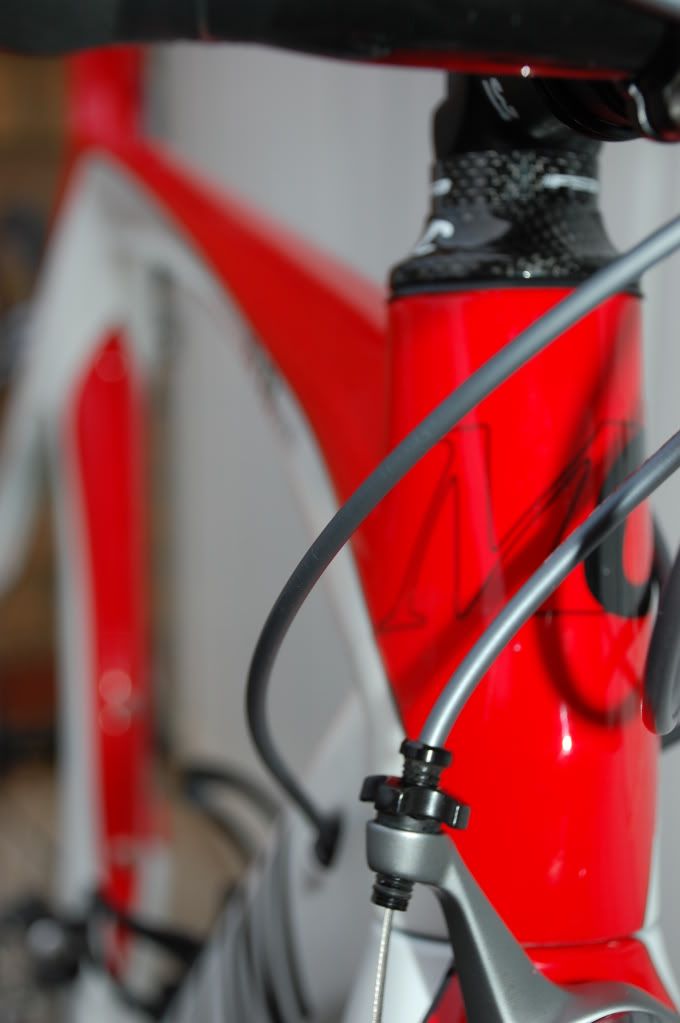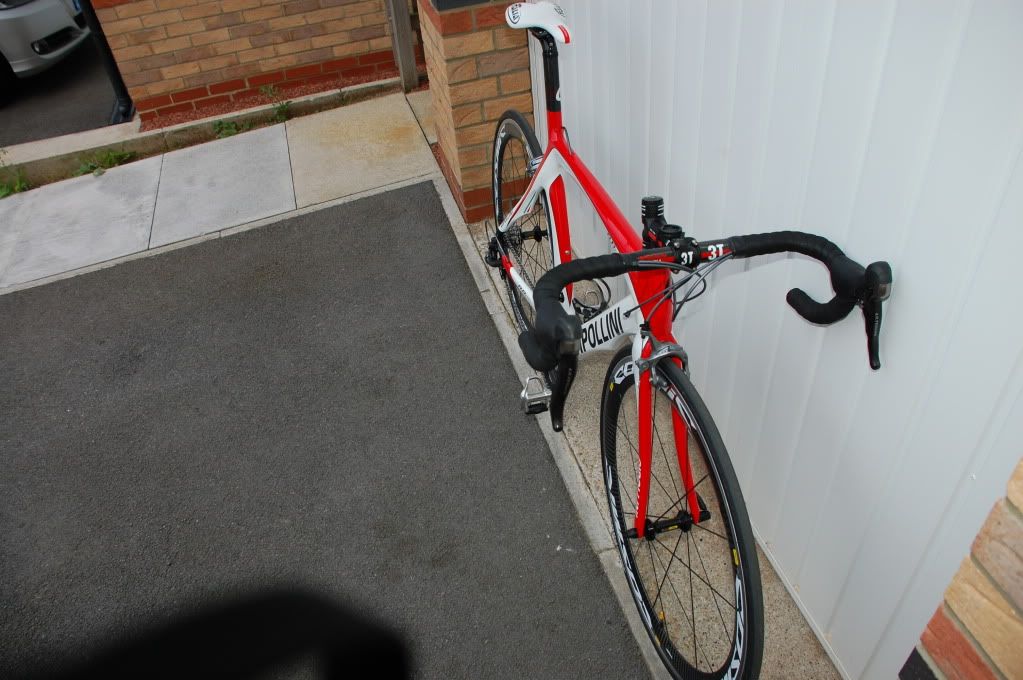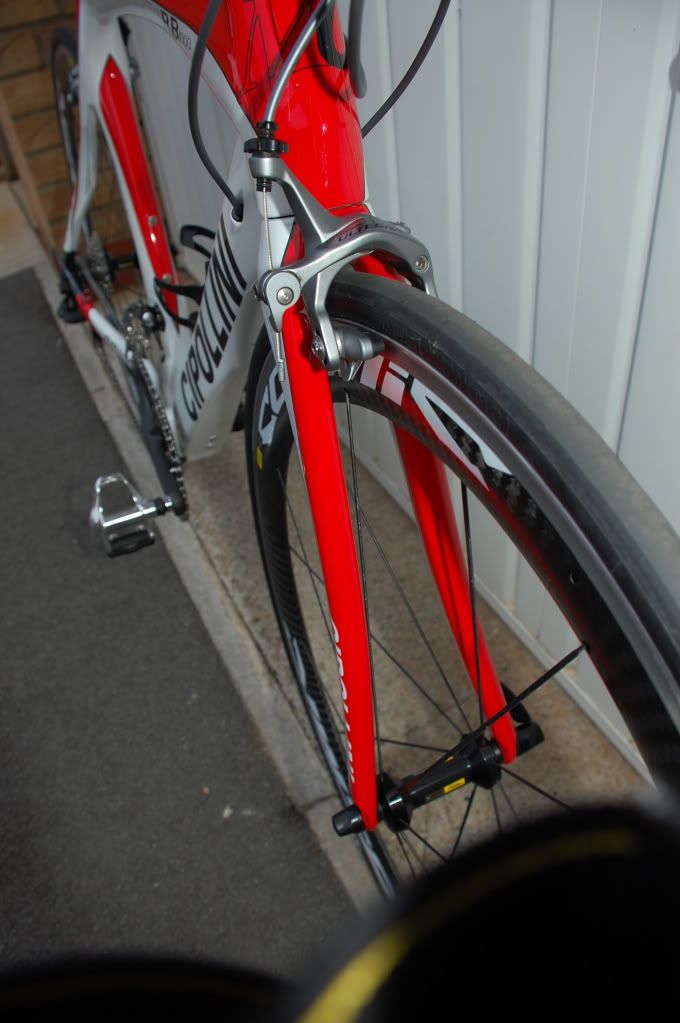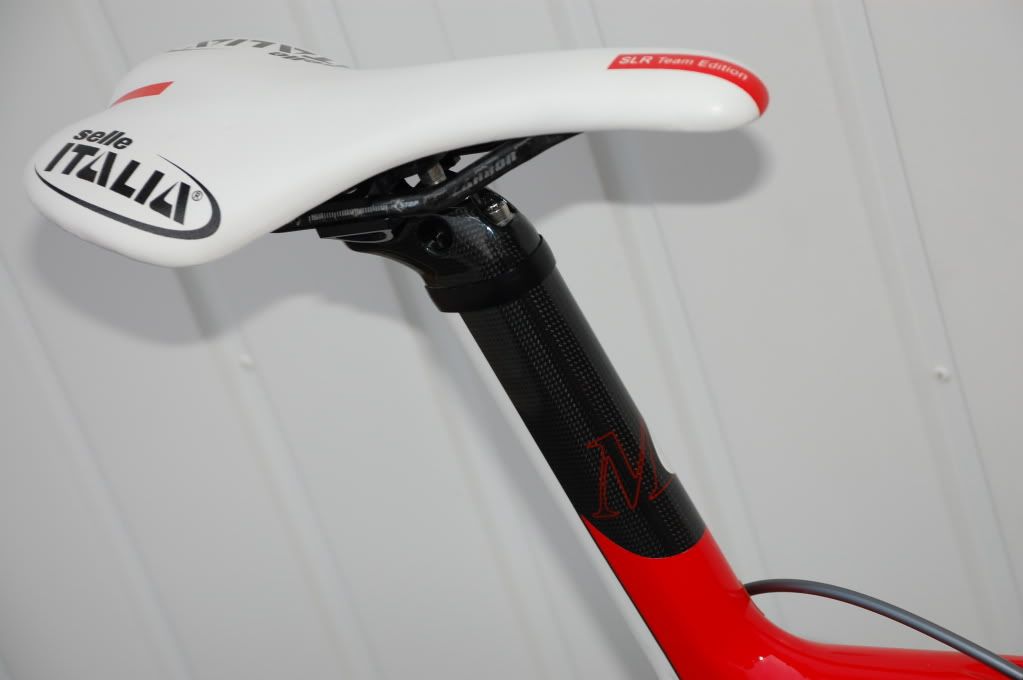 After my first 100 mile. I am very very very impressed with the Bike. However its my first ever top of the range Bike. I had a Ribble sportive carbon before this. But what a difference. A few turns of the pedals and this thing flys. Immediate acceleration when putting the power down. The faster you go the more comfy it is. The cornering of this bike is phenomenal. Don't be put off by its Aggresive looks. Its unbelievably comfy and can be ridden on the drops for long periods. The quality and design of the frame just ooze quality when you see it in the flesh. The Paint job is one of the best i've seen. Overall i'm very happy with it and my dream bike is now a reality that has exceeded all expectation. If you get a chance to test ride one then do so. You will be grinning.
Big Thanks to Dave @ Bicycle Richmond who's customer service is second to none. Replying to emails etc at all hours and putting the customer first and at ease. His Bike Knowledge and fitting skills are awesome. He look the time to fit me perfectly explaining each step on the way.When buying bikes i've never had quality service like it. He made me feel exactly how you should feel when parting with alot of cash. i can't recommend him highly enough. Cheers Dave.
Bike spec is
Frame MCipollini RB1000 in L white/red
Headset MCipollini
Wheels Mavic Cosmic Carbonme SL's 2011
Tyres Michelin Pro Race 3
Handlebar 3T Ergosum Team carbon
Stem 3T ARX team 120mm 0/6 degree
Tape Cinelli GEL Cork Black
Chainset Dura Ace 7900 53-39
Chain Dura Ace 7900
Cassette Ultegra 6700 11-28 or 11-23.
Front Mech Dura Ace 7900 braze on
Rear Mech Dura Ace 7900
Shifters Ultegra 6700
Cables Dura Ace 7900
Pedals Ultegra 6620
Brakes Ultegra 6700
Saddle Selle Italia SLR team edition. Carbon rails.
Bottle cage MCipolini
Extras Garmin 800, FSA BB30 adapter.
I have forgot to weigh it but will do soon.
I'll be cutting the steerer again soon as i've found my position now so don't panic about the spacers etc. Next things to do are save up for Dura Ace shifters and pedals. Or maybe go for Di2 shifters and mechs? Would ideally love to put Dura Ace C35 front wheel & C50 rear wheel on. But just can't justify it this year.
Well thanks for looking. Hope you like it as much as i do. My dream bike come true. Cheers.