Hello there!
Being a long time lurker of the forums, I've been meaning to share my beloved Scott Addict here for years but never had the motivation nor time to do a write-up. While I do care about the weight of my bike, I am more a practical and technical person. Hence, this thread will mainly document why I made certain changes to my bike and how it affected me rather than listing weights on a spreadsheet. As I was writing this, I realized that most of the changes I made was mainly to optimise my position on the bike. I do take into consideration weight and aerodynamics when making my purchase decisions, but those properties aren't as important to me as rider comfort, reliability and value for money. Anyway, moving on...
My mum purchased my Scott Addict for me in July 2017 as a reward for doing well in my exams and securing a full-scholarship for my undergraduate studies, so it has quite a lot of sentimental value to me despite it being another boring, matte black, mass-produced carbon bike to some. My first road bike was a Specialized Tarmac SL2 (a post for another time) I got in 2013 which I still own. My SL2 was getting a little worn in the tooth due to the use and abuse it has gotten from training and racing as well as my general lack of experience in bike maintenance at the time. While looking for a replacement, I initially didn't even consider a Scott Addict, as I was deciding between a Fuji SL, Colnago CLX, Merida Scultura and Specialized Allez Sprint. It was when I decided to enter a bike shop I've never visited while out running an errand that I spotted the Addict hanging in the corner. It had the lower end HMF layup with a claimed frame and fork weight of 860g and 360g respectively. It was under a slight discount due to it being the previous year's model and the release of the new Scott Foil (aero is everything and all
). When the shop assistant weighed it for me, however, that was the moment I decide that I wanted the bike. The simple, unfussy, almost traditional lines of the Addict appealed to me, and I didn't mind the matte red on black colour it had. A brief search on the Addict's geometry revealed that it would fit, and thus the deal was sealed.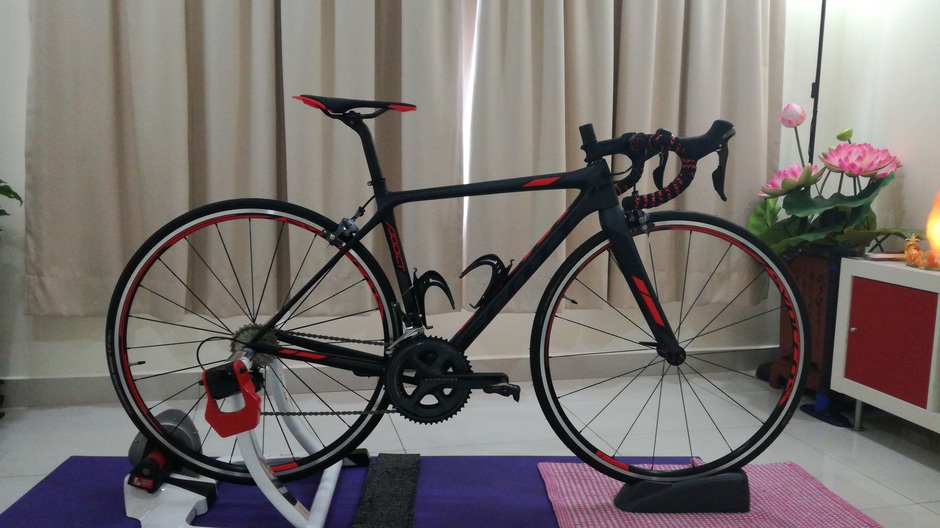 Here is what it looks like when I first got it off the shop floor. I didn't take many pictures of it as I was more excited about riding. It's specs are listed below.
Frame and fork
: Scott Addict 20, Size 49cm
Headset
: Ritchey Drop-in
Crankset
: Shimano Ultegra 6800 170mm, 52/36 Chainrings
Cassette
: Shimano Ultegra 6800 11-28
Chain
: Shimano HG-701
Bottom Bracket
: Shimano BB72-41
Pedals
: Look Keo Blade 2
Derailleurs
: Shimano Ultegra 6800
Shifters
: Shimano Ultegra 6800
Brakes
: Shimano Ultegra 6800
Handlebar
: Syncros RR2.0 400mm
Stem
: Syncros RR2.0 90mm 6 deg
Saddle
: Syncros RR2.0 128mm
Seatpost
: Syncros RR1.0 27.2mm, 20mm setback
Wheels
: Syncros RP2.0
Tires
: Continental Grandsport Race 23mm
Weight

sans

pedals, bottle cages and mounts
: 7.2kg
Over the course of 2 years, I changed the saddle, seatpost and stem to suit my anatomy and fit. The stock Syncros saddle had a flat and narrow profile with no pressure relief channel. It caused mild numbness during long seated efforts, hence I replaced it with a Specialized Romin that I got along well on my Tarmac. I got a Deda Superleggero seatpost with less setback (12mm) to mount my saddle further forwards. The stem was swapped to an Kalloy UNO stem (100mm length, 17 deg) to replicate my position on my Tarmac. This was also roughly the time when my fascination with bike fitting began.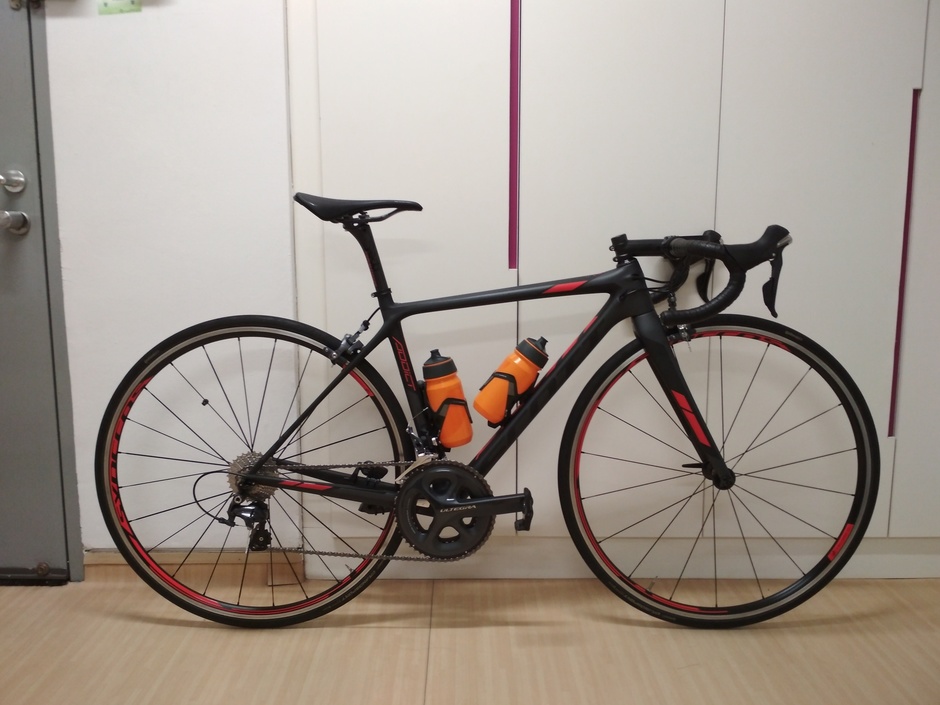 I felt pretty comfortable on the bike and had success racing it for a year. However, the curiousity bug bit when I started reading about round bend handlebars. I always found the brake levers slightly hard to reach even with the reach adjustment screw wound in while riding in the drops of the stock compact bars due to my shorter than average fingers. I also found that I wanted to be slightly more stretched out in the drops position while keeping my reach to the hoods similar. This was what lead me to purchase a pair of Ritchey Neoclassics in 400mm. Having it installed on the bike, I
loved
the shape of the drops,
but
I started to experience some shoulder and neck soreness while riding on the hoods on rides longer than 3 hours. When I measured my reach from the saddle to the hoods, I realized it increased by more than 10mm compared to my stock bars!
I theorized that this was due to the slight ramp downwards to where the shifter clamps and the fact that mounting the shifters 4 degrees above horizontal was impossible as the levers would be tilted unergonomically outwards. The shifter mounting issue on the Neoclassic was well documented in another thread here:
viewtopic.php?f=3&t=147244
To counteract my increase in reach, I purchased a 2nd hand Thompson inline seatpost to reduce my saddle reach to the handlebars. This was a mistake as this came at the expense of reducing my saddle setback, which resulted in me getting hand numbness on long, steady rides. Reducing my saddle setback also caused my reach in the drops to decrease, which was undesirable as the reason I changed the handlebar was to increase this reach.
This was what led me to my current handlebar: a Fizik Cyrano R3 Snake in 380mm width. It had a fairly flat ramp to the hoods, and curve of the bars when they transition from tops to drops are tighter compared to the Neoclassics, which allowed me to mount my shifters at the desired position without it canting outwards awkwardly. More importantly, the Fiziks had a round drop that I love oh-so-much after using the Neoclassics, and the reach from the saddle to the hoods was 10mm shorter once mounted despite the Fiziks stated handlebar reach being longer than the Neoclassics (75mm vs 73mm). I tried a 360mm PRO PLT handlebar from a friend of mine briefly before deciding that 360mm was too narrow for me, not because it was uncomfortable, but because techincal descents felt sketchy as hell on it, plus it came with a compact drop instead of a round drop. Hence, I settled on the 380mm Fiziks as the goldilocks bar for me. The Fiziks actually flare out to 390mm in the drops, so that's even better in my eyes as I'm always in the drops while cornering or descending and appreciate the extra control it gave me.
During all this, my saddle height was steadly decreasing over time as I made a common mistake that some amateur cyclists make: a saddle height that's too high.
The more I learned from reading from Steve Hoggs' and various fitters' websites and watching videos, the more I realized that my saddle height was too high. My saddle height decreased a whooping 25mm over the span of 2 years. I recorded each change I made to my position, how that change made me feel and analysed my position using video and LEOMO to back it up. Moving my cleat position rearwards also contributed a fair amount to the reduction in my saddle height, as my effective leg length on the bike decreased as I moved my cleats further rearwards.
While a lot of my niggles on the bike disappeared as my saddle height came down, I started experiencing hip impingement at the top of the pedal stroke, particularly while riding in the drops due to the smaller minimum hip angle. The solution? Shorter cranks. I have always suspected that 170mm cranks were too long for my inseam of 760mm, so when I eventually took the plunge to order a Power2Max NGEco powermeter, I selected 165mm Rotor cranks with it. I chose the option to run my Shimano 4-bolt chainrings with my powermeter as I didn't want to sacrifice Shimano's reliable front shifting performance. Running the shorter cranks was a revelation to me as I experienced a noticeable improvement in pedaling smoothness and ability to sustain an aerodynamic position in the drops.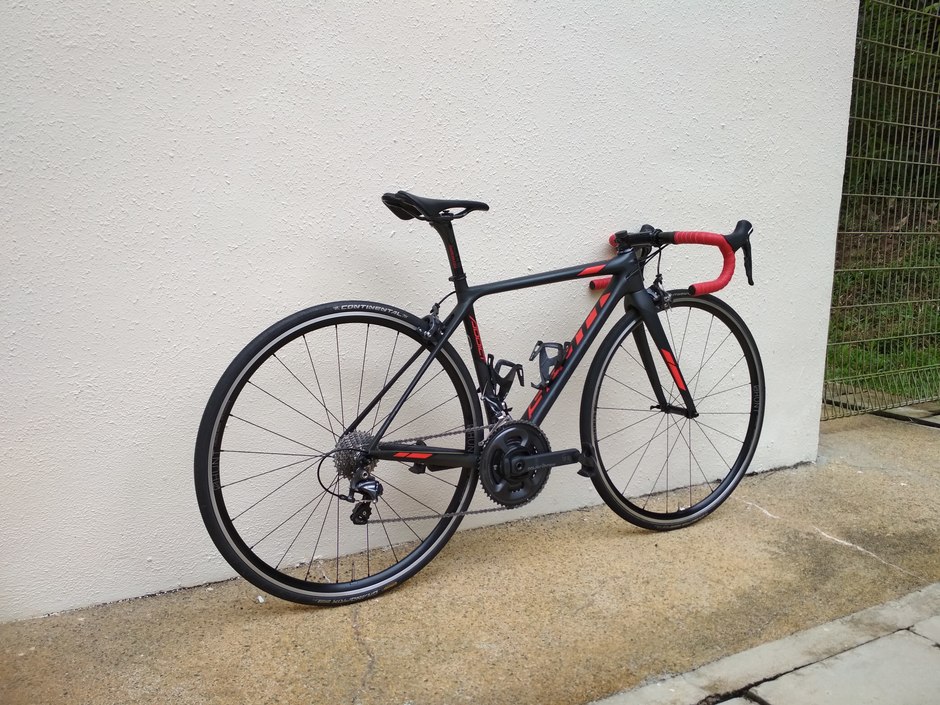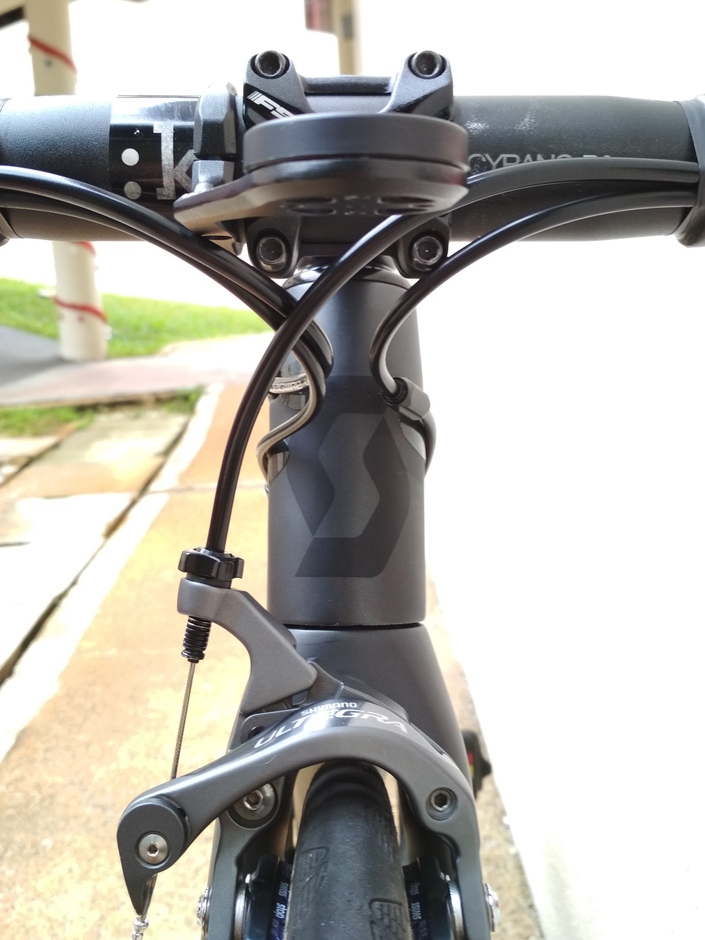 Despite already switching to 165mm cranks, I still experienced some minor hip impingement while riding in the drops, particularly when riding at sweetspot efforts and beyond. While doing FTP tests, I found myself unable to sustain power in the drops compared to on the hoods (I almost never use the tops). Hence, as a final experiment in crank length, I decided to try even shorter(!) 155mm crankarms. I've been using them for about 2-3 months and overall I like them. It felt a bit bizzare at first, as my legs weren't used to spinning such small circles, but after an acclimatization period of around 3 weeks my muscle memory caught up and it feels natural to me now. I had minor hand numbness in the drops initially, but increasing saddle setback ~5mm shifted weight away from my hands to my pelvis and solved the issue. Raising the saddle (to keep saddle-to-pedal distance the same) and increasing the saddle setback increased my reach to the handlebars by almost 10mm. I was concerned this would be too stretched out, but my concerns were unfounded as I could anteriorly rotate my pelvis more due to reduced hip impingement at the top of the pedal stroke. This resulted in a more neutral spine and extended back, thus lengthening my effective torso length while riding and offset the increase in reach.
While my power numbers remained very similar after the acclimatization period, my ability to sustain speed on flat terrain during long, high intensity efforts seemed to improve slightly as I am now able to sustain higher power in the drops. I didn't bother to test and compare my 10s sprint power as I don't have much of a sprint to start with.
People often say that a reduction in crank length results in reduced power due to a decrease in leverage and thus mechanical advantage, but what they often don't realise is that gears are a way to gain back that lost mechanical advantage. I shall explain it using some phyiscs and math: when I switched from 165mm to 155mm cranks, I lost 6.06% in mechanical advantage for the same force exerted on the pedals due to the reduction in lever length, where
torque = force * lever length
. The circumference that my foot makes due to the shorter cranks decreased by 6.06% too, as
circumference = 2 * pi * radius
. Analysis of my ride data revealed that my natural cadence increased from an average of approx. 87rpm on 165mm cranks to approx. 93rpm on 155mm cranks, that's a 6.8% increase in anglular velocity. Since
linear velocity = angular velocity * radius
, the similar increase in angular velocity (cadence) and decrease in radius of circle (crank length) meant that the linear velocity of my foot, and thus rate of muscular contraction remained almost the same despite a change in crank length. Also, since power is a product of torque and cadence, the reduction in torque I get from the shorter cranks is offset by the increase in pedaling cadence, and hence power remains unaffected.
The issue with switching to shorter cranks arises when the same gear combination is used on a steep incline. This is because the mechanical advantage lost from shorter cranks needs to be gained back via the gears. I often do this loop that has a sustained 10% incline, and on 165mm cranks, I could get up the hill at my comfortable cadence (87rpm) in the easiest (36/28) gear combination. When I kept the same gear ratio I used (52/36 semi-compact chainring, 11-28 cassette) when switching over to 155mm cranks, I found myself grinding when I am in the same 36/28 gear combination on the same incline. However, further analysis of my data revealed that I was pedaling at the same cadence (87rpm) and thus same power! I
felt
like I was grinding because my natural cadence increased from 87rpm to 93rpm, and pedaling at 87rpm on 155mm cranks resulted in a lower linear velocity and higher force than my legs were used to. Hence to counteract this, I installed a compact (50/34) chainring and clawed back 5.8% of mechanical advantage in the 34/28 gear combination, thus allowing me to maintain a more comfortable cadence on the same incline.
This is my bike's current setup:
Frame and Fork
: Scott Addict 20, 49cm
Headset
: Ritchey Drop-in
Crankset
: Rotor Aldhu24 155mm Crankarms, Power2Max NGEco powermeter, Shimano Ultegra 6800 50/34 chainrings
Bottom Bracket
: Shimano BB72-41
Pedals
: Shimano Ultegra PD-6610
Cassette
: Shimano Ultegra R8000 11-28
Chain
: Shimano HG-701
Derailleurs
: Shimano Ultegra 6800
Shifters
: Shimano Ultegra 6800
Handlebar
: Fizik Cyrano R3 Snake 380mm
Stem
: FSA Afterburner 100mm 12 Deg
Saddle
: Specialized Romin Evo Pro 143mm
Seatpost
: Deda Superleggero 350mm, 12mm Setback
Brakes
: Shimano Ultegra 6800, with Swiss Stop BXP Brake Pads
Wheels
: Hunt Race Aero
Tires
: Continental GP4000SII 25mm
Accessories
: K-edge Chain Catcher / Bryton Computer Mount / Jagwire Road Pro Cables / Elite Vico Carbon Cages
Total weight

with

pedals, bottle cages and mounts
: 7.3kg
Aside from component changes (ie, chains and cassette) due to wear and tear (my bike has done 26,000km of mileage accroding to Strava), I've made several performace upgrades. The most major one would be the Hunt Race Aero wheels that I got for a really good deal when I was working at a bike shop. Weight wise, it wasn't a huge improvement compared to the stock Syncros wheels (1479g for the Hunts and ~1600g for the Syncros), but the Hunts' wider internal width meant that I could run 25mm Continental GP4000SII tires at 70PSI that measure up to 27mm without them pinching or balloning, which noticeably improved comfort. I felt more confident cornering at the limit on the Hunts, but that could be due to the better (or wider) tires I was using too (25mm GP4000SII vs stock 23mm Grandsport Race). Carbon clinchers never really did appeal to me as I love climbing and descending. I just prefer the consistent and silent braking that an aluminium rim provides. I also took the chance to change my old Shimano brake pads to Swiss Stop BXP, which I am thoroughly impressed by the modulation and now a huge fan of.
While many would not consider this an upgrade, I replaced my Look Keo Carbon Blade 2 pedals with a pair of Shimano Ultegra PD-6610.
My Looks decided to kick the bucket when I entered a wet corner slightly too hot and loss traction in my front tire.
The right pedal took the brunt of the impact that snapped the pedal body off (no pics, unfortunately). Thankfully, the rest of the bike was fine, and I just lost a bit of skin and pride. The bearings in the pedal was starting to get rough after 5 years of use anyway and was due a replacement. Hence, I replaced it with a pair of silver Shimano PD-6610 pedals. They run so much smoother than my Looks despite them being older in age, and after the using them for 2 rides I regret not switching to SPD-SL sooner. The wider pedal platform felt more stable underfoot and they aways hung at the right angle when unclipped (unlike my Looks).
Other minor additions include a K-edge chain catcher when I dropped my chain once and marked the paint on my chainstay (nothing serious, thankfully, but the heart still bleeds), some carbon bottle cages (because why not?) and a 12 degree FSA MTB stem due to vanity reasons.
I just think that stems that are parallel to the top tube look so much nicer, and the 6 degree stems that come on most bikes tend to point upwards a fair bit especially on the slacker headtube angles of smaller bikes. 17 degree stems look okay too, but I think a 12 degree stem looks the most cohesive. The FSA Afterburner stem has a lower stack height of 34mm compared to most other stems in the market with a stack height of ~40mm. Furthermore, the handlebar clamp is visibly offset downwards relative to the centerline of the stem. Hence, once mounted with the same number of spacers below the stem, the position is very similar to a conventional -17 degree stem with a clamp stack of 40mm. Just a heads up for those considering this stem.
Several possible future upgrades that I am curious to try:
Vittoria latex inner tubes: I've heard good things about latex, but have never tried it. Are they as good as people say they are? Is it more or less puncture resistant than a standard butyl tube? I pump my tires before every ride so am unconcerned about air leakage. I also don't intend to use carbon clinchers, so blowouts during heavy braking isn't a concern either.
11-30 or 12-30 cassette: Just thought the 30 tooth cog might come in handy for an epic ride some day. My Ultegra 6800 SS derailleur is only rated up to a 28 tooth cog, though. I also thought of combining a 12-25 and 11-30 cassette to create a tighter ratio at the bottom of the cassette with the removal of the 15 to 17 tooth jump for higher cruising speeds.
I'm really content with my Scott Addict's current setup and don't plan to replace it anytime soon. Plus, as I mentioned, it has some sentimental value to me. I'm not enthused by the increasing amount of proprietary components and electronic-and-disc only road bikes nowadays, but that's a debate for another time! Thanks for reading! Feel free to post/comment/critique/inquire about my bike below and I'll respond whenever I can.
P.S. Although I did not document it, I worked part time as a bike mechanic during my semester breaks and did all the wrenching and maintenance on my Addict.