So, more than half a year ago Scott as expected released info about their new Scale and Spark bikes. Around the same time xc felt more fun than ever, so I both decided to train way more serious and most importantly - build one of each!
Being a weightweenie for years and years of course I started looking at numbers, especially since new lighter forks etc also was released, and a quick summary said that it should be possible to build a sub 7kg hardtail with a "real" suspension fork (not a rigid/Lauf/something without lockout). I quickly ordered two of the old but light MCFK seatposts before they sold out and so the journey started. The plan was a hardtail below 7kg and no specific goal for the fully except that it would be light.
Way too much waiting for frames and parts, tons of time considering everything down to screws and what's maybe a slightly unhealthy passion for building/modifying bikes since being a kid resulted in that you can summarize the last 6 months with the following picture...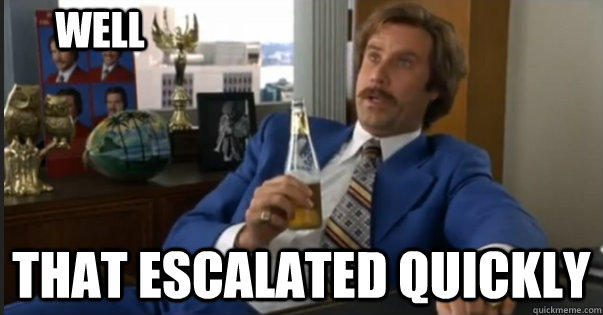 The project has turned into being quite crazy with sanding, drilling, modifying and custom parts made for the bikes so the latest weight goals is:
Scott Scale RC 900 SL size medium - sub 6,6kg (with pedals and bottle cage)
Scott Spark RC 900 SL size medium - around 8kg depending on setup (with pedals and bottle cage)
Plan is to build them strong enough for up to 85kg (I'm around 75kg in the summer) and hold up for lots of training and a few comps.
No tires like MaxxLite or Furious Fred, but Thunder Burts "as worst" since that is the lowest I personally consider being an actually useful mountainbike tire. (But everyone is of course welcome to think otherwise)
I'm still waiting for parts and lots of work left to do on the builds, and with life being otherwise very busy at the moment they're probably 6-8 weeks away from being finished. But since I got the frames this week I thought it was time to start a thread!
I'll put a speclist in this first post that I'll update everytime something has reached it's final weight, and hopefully I'll get below the goals I've set!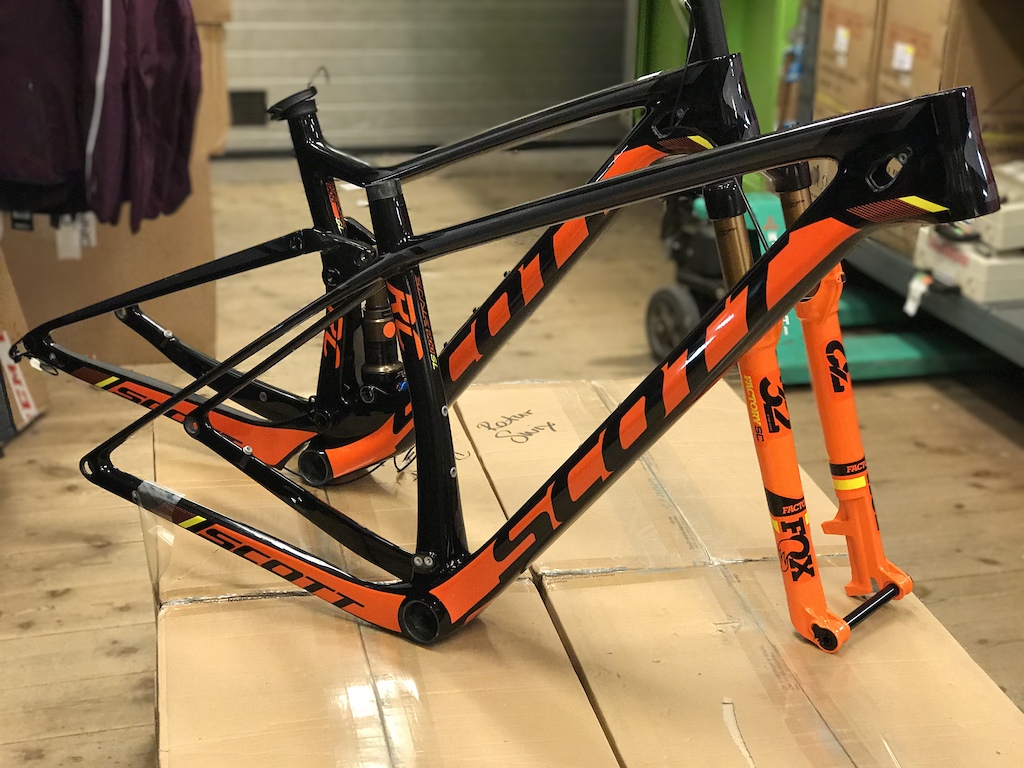 SCALE:
Frame: Scott Scale RC 900 SL size M -------------------------------- 767,4g
Rear axle: Extralite Blacklock ---------------------------------------- 29,7g
Fork: Fox 32SC w Hopp Carbon/ShiftUp cartridge/axle ------- 1239,4g
Remote: None ------------------------------------------------------- 0,0g
Headset: Extralite ------------------------------------------------- 48,0g
Starnut: None ------------------------------------------------------- 0,0g
Topcap: Included with stem ------------------------------------------ 0,0g
Handlebar combo: MCFK -17/100mm Schmolke TLO 720--------
Grips: Extralite Hypergrips ----------------------------------------- 11,8g
Brakes: Trickstuff Piccola custom silver ano ----------------------- 343,3g
Caliper bolts: Extralite ---------------------------------------------- 9,5g
Discs: Ashima Ai2 --------------------------------------------------- 132,1g
Disc bolts: Extralite ------------------------------------------------- 10,4
Wheels: Extralite HyperBoost, Sapim CX Super, 77Composites -- 1086,6g
Tires:
Tubes:
Rear derailleur:
Shifter:
Wires/housing:
Cassette:
Chain:
Chainring:
Crankset:
Bottom bracket:
Pedals:
Seat clamp:
Seatpost:
Saddle:
Other:
TOTAL:
SPARK Super Light Version:
Frame: Scott Spark 900 SL w/ Hopp Carbon parts- 1641,3g
Rear axle: Extralite BlackLock --------------------------- 29,7g
Fork: Fox 32 SC Factory ---------------------------------- 1326,4
Remote: Custom Scott Twinloc -------------------------- 42,0g
Headset: Extralite Ultratop/Scott bottom -------------- 54,9g
Topcap: Custom made carbon/cork--------------------- 1,2g
Handlebar combo: MCFK stem bonded to a
Schmolke TLO 720mm by Mattias Hellöre ----------- 174,0g
Grips: Extralite Hypergrips -------------------------------- 11,8g
Brakes: Trickstuff Piccola --------------------------------- 337,5g
Caliper bolts: Extralite Extrabolt ------------------------- 9,5g
Brake discs: Ashima Ai2 ----------------------------------- 130,7g
Screws for discs: Extralite Extrabolt -------------------- 10,4
Wheels: Extralite HyperBoost hubs, hand polished
Sapim CX Super, 77Composites rims ------------------ 1086,8g
Tires: Schwalbe Furious Fred LiteSkin ----------------- 710,6g
Sealant: --------------------------------------------------------- 83,5g
Rimtape: Orange Seal --------------------------------------- 6,7g
Vavles: Tune --------------------------------------------------- 7,0g
Derailleur: XX1 with Hopp Carbon Parts/Extralite --- 197,0g
Shifter: XX1 slightly tuned --------------------------------- 95,9g
Cables: PowerCordz (shifting and remote) ------------ 72,2g
Cassette: XX1 ------------------------------------------------- 263,3g
Chain: PYC SL ------------------------------------------------ 218,0g
Chainring: Garbaruk 36T ----------------------------------- 75,3g
Crankset: Tune BlackFoot ---------------------------------- 332,0g
Bottombracket: RaceFace (no sleeve) ------------------ 56,0g
Pedals: Crankbrothers Eggbeater 11 Ti ----------------- 179,2g
Seatpost clamp: Tune Würger Skyline ------------------- 5,4g
Seat: Berk Composites --------------------------------------- 60,7g
Seatpost: Schmolke TLO 31,6x400mm ------------------ 112,5g
TOTAL: 7331,5g
Total with the following tires:
Thunder Burt 2,1" LiteSkin (848,3g + 87,4g sealant): 7473,3g
Rocket Ron 2,25" LiteSkin (1063,3g +100,8g sealant): 7701,7g
Rocket Ron 2,25" SnakeSkin (1203,3g + not tested, calculated on 100,8g sealant): 7841,7g
SPARK "Heavy" Version:
Frame: Scott Spark 900 SL w/ Hopp Carbon parts- 1641,3g
Rear axle: Extralite BlackLock --------------------------- 29,7g
Fork: Fox 32 SC Factory ---------------------------------- 1326,4
Remote: Custom Scott Twinloc -------------------------- 42,0g
Headset: Extralite Ultratop/Scott bottom -------------- 54,9g
Topcap: Custom made carbon/cork--------------------- 1,2g
Handlebar combo: MCFK stem bonded to a
Schmolke TLO 720mm by Mattias Hellöre ----------- 174,0g
Grips: Extralite Hypergrips -------------------------------- 11,8g
Brakes: Trickstuff Piccola --------------------------------- 337,5g
Caliper bolts: XTR ------------------------------------------ 10,5g
Brake discs: Ashima Ai2 ----------------------------------- 140,5g
Screws for discs: Titan ------------------------------------- 14,5g
Wheels: Extralite HyperBoost hubs, Sapim CX Super
spokes, DT Swiss XRC950T rims ----------------------- 1169,3g
Tires: Dugast FastBird Flying Doctor ORI 50mm
including glue and sealant --------------------------------- 1178,6g
Derailleur: XX1 with Hopp Carbon Parts/Extralite --- 197,0g
Shifter: XX1 slightly tuned --------------------------------- 95,9g
Cables: PowerCordz (shifting and remote) ------------ 72,2g
Cassette: XX1 ------------------------------------------------- 267,6g
Chain: PYC SL ------------------------------------------------ 218,0g
Chainring: Garbaruk 36T ----------------------------------- 75,4g
Crankset: RaceFace Next SL slightly tuned ----------- 356,2g
Bottombracket: RaceFace (no sleeve) ------------------ 56,0g
Pedals: Xpedo M-Force 8 Ti ------------------------------- 213,0
Seatpost clamp: Tune Würger Skyline ------------------- 5,4g
Seat: Berk Composites --------------------------------------- 60,7g
Seatpost: Schmolke TLO 31,6x400mm ------------------ 112,5g
TOTAL: 7862,1g
Variant with Tune cranks and CB pedals: 7804,0g