Hey Guys
Thought I'd introduce myself here and start a build thread or two after posting a bit in the China Open mould wheel thread.
I currently live in the Gold Coast, Australia. I moved here early last year to study, originally from canberra, which is the best place ever if you like riding and bikes.
So after some time away from bikes, got back into it, bad, this year. I've come full circle - was into bikes in uni, got a job, was into cars, now back at uni, no money, and back into bikes! Unfortunately this isn't a weight weenie build, but I do have another coming up with weights of everythign etc, so stay tuned!
I recently sold my Cervelo, which was massively bittersweet, owned it for ages, and basically every part was changed from the original, but making way for bigger and better things:
And this is my other ride, a Felt, which is still in Canberra - will be bringing up to the Gold Coast hopefully after exams:
Anyway, when I was down in Canberra over easter, I felt like I needed another project. I've always loved old bikes, and love the way steel rides. I managed to find this for $50:
Its not super light or anything, but Tange tubing, double butted chromoly wasn't too bad. Initially i though make a single speed/fixie out that, but I did that already years ago, and the whole fixie hipster thing is annoying - would much rather buy a proper track bike (which i plant to do) and hit the velodrome, as its only 5 minutes away. I wanted gears, a sweet ride, something to ride to and from uni to save my other bike (to be built).
First step was a good clean. I used lot of car detailing products - soaked it with Optimum APC, pressure washed it, then used a mitt and soap
I planned to strip and repaint it, but after a wash it came up brilliantly. These photos don't show it, but the turquoise is very pearlescent, and looks brilliant. Sure there are a few chips and scratches, but I figure they add character.
I used a hairdryer to remove erroneous stickers like bike shop stickers, the chain protector and so on, making sure to leave the Tange Tubing and Centurion sticker intact. Made in Taiwan, from Japanese Steel tubesets. I then applied Opti-Coat on the whole bike after a light polish, to seal it from the elements.
Gave the headset a service:
However still wasn't good.
The next day went to the bike shop I used to work at:
Installed some downtube barrel adjusters where the downtube shifters used to be, removed the bottom bracket. Also got a pair of tyres for it (free), to put on my old Ultegra wheels I had. And sourced a seatpost. The seatpost we measured as 28.6mm, but a 27.2mm post we had just went in, but some 27.2's wouldn't. We slightly reamed the seat tube, and the post fit perfectly, nice and snug.
Put in new bearing, as the races looked fine, but it was still notchy. In the end I got a new headset: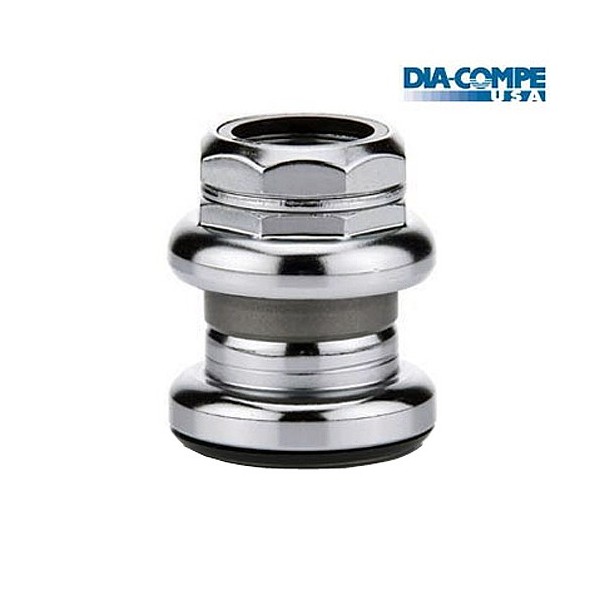 This has a shorter stack height, so cut the steerer tube down a bit. THe crown race wouldn't fit, so I had to file down where the old one was till it fit. Took a LOT of force to get it on. But headset is perfect now, and the design of the Dia Compe one is much better, with the upper race being one you screw on.