New here. Just wanted to give some love back after all the research I did on this great site. Here is my new Caad 10 Dura Ace that I put together. I am a solid dude (6-2 210) so I needed something a bit sturdy. That being said...this thing barely tips the scales at 14.6 without pedals and sensors. Its 15.1 in the pics. After I cut the steerer tube down and get the Hollowgram arms in, it will probably see its final form. Unless I decide to drop another pound and throw some Zipp 202's on it.
Although, I like the way it looks right now.
I went for a mix of solid, light, reliable performance and aesthetics. Maybe I'm partial...but I think I did pretty ok. Build list after pics.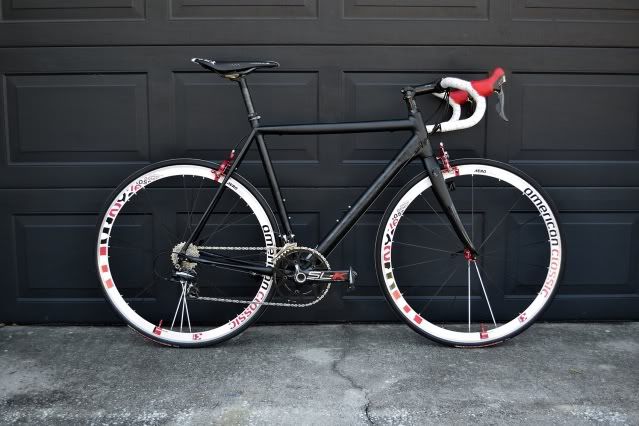 Cannondale CAAD10 1 Annodized Frame/Fork
Dura Ace 7900 Shifters/Levers
Dura Ace 7900 Front Derailleur
Dura Ace 7900 Rear Derailleur
KCNC CB1 Red Brakes
FSA SLK-Light Compact BB30
Cannondale Si 50/34 Chainrings
Dura Ace 7900 SPD-SL Pedals
Ultegra 6700 Cassette
Ultegra 6700 Chain
3T Rotundo Pro Handlebar
3T ARX Team Stealth Stem
Hudz Dura Ace 7900 Hoods
Fizik Microtex Tape
Fizik Arione CX Braided Carbon Saddle
Fizik Cyrano Carbon Seatpost
American Classic Aero 3 Alphatype White Wheelset
Vittoria Open Corsa EX White Tires
Vittoria Latex Tubes