S-Works SL3 Tarmac limited edition Andy Schleck.
After watching the 2010 TdF, I just HAD to have this bike. After receiving the frame, I was disappointed that the factory Specialized colour was a dull silver and nothing like the black chrome 'Mclaren' silver of the Schleck brother's bikes. I employed the services of Paint My Bike in Brisbane, Australia and they got extremely close but more importantly a huge difference compared to the run of the mill color released to the general public. I will try to get some pics in the sun to show its more metallic properties soon.
Its 99% accurate in terms of the parts used, including the hard to get parts of a Berner modified Sram red rear derailluer and the limited edition Prologo Schleck saddle (I got greedy and got 1 x Frank and 1 x Andy model). I was even lucky enough to find a brand new set of Zipp Zedtechs (the difference being a couple of anodized blue hub bits which I didn't want to rebuild the wheel). There are only a few minor differences equipment wise between Andy's bike and my build being a Sram XG1090 cassette, Gore Pro brake cables (tried the Nokons and they were horrible) a SRAM 2013 chain catcher and Speedplay steel spindles. The Schleck bikes are 56cm compared to mine being a 54cm.
I cant find my scales, but once I do, I'll post it up.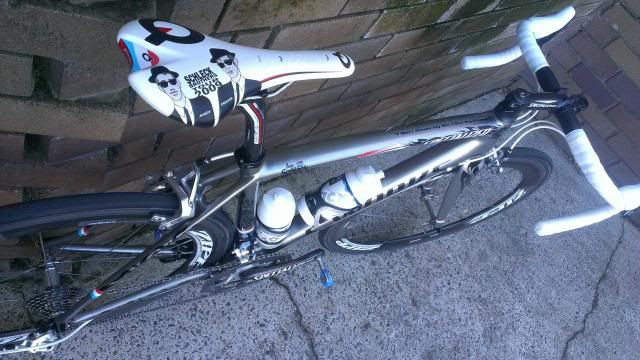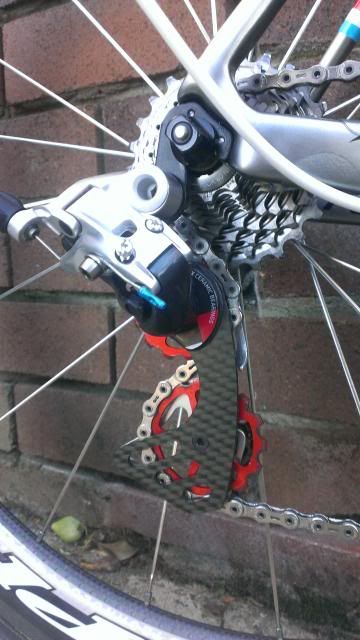 Schleckgate catcher