Well after 19 years I finally got around to getting a new bike. The story behind this new acquisition is bit of a novel, but I presume that this forum would be as good a place as any to tell it, especially since reading this forum for the past year has been a major source of information and inspiration.
But for those who want to skip straight to the ending, here is the final build list.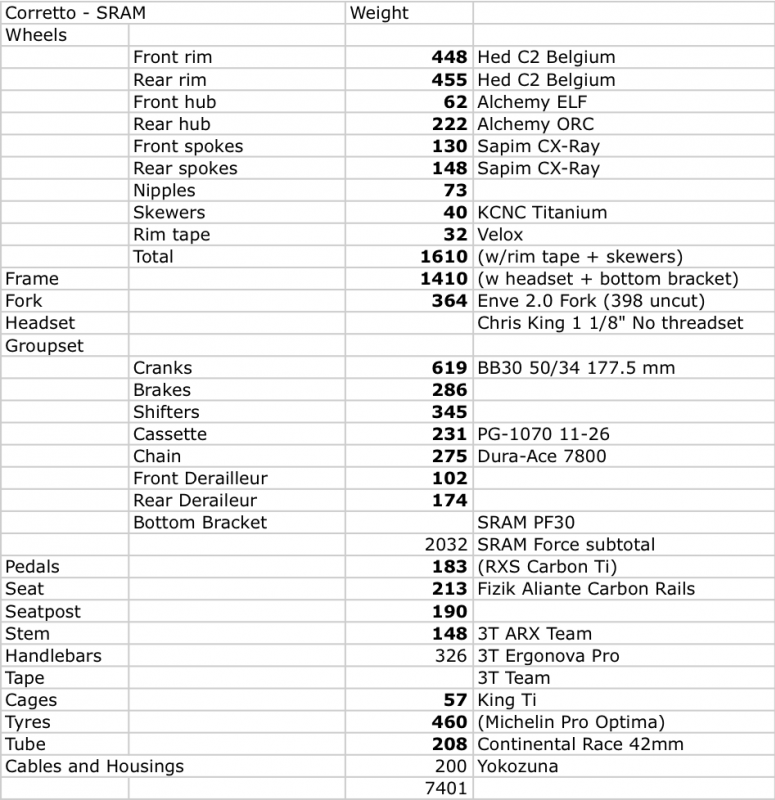 Measured weights are in bold. Final estimated build weight is consistent with my bathroom scales.
I've been riding a custom-build Reynolds 531 frame since 1994. It was the first 'real' bike I ever owned and I bought it with my money from my part-time job at university. When I moved to Englad in 2006 I worked for a company that dealt with ATB, the distributers for Wilier in the UK. Many people at the company rode Wiliers on the lunchtime rides (the factory was located in beautiful rural Oxfordshire so the lunchtime rides were spectacular). I almost bought one in 2008 (maybe a Mortirolo) but decided on a ski holiday in Austria instead (it was one or the other).
When I returned to Australia I couldn't commute to my job and the weekends were full of parenting so the bike went back into the shed for a year until I started commuting once a week to a new job in the city. The next year the commuting was 2-3 times a week and all through the winter. I began to return to all the old rides that I used to do in my youth and found that I was much fitter and stronger than in my 20's. However, the bike was now requiring lots of maintenance to keep it on the road (e.g. replacement rear derailleur, seat post bolt snapping) and so the wife gave financial clearance for a new bike. At this point I thought my budget would be at a Trek Madone 5/Giant TCR Advanced/Focus Izalco level. The new bike would be a bike for now, not a 'lifer' like my current steel roadie. Originally I figured a rough breakdown of $1000 on wheels, $1000 on a frameset and $1000 on groupset would make a good ride.
At this point, when my Dad found out I was getting a new bike he said I 'had to get a titanium one'. He's a real bike nut (one of the reasons I got into cycling) and his retirement present to himself was a Litespeed touring bike which he bought in the late 1990's. When I replied that a titanium bike was out of my budget, he said he'd pitch in some cash, at which point the budget began to embrace a Lynksey frame.
By this point I had test ridden a Trek Madone 4, Giant TCR/Defy Advanced and a Moots CR. I had considered a Wilier Izoard and Focus Izalco Pro as well.
At the same time I was helping Dad start up a new business. We made a sale a few months later and subsequently he said that some of the corporate profits to go towards a new bike. "Get the best" he said, to which I replied that he should be careful what he says as there is a bike builder in Geelong who builds titanium frames and who has a world-class reputation, but his frames are very expensive. The price for the Baum Romano (entry level frame with straight tubing) was pretty close to the Moots CR so I decided to visit the Baum factory and talk to Darren for a while to see what all the fuss was about. I have a background in mechanical engineering so I asked him lots of technical questions and I was very impressed with the depth and knowledge of his answers and his particular viewpoints regarding bicycle design.
So at this point I was considering a Romano with standard sized tubing would be a good bike for my needs (i.e. recreational climbing). This soon crept up to a Cubano (mid-level butted frame) with paint. On the day of the factory fit, Darren offered to let me ride his own bike (the Corretto) as the geometry of his would be close to my bike. I decided to take him up on his offer and after belting it up and down the street a few times I was rather amazed that a metal bike could respond and feel like that. So at this point all rational thoughts began to fly out the window and I began to wonder how could I justify the Coretto frame and how on earth could I afford it
To be continued.