Finally got around to putting my hardtail MTB on here, this is a budget build and very much work in progress (I probably change something every month!) when first finished it weighed about 2.5Kg more than this but I've gradually got it how I want it and am now happy to post on here.
The cost reflects the buying price of every item that's been on the bike less whatever take off bits have been sold for (some profits, some losses) and currently totals £652, if I add up the prices of the parts actually on the bike as photographed it is just £475.
The wired tyres are costing me about 250g versus folders but will stay on until they wear out, the Mavic Crossrides are also a bit heavy, but they are robust (Freehub aside for which I have a caged bearing replacement when it does get the screech) and stiff which I like! The frame is a little heavy as well, but it's tough and I'm kind of attached to it!
I could have swapped the rear tyre to the Panaracer Fire Mud I have and stuck some cheap (but lighter) skewers and a bolted seatpost on, but decided I would publish as it is genuinely currently ridden at least weekly.
Frame as assembled 1767
Carrera Kraken Bare Frame (painted Ford met' purple) 1742
Frame blanking bolts 2
Rear derailleur hanger plus bolts 17
Plastic BB cable guide plus bolt 3
M-part guide plus 2 cable ties 3
Crankset group 1454
Deore HT2 BB 90
BB spacers 4
Cranks complete 770
Inner chainwheel retaining bolts 11
outer chainwheel retaining bolts 19
Ally GT bash ring 82
Deore XT HT2 RH arm 368
Deore XT HT2 LH arm 220
HT2 preload adjuster 4
32T E13 ring 26
Inner guide ring 40
Ritchey SPD pedals 350
Chain 240
Gears group 329
Rear shifter - combined with brake lever 103
Rear cable front outer 8
Rear cable inner 10
Rear cable rear outer 8
Deore XTR rear mech with alloy jockeys 200
Brakes group 808
Shimano ST-M765 XT/M800 Saint front (weight
with M775 lever for comparison purposes) 259
Pads 22
front calliper bolts 12
Shimano M775 XT/M965 XTR rear 269
Pads 22
rear caliper mount and bolts 14
160mm Tektro 101
Bolts 12
Alligator rear disc 72
Bolts 11
Seat group 471
Promax carbon seatpost 234
?? QR seat clamp 40
Bontrager Inform RXL 197
Steering group 2035
FSA Cartridge headset bearing 117
Manitou Skareb Elite forks (Converted to 105mm travel,
Min oil fill, SPV cap replaced with plain valve cap, with SFN)
1450
Top cap and bolt 15
Superstar 80mm stem with bikehut faceplate 122
Syntace Duraflyte 233
Renthal Kevlar grips 77
Carbon Headset spacers 21
Wheels and tyres group 4005
Mavic Crossride 916
Tube 125
Panracer Fire XC 2.1 720
Shimano XT QR skewer 58
Mavic Crossride 1073
Shimano M760 Cassette 296
Cassette spacer 4
Schwalbe Tube 125
Panaracer Fire XC 1.8 Wired 620
Shimano XT QR skewer 68
Total 10869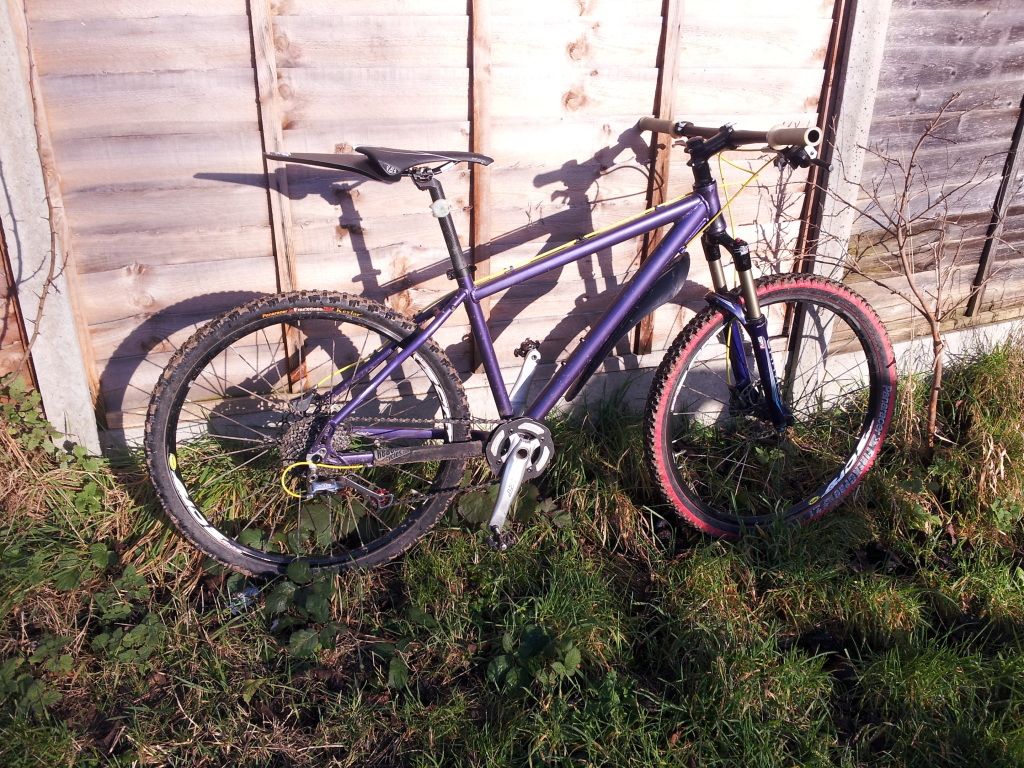 Not the best photo I'm afraid!