Hi all,
This my new bike. Certainly not up to WW quality (yet!) but there is NO better place to come for some inspiration and suggestions. Please have a look, and PLEASE I'd love suggestions on colors / components to really make this bike GREAT over the next couple of months.
My last bike was an open-mold carbon frame (basically an older pedalforce QS3 model) which treated me well, until an accident left a seat stay precariously close to failure. I'd gotten a 2010 SRAM Force GS (with Red shifters) with the frame, and built it up in a black-and-white theme, with Ritchey WCS white bar/stem, a thomson seatpost, Soul 4.0 wheels, white cables/spacers, and a very comfortable if heavy sella max flite gel flow from a few years ago. Here is my old love before her accident (with new Zipps/quarq on):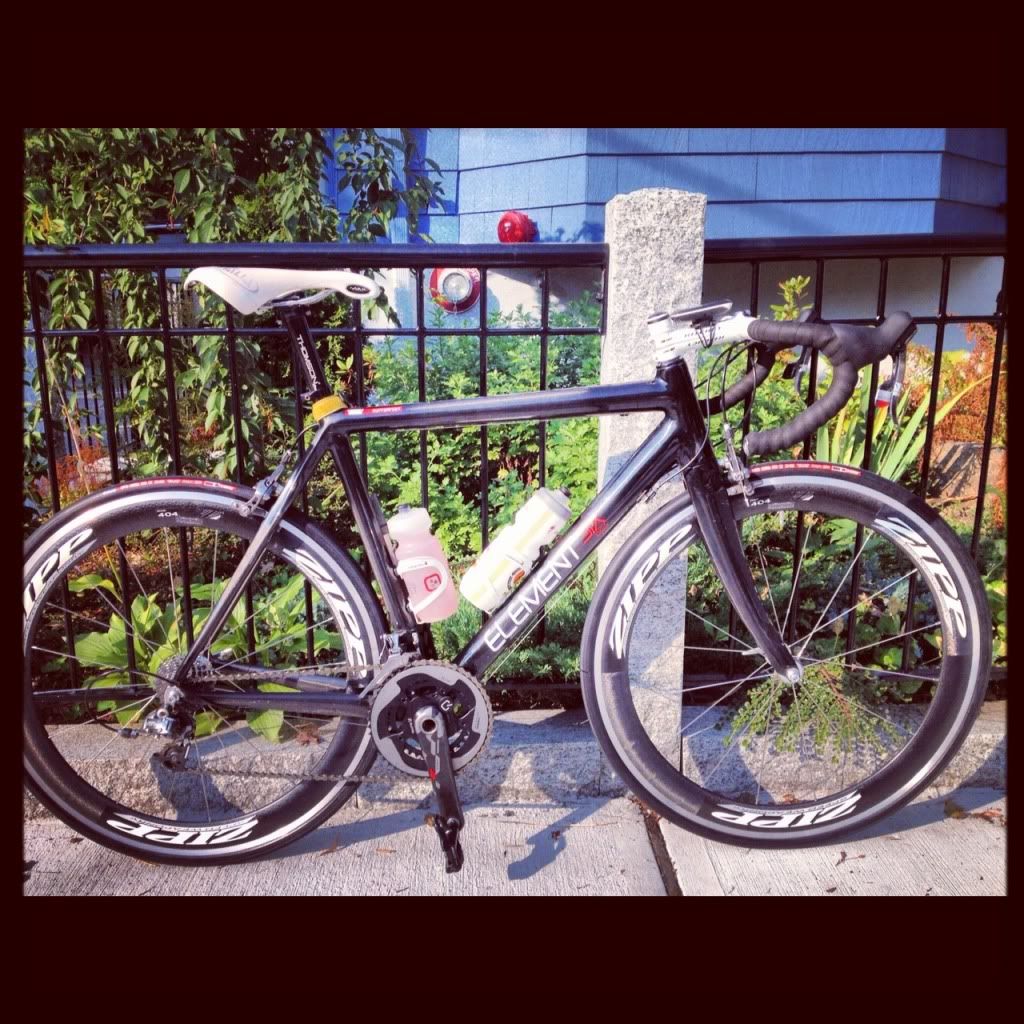 I've been racing more, and really do best in shorter, hard efforts and sprints. I also was really interested in going back to aluminum for a race bike (N+1... in the next year or two I can get a "fancier" carbon bike for pleasure rides, crits are too messy). I also loved the idea of buying something from a local craftsman... hence the new spooky: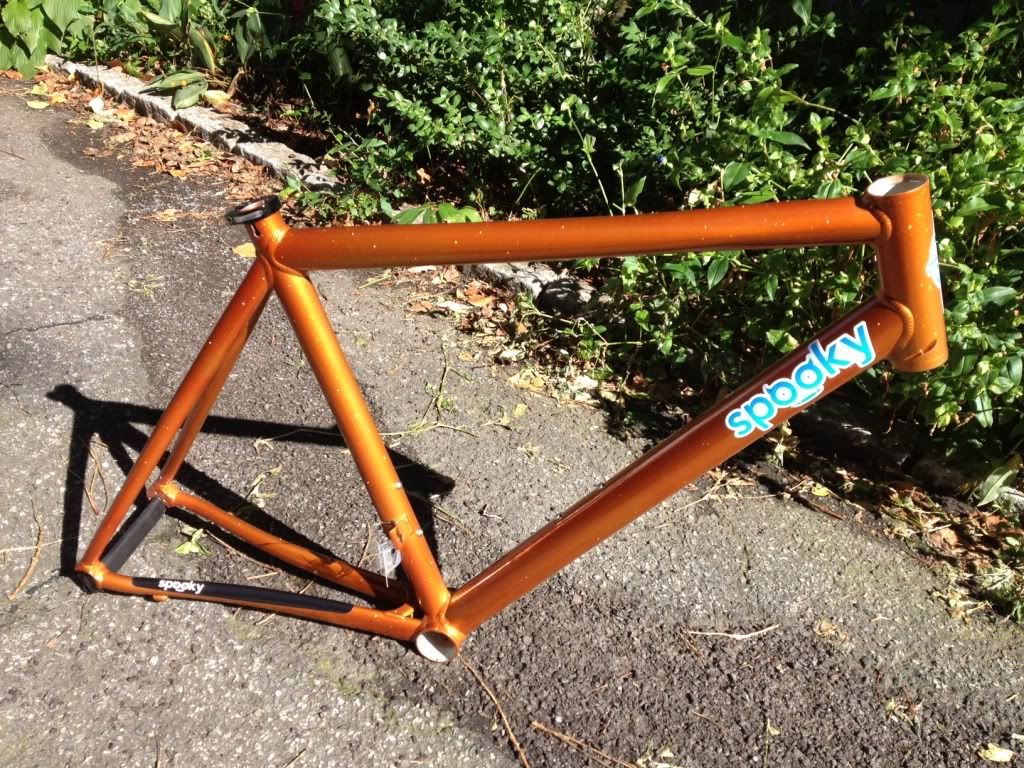 My photography doesn't do the paint justice. Its a very bright orange, with a ton of flake/sparkle in it. Its a M/L in his sizing system, which is similar to most manufacturers 56-57cm frame, and fits me well at 6' tall (57cm TT length).
As far as weight... the frame, with paint, braze-on, hanger, seatpost clamp, and bottle cage bolts was about 1250gm. Heavier than my off-brand carbon, BUT it came with an ENVE fork which was almost 150gm lighter. Between the fork and lack of FD clamp, the framesets are basically equal weight.
This shot gives a bit better idea of the paint. Also shows the neat, clean front-end cabling that the frame has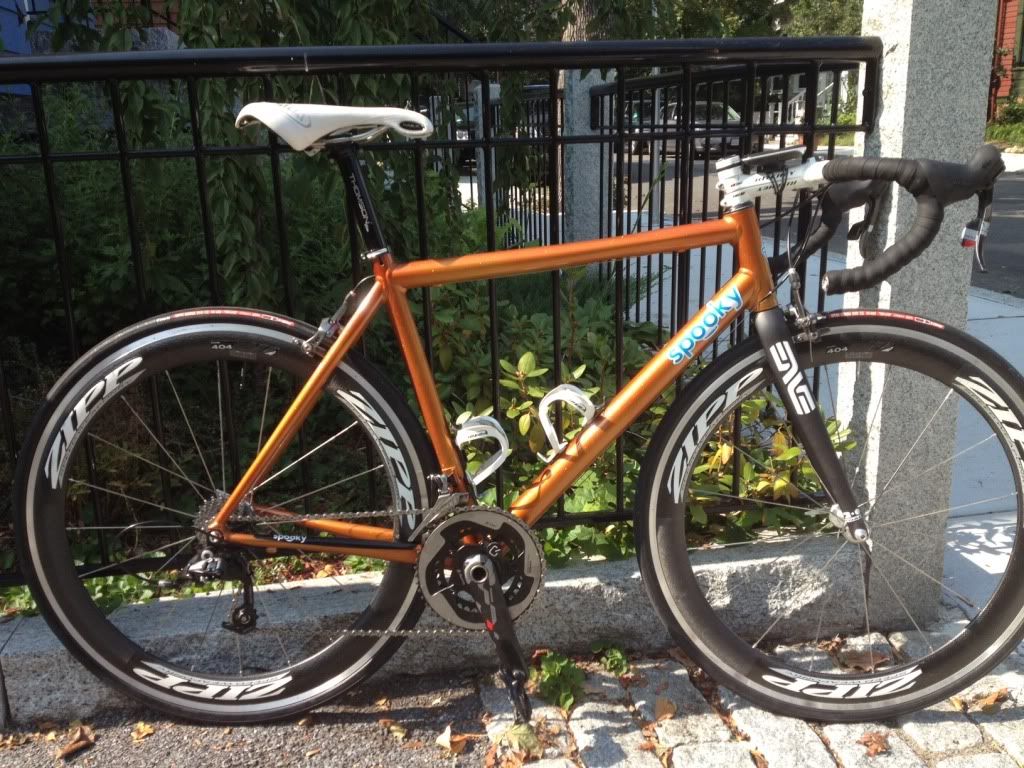 And that is her with the components basically transferred laterally. Victoria open corsa 25mm tires which are like velvet on the road, NOS Zipp 404 clincher with aluminum brake track, and 2012 Red FD/Quarq. Forgive the very tall steerer; I'm still dialing in the fit. I've only got about 50 miles on it, but I have to say I love it. Very stiff and predictable in all out sprints, and with these tires it is very comfortable even on rough roads. Just wants to go fast.
Anyway, I'm building it open with the #1 purpose to race... so no CRAZY exotic parts. However, I do want it to look good
I am a big fan of orange-and-blue together, so I am thinking of incorporating that into a new theme...
The quarq is staying, and I'd be loathe to get rid of the thomson post. However I'm open any suggestions!