been lurking in here a while, but thought I'd post a pic/spec of my bike, to see what you think??
It's based around a 1997 Giant MCM carbon (20") and looks a little something like this: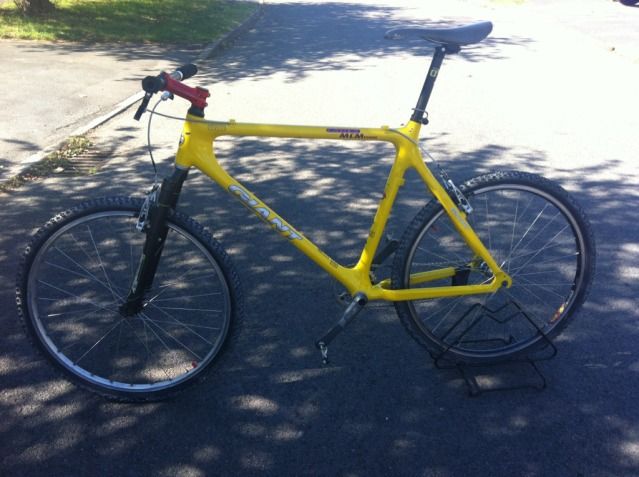 I wanted to get it built first, then I can tune it further, as funds allow.
It was mostly built from parts I had lurking around, hence the hotch-potch look of the bike, but like I say I'm going to be reducing the weight more as time goes by.
There were many goals I wanted to achieve, in building this:
a) sub 8kg
b) Singlespeed
c) sub £500
Spec:
Frame: Giant MCM Carbon 20"
Fork: Pace RC31 carbon with additional V-brake mounts
Headset: Ritchey
Stem: Ritchey WCS 4-Axis (Ti bolts)
Handlebar: Giant Carbon (600mm)
Grips: Ritchey WCS
Barends: nope
Brakes: TRP M920 Titanium (referring to the Ti hardware)
Brake Pads: KoolStop
Brake Cables: Jagwire
Brake Levers: Paul (for Vee's)
Shifters: haha
Front Derailleur: don't make me laugh
Rear Derailleur: not on your nelly
Derailleur Cables: invisible
Cassette: Surly SS 15t
Chain: Sachs Road 8sp
Cranks: XTR M95*
Crank Bolts: Octalink
Chainrings: 1 x Ritchey Alu 36t
Chainring bolts: Onza Alu
Bottom Bracket: Dura Ace 7900
Pedals: Ritchey Pro
Hub Skewers: Controltech Scandium
Rims: Mavic X517
Hubs: Hugi
Nipples: cold and raw
Spokes: stainless
Tyres: Ritchey WCS Z-max 1.7
Tubes: AirB Latex
Saddle: Flite Kevlar Carbon Evoltion
Seatpost: Profile Carbon
Seatpost Binder: Tune QR
Weight........7.6kgs
And I've achieved all my goals..
Looking forward to your comments (good and bad)