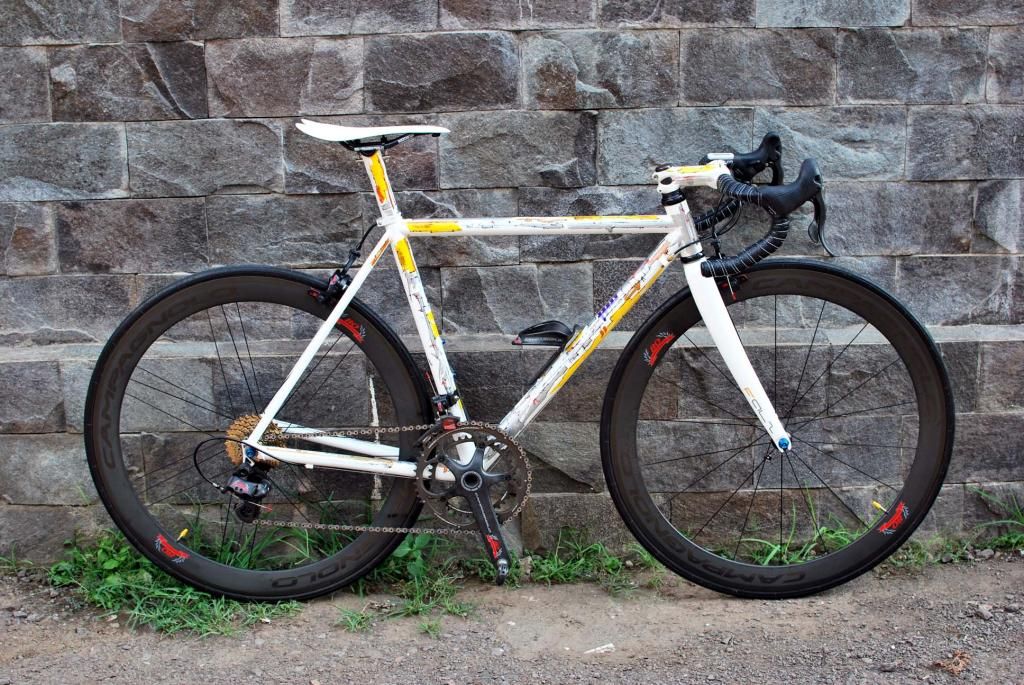 Hi,
This is the 3rd bike posted here.
My 1st bike posted 2years ago, it is the cervelo R5vwd, now scaled sub 3,6kg, last time posted here at 3,78kg, will updated the parts & pictures soon.
Another weenies carbon and metal bicycles collections will posted here soon.
Btw, this Pegoretti is a great frames.
Like a magic, he make a steel bikes feels like a high end carbon bikes.
The important things are : the handling & stabiliti during fast descent could not compare to another carbon bikes that I have.
Build sub 7kg by Ahaw Custom Works in Katapang Bike - Bandung.
Here is the specifications :
Spreadsheet with weights (in grams):
1. Frame : 1840gr // Columbus Stainless Steel size 48cm + 2 cable stopper/springs
2. Fork : 380gr // Falz cutted
3. Headset : 110gr // Chris King + Extralite + BTP caps/bolt
4. seatpost clamp : 8gr // OEM carbon repainted to white
5. Seatpost : 98gr // OEM carbon
6. Saddle : 98gr // OEM repainted white
7. Stem : 124gr // 3TTT
8. Bar : 228gr // Ritchey Alloy
9. Bartape : 60gr // + caps
10. Bottle Cage : 24gr // Campagnolo Record 80th Anniversary
11. OuterCables : ??? // Campagnolo Record 80th Anniversary
12. Inner Cables : ??? // Campagnolo Record 80th Anniversary
13. Brakes : ??? // Campagnolo Record 80th Anniversary
14. Front derailleur : ??? // Campagnolo Record 80th Anniversary
15. Rear derailleur : ??? // Campagnolo Record 80th Anniversary
16. Crankset : ??? // Campagnolo Record 80th Anniversary
17. Bottom Bracket : ??? // Campagnolo Record 80th Anniversary
18. Chainrings : ??? // Campagnolo Record 80th Anniversary
19. Chainring bolts : ??? // Campagnolo Record 80th Anniversary
20. Chain : ??? // Campagnolo Record 80th Anniversary
21. Shifters : ??? // Campagnolo Record 80th Anniversary
22. Cassette : 112gr // Recon Gold one piece + caps
24. Wheels: : 1.294gr // Campagnolo Record 80th Anniversary
25. Tires : 252gr // Continental Podium
26. Pedal : 124gr // Speedplay X1 tuned w/btp butterfly
27. Computer : 32gr // Cateye Strada Slim White
28. Quick Release : 28gr // Blue Tune with carbon axle
TOTAL : 6,76Kg