Hi guys,
I have a Scott cr1 team issue (2006) that i love, I have been slowly
lighteneing the bike here and there and have hit a wall. I know that
obviously i can shave weight by switching to a lighter wheel set &
a lighter cassette but I will hold off on those for the time being.
Other than that what can i do to lighten the load a bit. Last week I
striped the bike down and recleared it 1. to get rid of the hideous yellow
decals that it had and second to fix lots of chipping in the carbons clear
coat.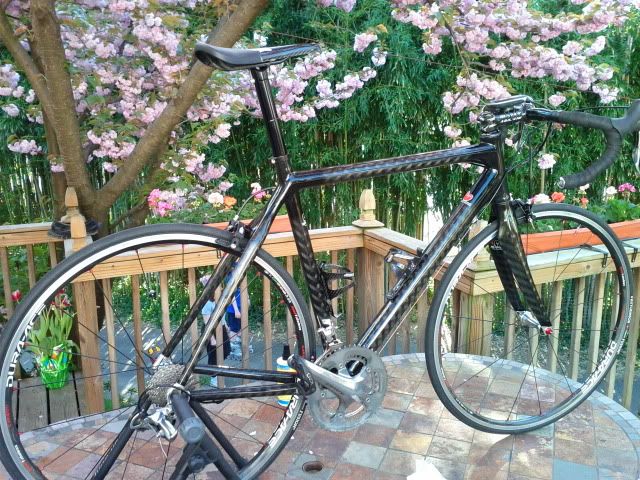 This is what it looked like before the strip and refinish.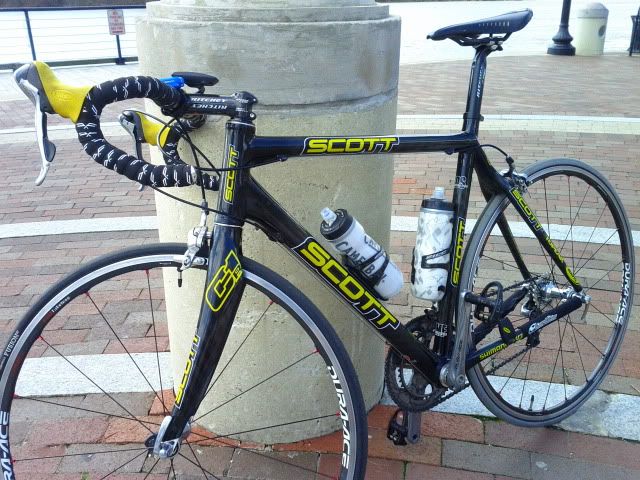 The parts on the bike are as follows.
Frame:
Scott CR1 Team Issue 880g
Fork:
Scott Team Issue 350g
Headset:
FSA
Headset Spacers:
N/A
Stem:
Ritchey WCS Carbon Matrix 4-Axis Stem 31.8mm, 110mm 125g
Handlebar:
Ritchey super logic , carbon fiber handlebars 42cm 190g
Handlebar Tape:
Fizik 40g
Saddle:
Tune Kom Vor 92.8g
Seatpost:
Ultra-light Seatpost 31.6mm 129g
Seat Binder:
Scott
Front Derailleur:
DA 7800
Rear Derailleur:
DA 7800
Shift & Brake Levers:
DA 7800
Crank Set:
DA 7800
Bottom Bracket:
DA 7800
Cassette:
Ultgra
Chain:
DA 7800
Brakes:
2012 Zero Gravity Negative GSL 200.9g
Wheelset:
DA WH-7850-C24-TL 1,386g
Tyres:
Hutchinson Fusion 3 Tubeless 580g
Skewers:
Superlight carbon Ti ebay 43g
Cables & Housings:
DA cable/jagwire housing
Pedals:
Look Keo carbon Ti 190g
Bottle Cage:
Zipp carbon x2 52g
Any advice would be appreciated
Regards,
Hanzo