ferrarista wrote:
I've been talking with Nancy Yu from light-bicycle.com.
they have a 50x23mm and 45x24.5mm rims. They are not posted on their website yet.
here are the drawings she sent me.
23mm is 165$ each and 24.5mm is 170$ each. shipping is like 50$.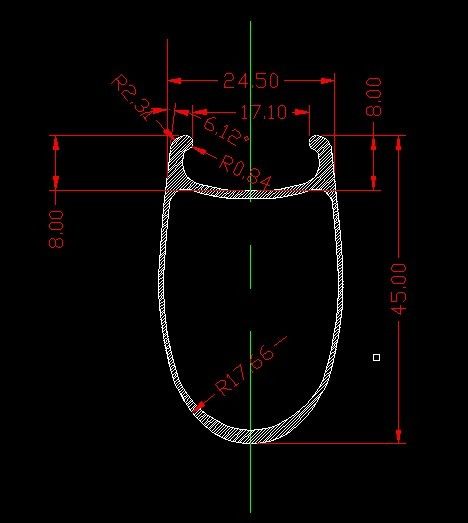 I'm especially interested in these, but a tubular version...
Boyd wheels have a great line of revamped carbon clincher and tubular for 2013. I would really like to get a hold of the rim they use, but according to their website it is proprietary. They list the specs as 44mm deep, 23.5 wide at the top and 24.4 wide at the bottom of the brake track, which appears to match the image above. They offer tubular and clincher... Although the exact details of the drawings (see product line
http://www.boydcycling.com/2013-product-revamp/
" onclick="window.open(this.href);return false;" onclick="window.open(this.href);return false;) are a tiny bit different, I think they may be the same mold, if not the exact same layup.
So my question for ferrarista... Any mention of a 44mm tubular with Nancy?? Any one else seen these rims out there in their research?
I think light-bicycle has them in tubular too. But these are 24.5mm at the brake track and about 27mm at the widest part. not the same as boyd.
send an email to Nancy at light-bicycle to see if they have stock on the tubulars.
Another positive I've heard about light-bicycle is that they have someone in USA to handle warranty problems. So if you ever need to use the warranty , you don't need to send the rim back to China , but in USA if i'm not mistaking.