Update 2017:
After a few years on my NAHBS La Ruta, I sold it with some sadness and am temporarily spending all my trail time on a Yeti SB4.5 and my rigid Rise fat bike. My take on the La Ruta evolved over the past few years. The bikes are beautifully made, light, and are great for some types of riding, particularly the sort of riding I was doing at the time I got it - mostly non technical long endurance rides. But mtbs have progressed a lot in the past 3-4 years and the La Ruta has unfortunately fallen behind its competition in some ways. A dropper post and slacker head angles have made me confident to ride trails I was scared to try on the La Ruta. And while I still love and admire the simplicity of the La Ruta's suspension design, it does come at a definite cost: chainstays are significantly longer than the crop of new more nimble 29ers, and those come with suspension designs that don't rely on the platform shock to prevent bobbing and are simply more plush as a result. My Yeti isn't as light as my Funk was (I didn't build it up with gram-counting in mind however), but it's a more fun and capable bike to ride.
---------------------------------------------------------
I had been considering a Funk Cycles La Ruta since seeing them in last year's NAHBS coverage. A few months ago I pulled the trigger, and worked with Dave @ Funk to organize the bike and build it up for the NAHBS show in Denver last month. Dave and Craig (the fabricator) were fantastic to work with, and the bike came out really beautiful. Having owned many Ti frames, including more than one Moots, I can say that Craig's fabrication is as good as any I've seen. Funk let me do the finishing work myself, because I'm not enamored with stickers on Ti, and I did the assembly also (including building the wheels). Kappius components supplied the hubs with the first XX1 cogset they've done. Duke supplied their Lucky Jack carbon tubeless rims complete with custom stealthy decals to match the rest of the build. Here are some photos of the bike from the show at
BikeRumor
and at
VeloVert
Here are a few photos of my own... Build list, and first ride report follow at the end!
Drive Side shot on my porch
Flex plate and BB
Kappius Lefty Wheel
Kappius Rear Wheel with Frame PM and Thru-axle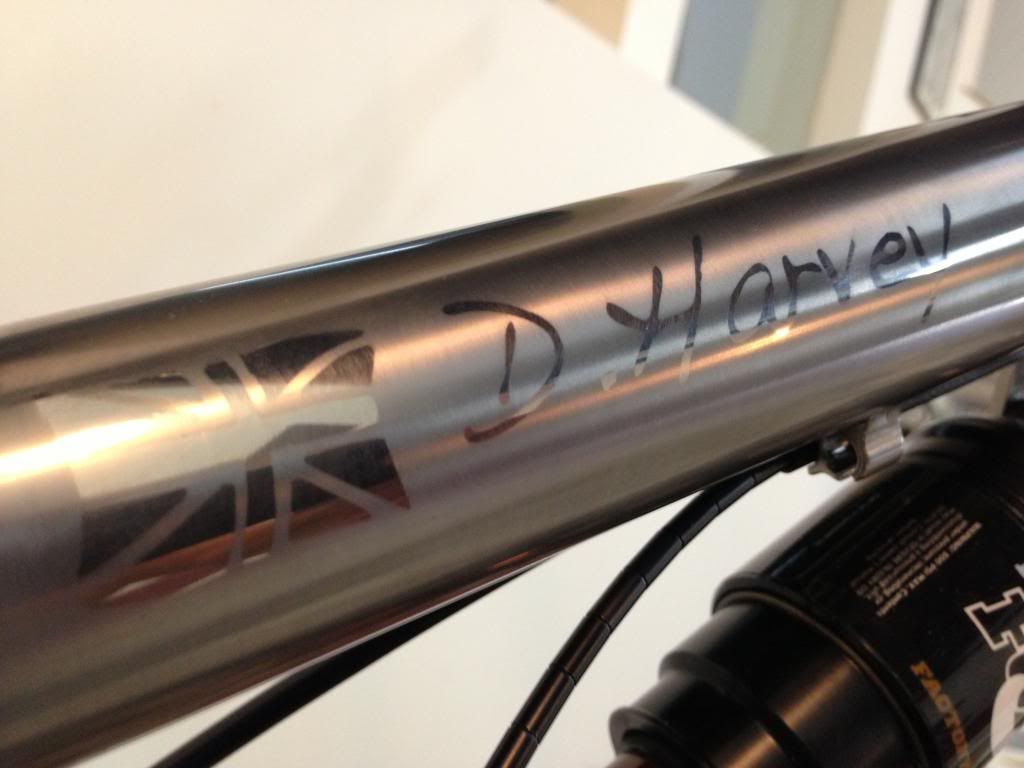 Mirror Polished Name Decal
Mirror Polished Funk Decal
First Ride
---------------------------------------------------------
Build List:
Frame: Funk Cycles La Ruta 29er (Custom geo M/L, polished head badge, anodized & machined shock adapter, PM brake, 142x12 DT rear axle)
Rear Shock: Fox Float CTD (high volume cannister)
Fork: Lefty Carbon XLR 100mm
Steerer: MCFK Tapered
Headset: Cane Creek 110 ZS44/EC44
Wheels: Kappius hubs, Duke Lucky Jack Carbon 29er rims, DT Aerolite spokes (pair weight only 1334 grams...240 points of engagement!)
Shifter/Derailleur/Cassette/Chain/Chainring: Sram XX1 (Grip shifter, 32 tooth ring)
Crank: Cannondale Hollowgram SiSL2 172.5mm (Leonardi Racing Spider, 132mm hollowgram axle with no lip)
Bottom Bracket: Zipp Vuma Ceramic
Brakes: Magura MT8 with Storm SL Rotors 180F / 160R
Stem: Procraft 110mm x -17 deg (decals removed)
Bars: MCFK carbon 3k 700mm, 9 degree bend
Seatpost: Eriksen Ti 30.9 Setback (brushed, clamp modified for carbon saddle rails)
Saddle: Selle Italia SLR Kit Carbonio Flow (decals removed)
Pedals: Crank Bros Eggbeater 11
Tires: Schwalbe Racing Ralph PSC T/R 2.1"
--------------
Total weight: 19.8 lbs
---------------------------------------------------------
First Ride report:
The trail I rode is pretty rutted at this time of year (from people riding it when the snow hasn't fully melted), and has a ton of rocks sunk into the dirt so even at the best of times it can be a pretty rough ride. The La Ruta did a good job of smoothing it out. In trail-mode the rear shock had no real discernible bob, even when standing, yet the ride was decently plush. In open mode the plushness increases, but the bike does start to bob significantly when you pedal. The handling was very precise: point it where you want to go and the bike does it.
The other thing that really amazed me about the bike was the XX1 group. I had read that the group was quiet, but somehow it still took me by surprise. The drive train is so silent that the only noises you hear are the tires on the dirt and rocks. Its pretty surreal. The grip shifters are also a quantum leap forward from the older versions, and in my opinion from the XX trigger shifters. The shifts are fast and effortless. I've never ridden a bike that shifts this well.