The kids are sleeping, so now its a good time to share the story, from the idea to the bike...
I actually had really no taste on steel bikes, until last April. I was reading the Cycling Plus mag during the Easter vac, when I run to this add. The name was Tommasini, never heard before.
I am relatively new to cycling without a past. This full page add demoing part of a blue steel frame with a visible internal rear brake routing draw my full attention. Days went on and on, and every time I was keeping this mag on my hands the page always stopped there. I started searching the internet to get more information and possibly a local dealer, then I decided to email the factory directly.
a got a response very soon, price was logical, lead time were about two months. I could actually pick up the color and paint scheme of choice, could also have them paint my name on the TT!
Kept running my 6,4Kg carbon bike but my mind was already fantasizing the build list. Sent my order, now had to wait for two months...
It was early September when I received this email that my frame was ready to ship! Didnt take more than two days before I see this picture next to my desk at the office!
Couldn't wait to take it home, so I teared the box apart right there next to my desk!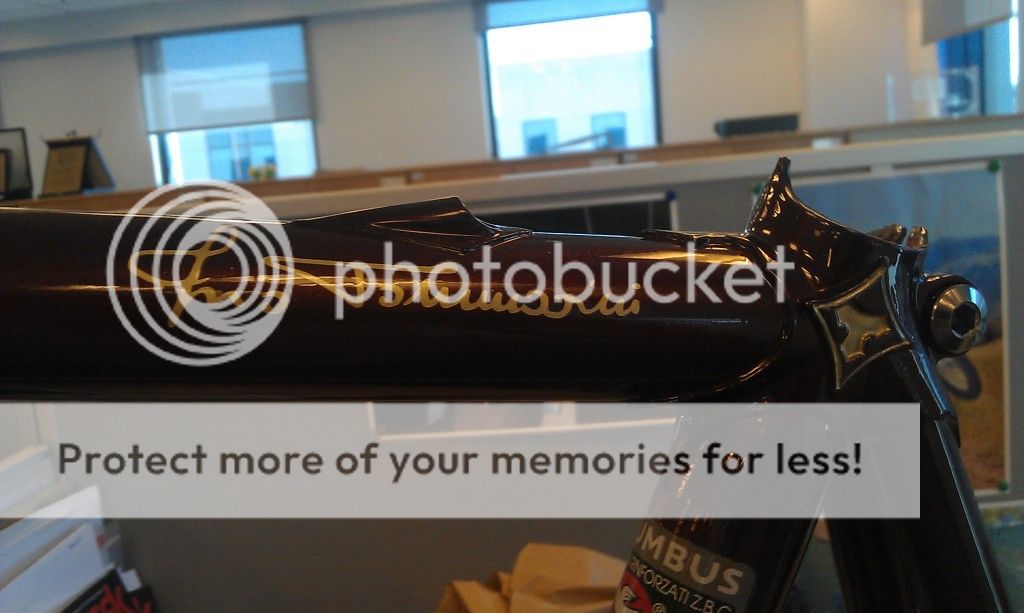 a couple hours later at home, the frame spent the night on the couch, and that was not the only night. Took some time to my wife to convince (threat) me to take it to the garage
Headset was the first parts to order. Although the Record headset would seem the first choice to come to mind, I decided to take an alt road and order a set of Chris King NoThreadSet in silver with a sotto voce logo with a Thomson 1" to 1 1/8" sleeve converter. Down the road, I changed the build direction I did a complementary order for a 1 1/8" stem cup and a bearing cup, in silver as well.
To be continued...
_________________
Trek SpeedConcept 9.9 Project One, Basso Diamante SV, DeRosa SK (sold),
Orbea Orca Gold 6430gr
, Orbea Aqua,
Tommasini Tecno
,
FM-066SL 6480gr
, Kinesis RaceLight T2, Trek Superfly 100, Orbea Alma 29, Specialized Enduro S-Works 29, KTM EXC-250