uraqt wrote:
what I find kind interesting is that Stages, is sort of saying, and I admit that I am reaching.....

1. you can't prove that it's ours that is off
2. one power meter hooked up to two head units gets two different reading!!!!!!! This is not good for anybody if true!!!! 1st I have heard of this.( I wonder if this is why has taken garmin and brim so long to get to market) ( you have to give credit to quarq they were later than they said but they still delivered closer to their date than to garmin and brim)
3. it very very hard to get that 1.5 % accuracy.

On #3 I fully agree: no power meter has 1.5% except maybe for Powertap (which has the drivetrain loss issue, and which loses precision as it ages). I state that with high confidence. The "
constant cadence approximation
" from using a magnetic cadence measurement that ticks once per revolution is enough to kill that.
On #1: that's the brilliance of the review. He calibrates to a LeMond trainer which since it uses big fat fans for resistance should be quite stable as a reference.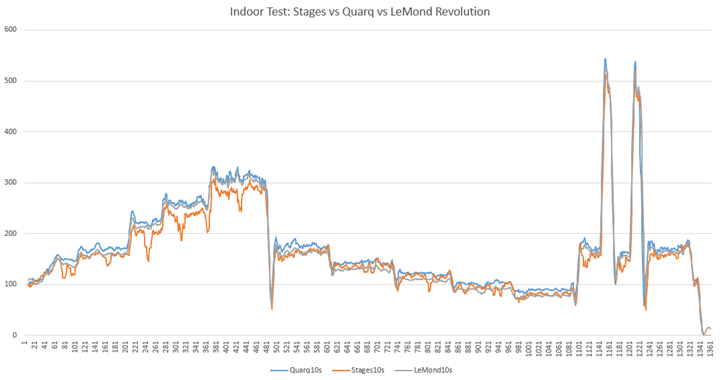 At a given power the LeMond should be stable: constant LeMond power = constant power. It doesn't mean the ratio of powers on the LeMond is correct, so don't think because Quarq matches LeMond at one power it should match at all powers or the Quarq is wrong. For example, maybe LeMond models power proportional to speed to the 2.5 power, but it's more accurately speed to the 2.4 power. So focus on segments of near-constant LeMond power. The Quarq tracks the LeMond, but the Stages is all over the place.