Speedplay put the cleat on the bike and the pedal on the shoe.
Have never heard of anyone that had them that didn't absolutely love them.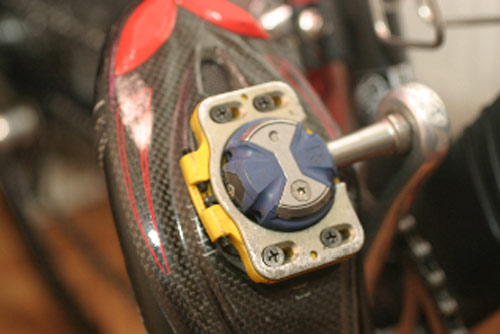 I have Dura Ace 7900's on my CAAD. I used to ride SPD's before.
The SPD-L's are so much better for how I personally ride.
I know there are lighter options, but I wanted the quality and the worry-free operation that
Dura Ace Pedals are known for. I was set on a pair of 7810 (which I think are a tie with Campy
for the most beautiful pedals available), but when the carbon 7900's came out, it was a no brainer.
I had to get them. I can't compare them to Speedplays or any other premium pedal. I can only
report on how they perform for me. I get on my bike. I clip in. I ride hard. They are smooth as silk.
They don't make noise. They feel great when I hammer. I feel totally secured and connected to my
CAAD and like I'm one with it. When I need to clip out, no problem. They do what they are supposed
to do and they do it well.