Been 2 months. Great bike. Here it is with new black KCNC clamp.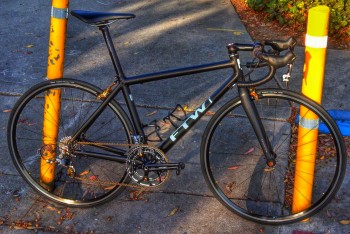 A little FTW Lore. In the late 80's Frank produced a few (I think 6) track bikes under the Yeti brand. One was for former kilo world record holder Rory O'Reilly. Rory and his son Cody (2009 elite omnium national track champ) are residents of Santa Barbara. Both were out at our local Wednesday night crit practice a few weeks ago and Rory and I had an opportunity, though fleeting, to chat about FTW. It is nice to ride a bike with a link to my local area.
Of more interest to WW, I remember reading elsewhere on the net that the Yeti track bike used a delrin brushing headset. This makes me think it is appropriate to get some delrin on this bike.