rgrhon wrote:
1) Madone Bontrager brakes don't have the power of the Dura-Ace. Get Dura Ace for sure, even 105's (on a different bike) with the same cables perform better than Bonty's brakes. What a waste of time and money! The ones on the Mad 5.9 I'm riding with Dura Ace handles scare the Sh** out of me! Almost rear ended a bus today! This is definitely NOT good on a high end bike!

2) Rear Brake location (either Bonty or Shim) gets dirty fast, requires more maintenance. PITA. Trek really f'd it up here. Bikeradar gave 3 stars just for the crappy brakes and tire rub on this bike! That's right, something's actually flexing at the stays enough for the tires to rub the brake pads! Make sure you ride it on an 18+ degree grade and you'll experience it yourself! Don't know how the pro's handle this unless its not a true production frame.

3) Poor routing of cable to rear brake position is draggy, too much bend where it exits the frame. Even ruins excellent Dura-Ace performance when dirty (all the time).

4) Domane is stiff enough and compliant enough, but the handling is a bit freaky. It's a cheap single point solution to making the whole frame flex compliant yet stiff. You can use less $$$$ carbon. In hard corners you feel the bump in the front but not in the back, so you don't have the handling because you lose the feel of the rear end. I thought it was sliding initially, then when it did slide I didn't feel it at first. Barely recovered control. Definitely NOT a crit bike. Maybe OK for flat, rough stages but to me it was scary in the mountains. To compare, ride the truly compliant yet stiff 2014 BMC team machine. It's just as compliant, handles well enough for crits, and is stiff. A more expensive but much better solution. Better tires might help a little, as might going to stiffer carbon wheels (aeolus), custom team frame (H1) and stiffer IsoSpeed bushings like on Fabian's bike (~$10k).

5) Currently waiting to ride the Emonda SLR8. At least the brakes are in the right place. Only considering this bike because my LBS is phenomenal, the price is $2k lower and the BMC dealer is not phenomenal. Also Red Team (now TREK Care) is great if you ride more than about 3k miles a year. I got my $250 back 10 fold on Red Team, and it paid for itself in chains alone. Only be sure your LBS is willing to do the paperwork for you or it won't pay off. So far reviews are cautiously positive, which I attribute to the modified Pro Madone Frame they're using (not KVF). Can't say enough positive words about the warranty combined with my LBS (Jax in Long beach CA)! I wouldn't consider Trek at all without it! I figure I saved $3k over 2 years in parts and repairs! Really want that 2014 BMC TeamMachine frame though...
Classic web forum armchair BS; maybe even anti trek PR by some other big brand given the user has posted only one post !?
Anyway; I have a series 5 madone built up like this:
http://www.pedalroom.com/bike/trek-madone-59-18327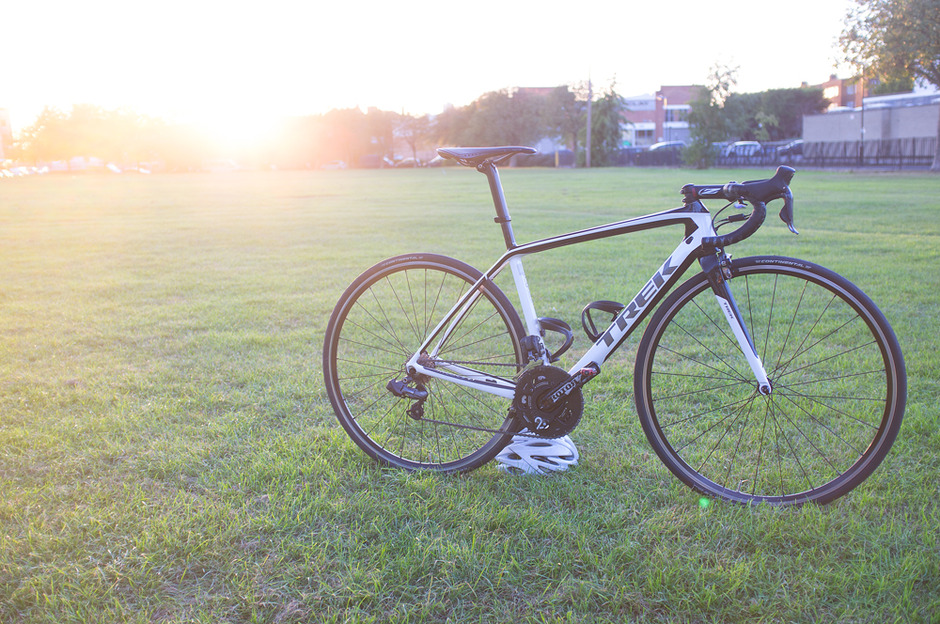 Its an excellent bike. Yes the brakes out-of-the-box (bontrager) are not as good as standard shimano ultegra and above. BUT you can get direct mount brakes starting at 105 range in shimano. Get shimano for ease of use and better location of limit screws. Get swisstop pads and get compression-less cables (if you buy from wiggle get lifeline performance; cheap and good; thats what I have). There is a learning curve for direct mount brakes but as forum reading/posting cyclists we love that dont we? I would really like to believe in the greater future of caliper brakes rather than disc on road bikes and direct mount is a step towards that. They are light, aero and can accommodate wider tyres. The braking power is phenomenal (DA9010). In terms of flex that is again some grade A BS. Its a lovely stiff frame, I have ridden it above 25 degrees heat and there is no flex or tyre rub etc.
My only slight criticism would be the rear direct mount brake could be fitted at a normal location i.e. not under BB shell for ease, cleanliness and better cable routing but there are ways around that such as know how to cut and route cable well and use it as a fair weather bike, at least thats what I do.