someone needs to sticky this thread or one of the other ones as this is the 2nd time I've posted this in as many weeks
So here's the deal; it's not just plug and play with off the shelf parts. At a
minimum
the process requires a modified spindle and machined spacer to take up slack.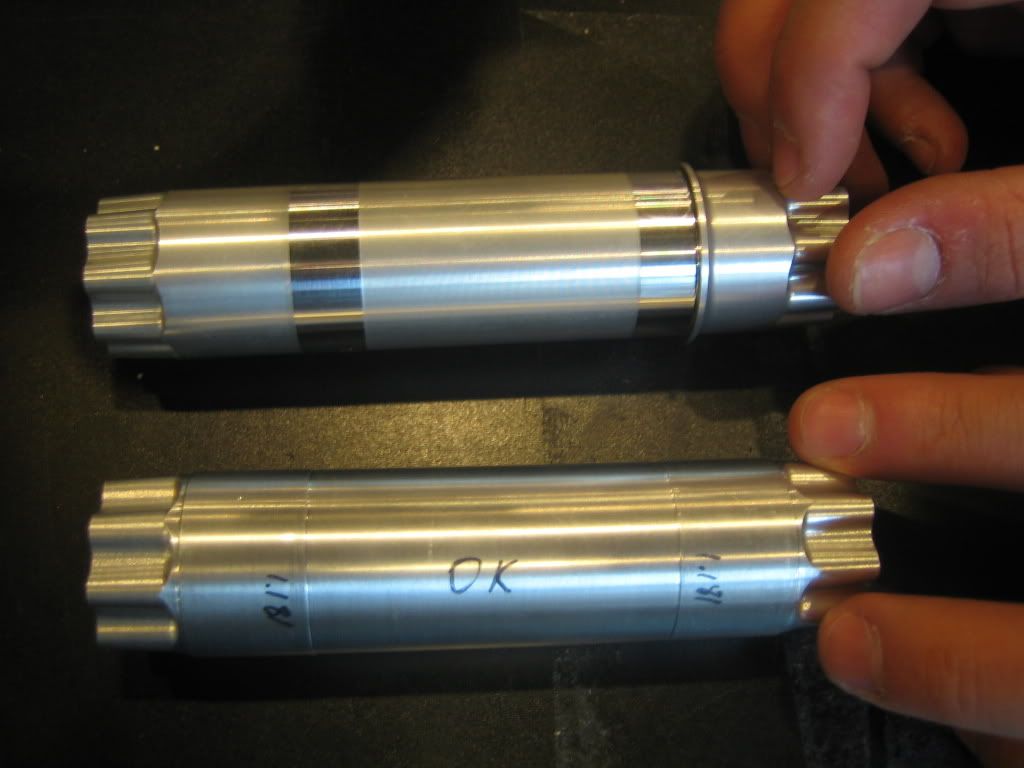 In the above photo you can see the stock cannondale spindle on the top and the modified one below. The bearing surfaces have to be moved and the coller needs to be machined off for the thing to work. Additionally, you will need a spacer has been machined to fill the gap on the excess spindle length. The above spindles are longer than a standard BB30 104 or 103 mm from cannondale or anyone else. They were orginally designed for the Rush 2x9s which were wider for a year.
Knowing that the arms are built around a 104 spindle the stance width does increase a little with the above spindles. Also, the road spiders for the SISLs are machined with a drivetrain offset for the 104 spindle also. Because of that, the chainline on some bikes (particularly those with short chain stays) is not ideal and is spaced a little far to the DS and can become an issue.
What we're currently working on it a few things. First, we're working on machining a custom spider to correct the offset so the drivetrain works. There is obviously no work around for the SRM. Second, we're working on a carbon spider with the offset also and a spider with the BB30 offset (should be light
). Third, I'm looking at making a new spindle from the ground up to fix the stance width. The deal is the Cannondale spindle is about 3-4 mm longer than we need. I'm trying to find a way to make one that is the cirrect length and make sure it's going to be as light as the cannodnale one
and
be made at a price where it is feasible to sale at retail. If I can fix it but the cost is $100 a spindle, it's not likely a viable option for retail and I wouldn't be able to sell enough to make it worth my time.
On top of all this...... I've started my own shop and we own BB30.com as well. So........ you'll have to forgive me if it seems a bit slow coming to market with this. Also, it looks like a lot of the industry is moving to BB30 anyway that or they are moving to standard where the comversion or BB30 woulnd't work anyway..... so.......
Starnut
_________________
"Don't pedal harder, pedal faster!"
Q-FACTOR IS A RED HERRING
BB30.COM