Well, I wouldn't say the Stages is "the business". You're not going to use it to claim you're 2% better this year than last, or even now versus off-season, because it's fundamentally limited by consistency in L-R balance. But it appears you
can
use if for pacing, or for riding intervals, or post-race analysis of if you went too hard at the beginning of a climb, etc, so it's quite useful. It's nice they got the firmware glitches under control.
Big loser in the test is Quarq, which shows appalling drift when it's not been zeroed lately in changing temperature. Zeroing was forced at the yellow lines. Power is orange for Stages, grey for Powertap, and blue for Quarq: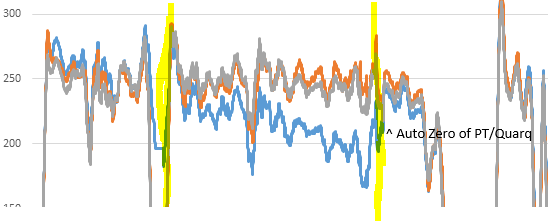 But he asserts that the Powertap also has drift problems. I'm not sure. Look at the second yellow line. The Powertap doesn't move relative to Stages here. Rather my guess is he's getting tired, and his L-R balance has drifted, and that results in a systematic shift in the Stages versus the Powertap.
One thing I get from this is I'm pleased with my early decision to get a Powertap. That doesn't address the Powertap's aging behavior. Mine has issues relative to another I've tested in static torque load testing, for example. But those drifts on the Quarq are super-ugly.
I think the proof in the Stages accuracy will come only with tests done in conjunction with L-R balance data.