bricky21 wrote:
How exactly could someone properly simulate a 20% climb indoors while their bike is sitting level locked in a trainer? That has always been lost on me.
Agreed. Claims of 6 to 8% grade on Real E motion rollers, not to mention climbing on Lynx Trainer, are BS. The maximum grade is approximately zero% !!!!
I think that Elite, the Real E motion rollers manufacturer, has or had an arrangement with Inside Ride to distribute emotion products in some geographical territory (maybe all of Europe, or everywhere except for North America?). But in doing so, Elite actually had its own version of emotion rollers which was different than that sold by Inside Ride in North America. Real E motion rollers appears to be a further effort in that direction, being a product which builds on the emotion technology, but is rather different. I suspect that agreement on geographical purview, and not difference in voltage standards, explains its unavailability in North America.
That said, Inside Ride produced a small number (at least one, anyhow) of something called the "Super Trainer"
Cyclingnews Tech News article from 2004 which includes write up on and pictures of the Super Trainer
and
http://www.operationgadget.com/2005/03/inside_ride_sup.html
, which used to be shown on its website, and was basically a giant adjustable incline treadmill for riding your bike. That was real climbing. A couple of years back, I inquired with Inside Ride about the availability of the Super Trainer, and was told that it was not being produced or available, but that they were considering making a home unit which would have adjustable inclination, though about the same size as, or not much bigger than, emotion rollers, and at a similar or slightly higher price to emotion rollers. Late Friday, I sent an inquiry to Inside Ride asking for an update on status and plans in this regard. I hope that Inside Ride doesn't just produce something similar to Real E Motion and call that adjustable inclination. I made quite clear in my communications with Inside Ride my desire for actual inclination, and how that is different than high resistance at zero inclination. From my experience with a Nordic Track Pro (20 year old model before bankruptcy and cheapening of the brand and products) which has adjustable inclination, it really does simulate climbing, and I am hoping for similar with bicycle rollers, or even more so, a bicycle treadmill. But my hopes aren't very high. And unlike the Nordic Track Pro which requires you to get off the machine to change the inclination (although I think there was eventually a "professional gym" unit which did have adjustable inclination not requiring you to get off the machine), I am hoping, and expecting, that if a true adjustable inclination machine is produced, inclination can be changed by remote control.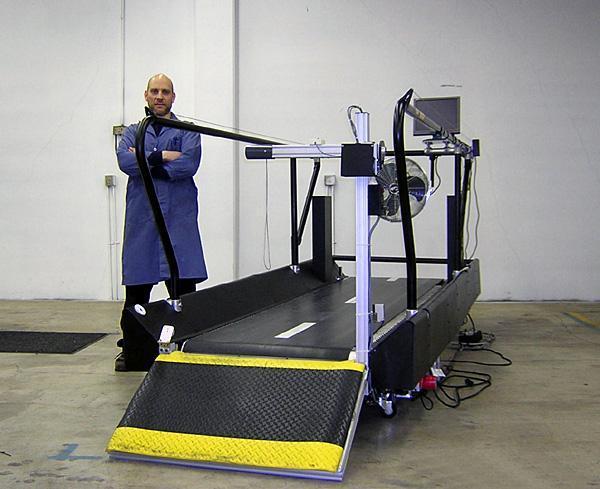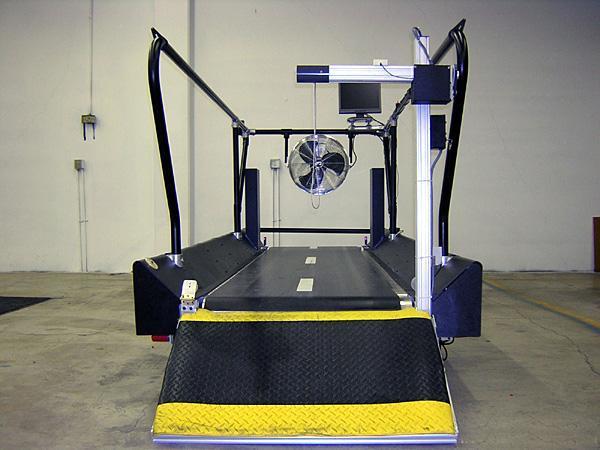 I don't see why, other than need for high price, limited market size, and potential liability issues, someone could not produce something similar to an adjustable inclination running treadmill, but bigger, heavier dutier, and able to handle (much) higher speeds of cycling, with appropriate safety safeguards. I think that perhaps describes the Super Trainer, but perhaps it need not be that large or heavy.
It's current asking price means you're going to have to be Lance Armstrong (or maybe Robin Williams) to consider buying a Super trainer (and getting a 900lb device into your home is going to be interesting too) but prototypes are always spendy - how long till a home version costs $1,000?
Answer: At least 10 years, maybe infinity until a home unit is even available, never mind the price.
kostya416 wrote:
It <Lynx Trainer> is not rigid trainer. The rear wheel rides freely on big roller and the front part is flexible. Your bike has quite a big degree of free movement on that trainer. As for e-motion rollers, try simulating 20% hill on those ans see how far does it get you. Lynx does it with ease and not just resistance but with all proper inertional effects. It has electronic flywheel that tracks your pedaling efforts with the rate of 250 times/s and provides instant and smooth response. It has huge 2HP motor capable of supplying torque in both directions. It is quietm does not require training tire and it does not wear tires either. It is the only "real" cycling simulator on the market. And it is built like a tank out of industrial components to withstand 24x7 abuse for life.
I disagree with kostya416 on this. Climbing is not just about resistance and inertia, climbing brings different muscles into play. Angle matters!! The Lynx Trainer looks like just another expensive video game. Provide an actual mechanism to allow climbing, and forget the video game cr@p.