So the third PlanetX/On-one already!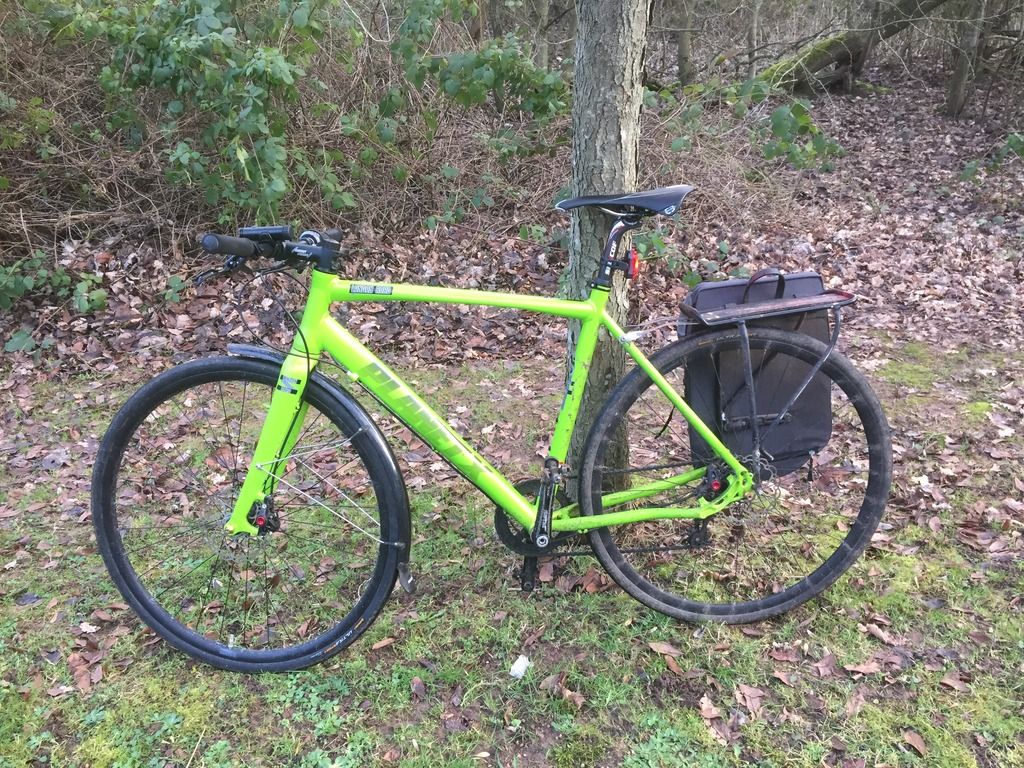 PlanetX London road in Zesty Lime, was a reframe for my old and very tired Carrera Gryphon, shown here by the side of my route to work.
Weight is around 8.8Kg without rack/pannier and guards, as those, including pannier contents, add about another 3.5Kg its not really worth aggressively chasing further weight savings unless a part is being changed anyway.
PX LR frameset (alloy frame and carbon forks), Selcof carbon seatpost with Bontrager Inform RXL saddle, Bikehut forged CNC stem and BBB Fibretop bars with Pork rind foam grips (now 6 years old).
Wheelset is from a Pinnacle Hybrid, offset drilled Alex rim and unbranded cup and cone hubs but not too bad at sub 2Kg for the pair.
Alligator discs on KCNC centrelock adaptors slowed by Clarks M2 brakes.
Conti Ultrasport II in 700x28c which are a decent compromise between weight and drag and resistance to deflations.
Sram X0 grip shifter (no delicate levers to get damaged) and X9 short cage rear mech with an Ultegra 12-28 cassette.
GXP crankset spinning in Shimano XT BB (with adaptor) with a narrow wide 44t ring.
Contemplating a change of bar (prefer more backsweep than this has) and stem (-17 to drop the bars a bit more).
_________________
Impoverished weight weenie wanna-be!
Budget 26" HT build
viewtopic.php?f=10&t=110956