Ok, so when I started this thread I had just built up the G5. Happy at first - blinded by getting something new maybe, but things never really seemed to click. Sure, it was stiff, fast, aero and so on, but those atributes don't really matter to me. End of story is that I sold it.
In retrospect the issue was probably the sizing. I came off a BH G3, that my brother overtook, and when comparing this to the G5 I ended up between sizes. In turn this lead to the following: Small G3 --> medium G5. At the time the HT length of the small G5 seemed way to short (120mm) and it still on the limit. (We don't ride with spacers do we
) Also I think the seatpost may be to short for my ~770mm bb-top. Anyways, the TT of the G5 then ended up a bit long and that's it. The solution was of course to get a new bike
For those of you following the Colnago picture thread you have probably already seen the outcome:
C40 HP B-stay, NL4:
One thing lead to another and after a lot of working that year and a little help from Ebay another one was born. The bike with the coolest name in the business:
Extreme Power, PR82 (Saronni):
The problem with building nice bikes though, is beeing afraid of damaging them. I usually do a couple of training camps abroad during the winter and the fall riding up north can be quite challenging at times. Therefore I wanted a beater bike. My C40 was retrofied with a 10 speed Record group which meant that I now had a Chorus group at my disposal. Handlebars, stems and seaposts are always nice to have, which I did/do, so I only needed a frame and a wheelset. However money was short so my dreams of finding an already upbeaten C50 or CT2 seemed distant ...
The G3! My brother had grown away from it, literally, so I threw it together and ordered a Zonda wheelset. Having built a few wheels myself, getting a factory build seems weird, but I had heard good things about them, they look nice and I just wanted to broaden my horizon. Things came together last night, just in time for a two week camp at the Canary Islands, leaving on tuesday
BH G3: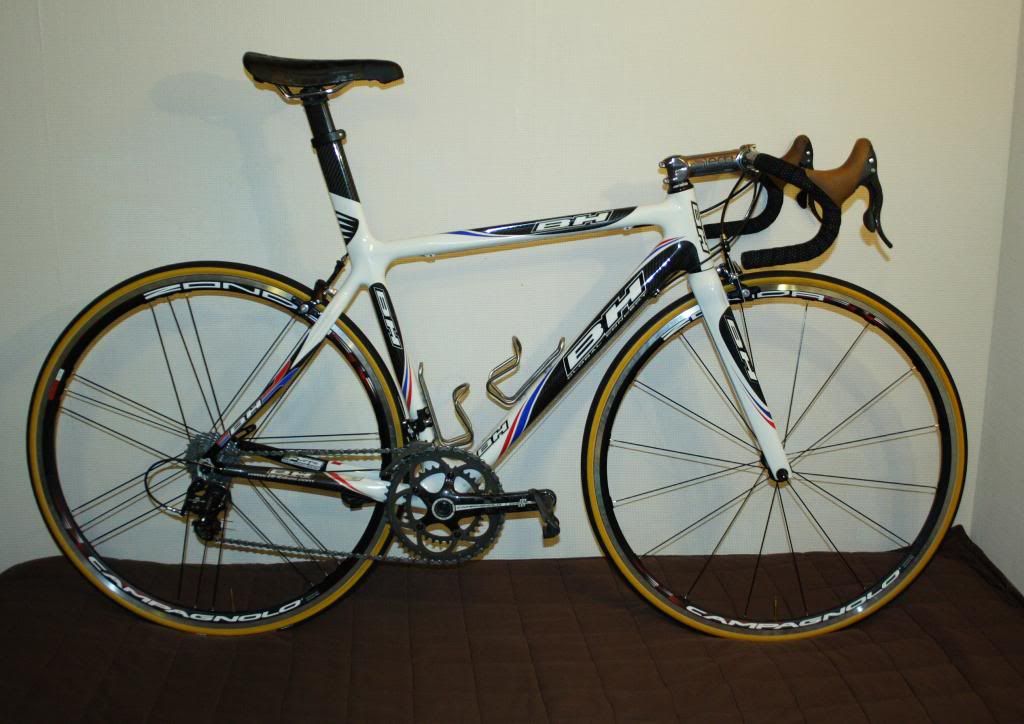 A couple of notes: Didn't really plan the tan hoods for this one, just didn't bother to swap after removing the group from the C40. Seatpost is but ugly and has suffered from over torquing. A replacement post and clamp from a donor G5 is on it's way. May also install a carbon saddle when the new post arrives. And since this is WW: Weight is about 7,2kg or 16lbs.