Scott Addicted
2014 Scott Addict - Unplanned but in hand and manned.
This is the very first new bicycle I've ever bought, not counting my first MTB back in 1992,
that I got as a birthday present. In fact, I haven't bought a complete bike of any kind since
my Mountain Cycle MOHO back in 1999! The reason for a change in practice and a completely
unplanned purchase - a friend of mine, who was buying a groupset and wheels off of my
Scott CybeR1, cunningly managed to sway me towards selling him a complete bike!
Therefore, lo and behold - meet a bog-standard 2014 Scott Addict 20.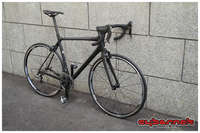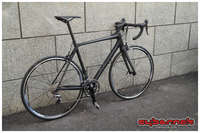 2014 Scott Addict 20 - The latest Scott's racing machine - purchased at Planet Bike Belgrade.
This is the entry level model Addict, with lower grade HMF grade carbon fibre frameset
(as compared to flagship HMX), specced with 10-speed components but otherwise the same
as the next model up - 11-speed Ultegra equipped Addict 10.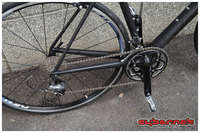 A mix of 6700 Ultegra and 5700 105 groups and RS11 wheelset - not bad for a start and easy
to upgrade in the future... But that "ain't gonna cut it" for me, so the bike was destined
to be taken apart the very next day after purchase, as I had only bought it for its frameset 3:).
16/Jul/2014 - The day of the build. Well - tear-down and build-up.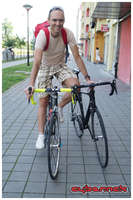 Now we're talking! This is how I prefer my bikes - built up from framesets! Since I've built
a few new bikes (or should I say - Scott bikes) in recent years, you could say that I am addicted
to it - so I thought this would be a perfect name for this Scott Addict project: "Addicted".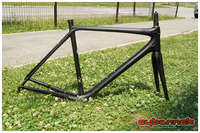 Let's get down to business - Scott Addict HMF bare frame weight = 946 grams in size L/56
(pictured with press-fit BB installed @ 1019 g). I was hoping and expecting greater weight
savings over my (exceptionally light) CR1 frame than only 19 g![/img]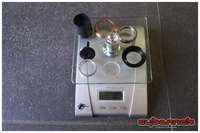 However, a few grams here and there and the total weight savings for a functional frameset
came up to 107 grams in favour of Addict vs CR1. To keep this already-long post short,
you can check the details about that in the gallery.
To be continued...
Full-size photos:
http://photos.cybernck.com/addicted