Moderator: Moderator Team
Update.
---
---
---
Thanks for the comment Roobay.
Well, about missing some of your bikes, when i've a look at your signature i bet you still have some nice alternatives.
At the moment i did install the Gravitas brakes on the BMC but i'm not that happy that i had to modify just a little bit the brakepad holders as they rub against the rear triangle and the fork. Also getting them centered is a bit difficult. But tomorrow i'll work more on it. I'm happy i could get them using with PowerCordz. It's very tight but it works pretty well, unless the centering...
---
Nice
Vortex
Smokey
What size frame is that LS
Vortex
? I'm not too fond of painted titanium bikes but this color combo is looking good.
Is the lettering custom made ?
---
Hi Adri! Long time no see! How are you? Still off-roading out there?
Well, about the bike, frame's a 55cm. And don't worry about painting Ti, this one is just covered with some high-stretch pvc foil. My father works with this material in the advertising sector. I don't want to get it painted because i wasn't sure about the design. But i've to admit that just sticking foil on it, the look is really crisp and only if you look from very nearby you can see that this is just foil. But i'm planning to get rid of this design and trying to make another one. Like this i can change the look of the bike without expensive costs. Lettering is custom. But everthing is possible as long as the parts are not too small.
BTW, it's time to check your website again...i'm curious about your bikes...
---
Just got myself a 2001
Litespeed
Vortex
frame.
Will post pics when fully mounted. Will re-use some old stuff hanging on my present roadframe, a 15 y/o Scott AFD 703 with an 8-speed transmission .
But will need a new fork to start with. Looking at ControlTech, Reynolds or Easton. Have to check about your AlphaQ GS30 fork. Looks cool on your frame.
Then, if it is possible , find some new wheels that take an 8-speed cassette.
---
Hi folks,
A new year so i was thinking about a new look for my
Litespeed
. After all i wasn't really happy about the white decals so i went for a lil' bit of colour now...A long time that i've been thinking of doing something with green so here's my idea...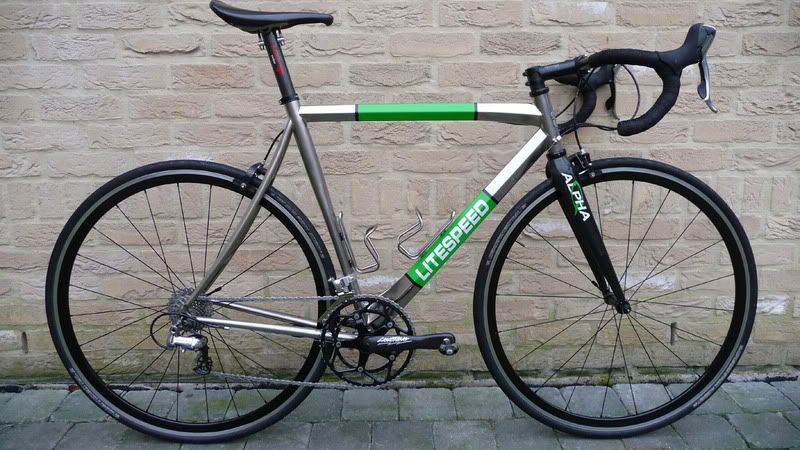 Further no mechanical updates beside the normal change of chain and cassette and tyres.
Oops, i've almost forgotten a little detail...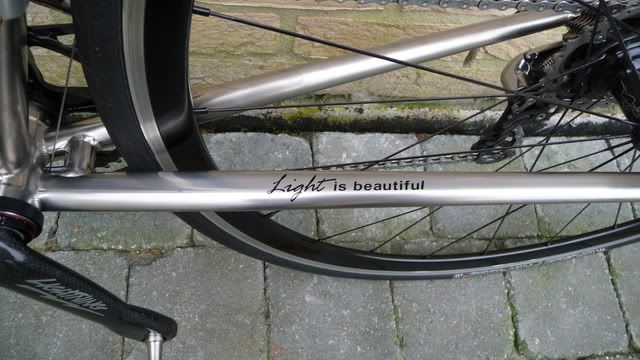 ...Where did i see that before?
Next thing to upgrade is the BMC as i've some CF chainrings, Extralite OS stem, new Ultrastar, Edge 1.0 fork, Ti cassette, Extralite headset and the normal wear (tyres,etc.)
Enjoy your rides.
---
Nice, makes me think of Seven
Shortly my
Vortex
will be up and running. I will have a 10-speed Campa Chorus group on it and possibly Neutron wheels. Still looking at the details.
TIP: KCNC has new Ti6/4 jockey wheels, priced exuberantly expensive...
http://www.burls.co.uk/shop/kcnc-tidlc- ... -1146.html
---
I did hear before of the pulleys Adri, but i find them pretty heavy...
Maybe i could give them a try but i've already bought some new CF pulleys so it would be for next year then...and...+100pounds for a single pulley?!?
---
Similar Topics

Replies
Views

Last post