Well a new bike for the stable. A Klein Qunatum from a year I can't quite fathom. This bike is also rather odd in that it does not have the press fit BB. The bike came fitted with some heavy FIR wheels and 3ttt forma bars, a very light icon quill stem and an ultegra BB and cassette.
currently the bike is not finished but its getting closer. I have to wrap the bar tape and postion the bars and shifters properly.
The frame is 61cm which is a bit tall for me but the top tube is the right length so the position is fine.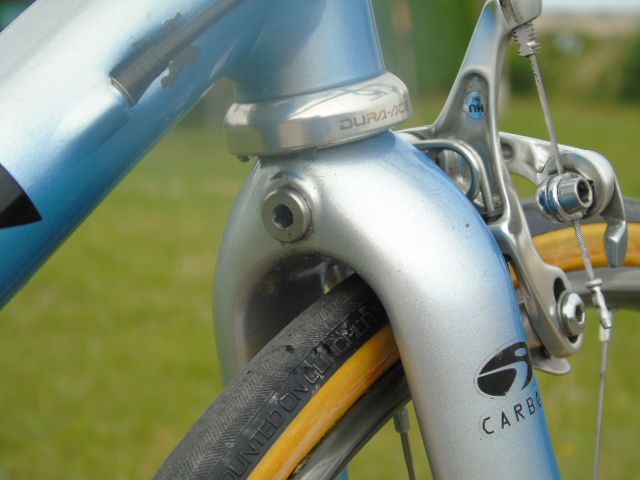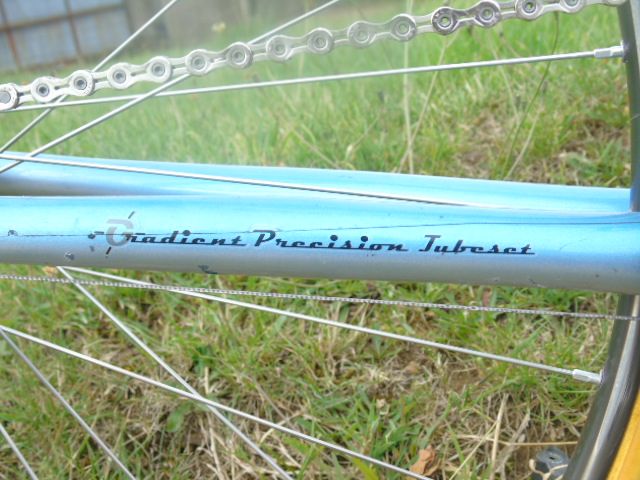 Current spec changes
ITM millenium carbon bars (NOS) fitted these are 215g and that saves 85g from memory. the reach on the bars is a bit long though.
Modolo 120mm quill stem fitted to replace the 130mm icon stem which was far too long with these new bars. 80g gained by this part though! 280g
Dura Ace 7700 BB saving 50g over the ultegra part 173g?
Dura Ace 9 speed cassette 161g
KMC x10SL
Dura Ace 7700 chainset 613g
Dura Ace 7410 headset
Dura Ace 7700 brakes
Dura Ace 7700 STI's
Dura Ace 7700 rear mech partially tuned with a blue alloy main pivot bolt and blue pulley screws I have forgotten the final weight. Carbon pulley and other alloy bolts yet to be fitted.
Look Keo2 Max pedals (these look wrong and have to be changed) 261g
Icon seat post - to be changed
Sella Italia Flite saddle - to be changed
Mavic GEL280 rims 32H Novatec A171/F172 hubs sapim race spokes rear sapim laser spokes front (1380g)
Vittoria Corsa SC 23mm tubulars
Ebay Ti skewers 43g
Current weight 7.79kg
There is so much more weight to be saved.
I have on order 20F/24R Carbon Ti hubs in silver (214g) which I will lace to 300g 38mm deep tubular rims with Sapim CX ray spokes these will weigh 1020g saving 360g over the current wheels.
There is a thompson master piece seat post waiting to be fitted. It weighs 170g but once it is cut down it should save over 50g compared to the current post.
One of Jure Berks saddles (maybe he can do the padded saddle with blue leather?) will save 200g
I have a set of silver Planet X brakes which are 100g lighter than the DA7700 brakes. However there is a SRP Ti bolt kit on here which may or may not have been sold might try that instead.
BTP carbon clamps for the STI's will save a few grams.
Power Cordz cables will save some more weight
All that will bring the weight to under 7kg
There is an interesting carbon square taper crankset on BTP mythic which is claimed to be 282g. With carbon chainrings and light Ti BB a sub 500g chainset/BB combo is possible. However the addition of carbon fibre chainset may clash with all the silver so a wholesale change maybe needed.
I hope to get this bike as close as is possible to 6kg however this will take time. 7kg is the immediate goal when parts arrive.