Hello guys!
Firstly, sorry for my bad english, I'm french.
I open this topic to tell you the Evolution of my first real road. I expect useful intervention on your part but also advice on how to alleviate or make it more efficient while my machine by paying as little as possible .
A month ago I found this on a Cannondale classifieds site is really cheap. less than € 400 . here it is as I recovered:
Settings aren't mines.
Little bike check when i receiving it:
Frame:
Cannondale Caad 10 size 56 2013.
Fork/Headset:
Cannondale / Tange
Crankset/Bottom Bracket:
Sram S900/BB30
Pedals:
Speedplay inox
Drivetrain/Cog/Chainring/Chain:
Sram/Sram
Derailleurs/Shifters:
Sram force 10v SS -190g-
Sram force Braze-on -88gr-
Sram force Shifters Green -303gr-
Handlebars/Stem:
Cannondale C1 44 cm -350gr-
Cannondale C1 100 mm -103gr-
Saddle/Seatpost:
Fizik Arione Kium -225 gr-
Cannondale C1 27.2 -202 gr-
Brakes:
Sram Force -280 gr-
Front Wheel/Hub/Tire:
Fsa/Velomax/Continental 4seasons 28
Rear Wheel/Hub/Tire:
Fsa/PowerTap/Continental 4seasons 28
8.5kg in this version.
Second version:
Third version: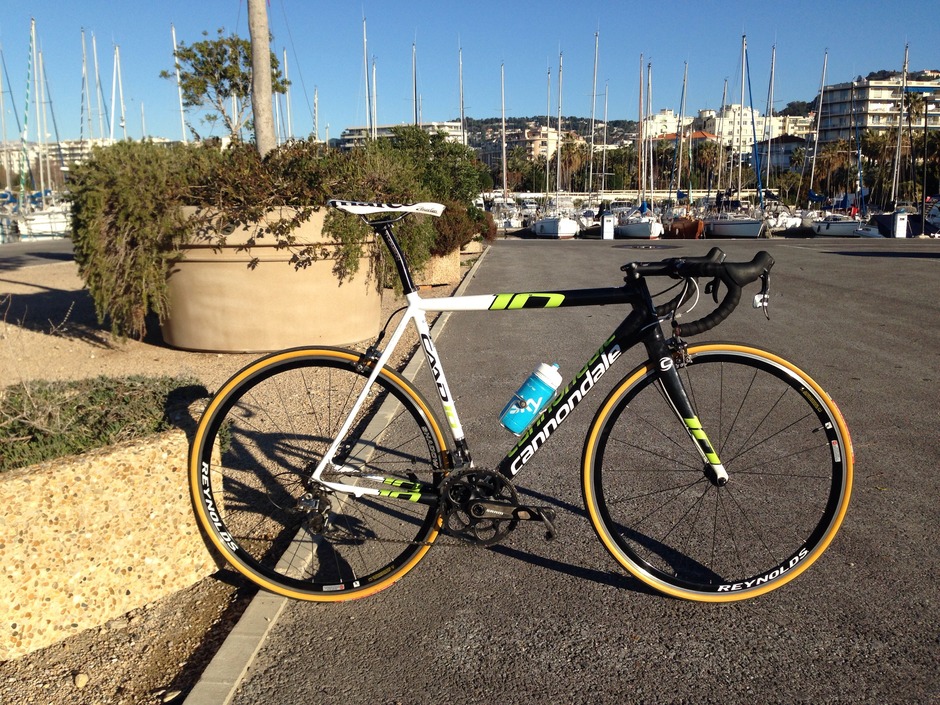 Now looks like this:
Approximately 7-7.1Kg without pedals, bottle and Garmin Edge 200.