@ holycao86...
I find both to be comfy in rides under 100 miles. On rides over 100 miles I prefer the Arione slightly over the Aspide. The reasons for this...
1) Arione is slightly wider in the nose than Aspide, I like my prostate smashed evenly over a larger surface area. The Aspide isn't bad, just puts a tiny bit more pressure on my junk. A narrow nose is the main downfall of the Aspide to me. When I climb in the saddle I tend to slide back on the seat and sqeeze out the pedal strokes with my glutes (ass muscles). As a result I can feel the rails (that stick out slightly near the front) on the Aspide.
2) Arione has slightly thicker padding in the nose. The chassis is firm but the padding gives just enough for being as dense as it is.
On the Aspide there is less padding, BUT the chassis is flexy so it gives under your weight (absorbing shock) making it very comfy still.
3) Arione is a
long
saddle. I like to move around a lot when I ride long distance. There isn't enough real estate to do the same on the Aspide.
I really like both saddles, but the Arione wins out by just a little for it's flexibility in positions and comfort over really long rides. for example, I won't even feel the Arione after 200 miles but with the Aspide there is a tiny bit of pressure on the perineum. Only negative trait of the Arione is the weight.
I hope that helps a little. I actually went to a used bike shop a few blocks away and test rode both of them before buying because everyone's butt crack is different.
Now off my crack and back to my weenie! Just added this to my bike...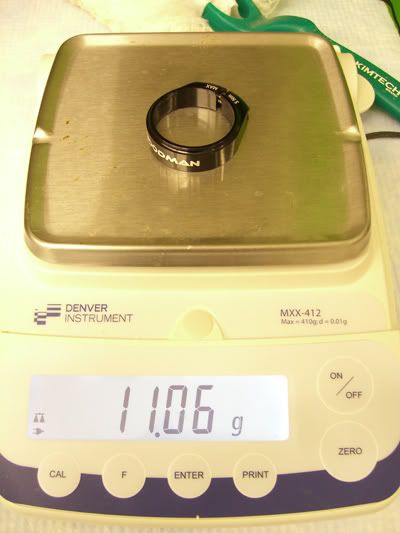 Now the Bianchi is down from 16.2lbs to 15.8lbs (with all the other stuff highlighted in
red
from page 1). Yeah!
How do you like the woodman seatclamp? It's lighter than KCNC one I'm using now and much cheaper than BTP ones..