Thought I'd come play.
Anyhoo
49yr old racer. 12 hour solo, Ultra endurance, XC, whatever.
Race FS. 04 M Spider(frame bought off Ebay in early 06). 23lb 1oz with steel front rotor(note Stans rotors in pic for race season). Just finished freshening it up for next season(starts this Jan. with a freezing 34 miles of tech, sufferest w/ 5500' of climbing).
Just finished..New BB bearings. Chain. Middlering. Rear shock. Cables. 970 RD. 952 FD.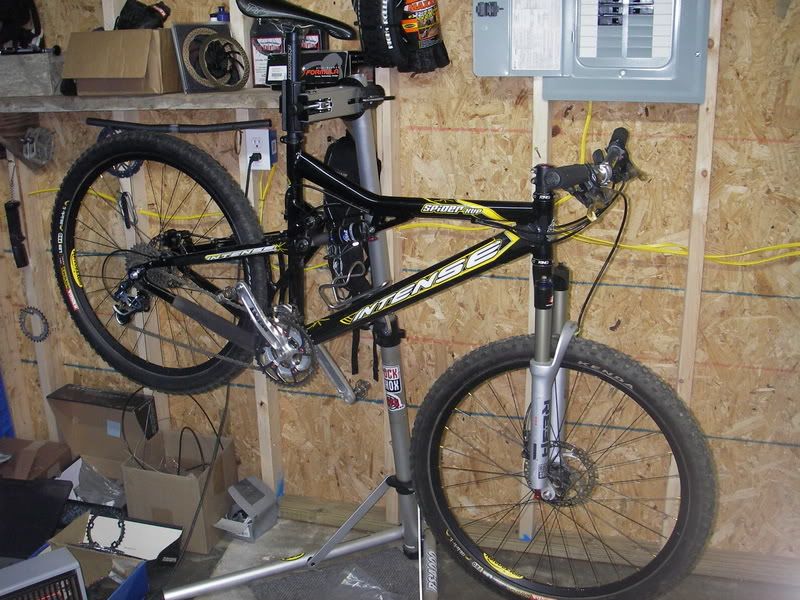 Reba Race
08 Fox Float R rear shock
Easton EC70 Monkeylite
WCS stem w ti bolts
Extralite UL The Post
Flite TT
RF Turbine LP compact cranks, 42-30-22(ti ganny), all alum-FRM ISIS BB, crankbolts, ringbolts
Twin Ti Eggs
XTR952 Rapid Fires
XTR952 FD
XTR RD 07(970?)
XTR960 11-34 cassette
Olympics,supercomps, alum nips,WTB Lazerlites, bolt-ons
Karma DTCs, Stans w tape only+1 scoop
King Ti bottlecage w ti bolts
Haye Mags w ti/alum bolts, 140mm rr rotor(ti rotor bolts), DangerBoy levers
Ritchey WCS grips
90% of all hardware is Ti or alum.
Race HT. 04 XTC Hybrid(carbon rear stays). Frame was also from Ebay. Also just recieved new BB bearings. All fresh for next season.
Fox 05 RLT100
Syntace F99 stem
Thomson Masterpiece post(ti bolts)
Flite Ti
MaxM MX5 carbon bar
RF Next LP compact cranks, 42-30-22, Action Tec Ti sqr tpr BB, ti crankbolts, alum ring bolts.
Sram Attack Triggers
XTR953 RD midcage
XT750 FD
Delta stainless cage w ti bolts
Hope Mono Mini w some alum/ti hardware, 140mm rrr rotor
Ritchey WCS grips
Most bolts are also ti or alum.
With the Spiders wheel setup, post/saddle, pedals, its 20lb 7oz. Or 21lb12oz as shown(BS wheels=1550gm, Stans w rimstrips, 2.20 front Karma, XT cog, QRs, stainless Eggs, etc). Also need to cut the brake lines. Just replaced some Formula B4Pros.
Roadie. 04 TCR Hybrid. Ebay frame as well
. As were the cranks, wheels, RD, brakes. Nothing special at 16lb 11oz. Light enough tho.
Me.