I'm quite a new in road biking. I have had Cannondale CAAD9 cyclocross few years but I haven't been doing road biking very much before this summer. Now I have ridden some thousands kilometers including 200km ja 400km brevets. I'm very enthusiastic for road biking nowadays and so I needed proper bike for that.
This Colnago is second-hand bike equipped with full Campagnolo Super Record Ti 11sp groupset and RAR Svelt 32 wheels. It's in nice condition. Just some very small scratches. My bathroom scales says it is 6,9kg as pictured.
First thing I'm going to change is bar tape. I'll try black one. I thought that I'll change bars right away but now when I have tried those I may keep them. Yes, those are bit heavy and maybe a bit flexy too but those feels very comfortable.
I'll add better photos after bar tape is changed.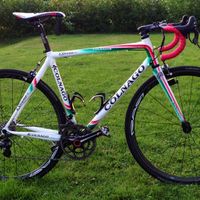 Total weight:
6,85kg
(with updated build list)
Frame : Colnago Extreme-c 52s
Fork : Colnago Carbon 75 - 369g
Headset : ?
Stem: Deda Zero100 Servizio Corse 120mm - 120g
Handlebars : ITM K-sword - 270g
Bartape : Lizard Skins DSP 1.8mm
Seatpost : Colnago - 257g
Saddle: Prologo Nago Evo Tri40 CPC Nack - 198g
Seatpost Collar : Colnago - 24g
Wheels : RAR Svelt 32
Tires : Continental GP4000S 23mm
Tubes: Vittoria Latex
Skewers : RAR, 22g+24g
... Rear wheel with tire on and cassette installed: 1248g
... Front wheel with tire on: 860g
Crankset : Campagnolo Super Record Ti
Bottom Bracket : ?
Chainrings : Campy SR 50/34
Pedals : Look Keo Blade Carbon - 230g
Chain : Campy Record 11sp
Cassette : Campy SR 12-25 11sp
Front Derailleur : Campy SR
Rear Derailleur : Campy SR
Shifters : Campy SR 11sp
Brakes : Campy SR Dual Pivot
Cables : Campy
Bottle Cages : Elite carbon
edit: I got proper scale and added some numbers
edit2: updated build list after some small changes