Hello everyone
My name is Willem and I'm from Belgium
I want to share my project of my new bike for next year.
The bike I've got for the moment is a Specialized Tarmac Pro SL 2010 Size 56
Before I ordered my new frame I have done a Bike fitting. And the result was that I need a size smaller. Also the distance from saddle to shifter should be -+5cm shorter.
I wanted a new Tarmac Pro SL4 2014 (S-Works is over budget). New model out so good discount on last years models. Butt my LBS only had a size 56 left of last years Tarmac Pro in Satin Red/Carbon.
http://www.specialized.com/be/nl/bikes/archive/2014/tarmac/tarmac-sl4-pro-frameset
So next option was the new 2015 Tarmac Pro frameset, Which I think was pretty dark in the beginning, but after a while I started to like it more and more.
So ordered one and now in the coming weeks hope to start to build up my new bike.
After a lot of thinking, reading and looking around I made myself a building list.
Some I allready have and made some pictures on the scale.
Building list:
Frameset: Specialized Tarmac Pro 2015 Satin Carbon/Hyper Green/Charcoal
Fork: Specialized FACT Carbon
Bottom Bracket: OSBB BB30 allready in the frame
Groupset: Full Sram Force 22 with 11-25 cassette and 50-34 compact BB30 Cranck
Seatpost: Specialized S-Works
Saddle: Fizik Antares VS Braided Carbon rail.
Handlebar: 3T Ergonova Team Stealth (44cm, 42cm at the shifters)
Stem: 3t ARX (II???) team stealth (undecided, ARXII only on bolt on the fork and finding it not so pretty)
Wheels: DTSwiss RC38 full carbon clincher (already mine)
Tires: Specialized Roubaix 25mm on DTSwiss
Extra wheelset: Mavic Ksyrium SLE with Mavic Tires(allround wheelset and nice looking with the all black rims)
Bottle cages: Specialized Rib Cage II Matte Black
Weight: ???(Hope around 6.8kg)
Frame: 1153g with BB
Fork: 393g
Seatpost: 193g
Handlebar: 211g
Saddle: 180g
Front Wheel with tire: 1014g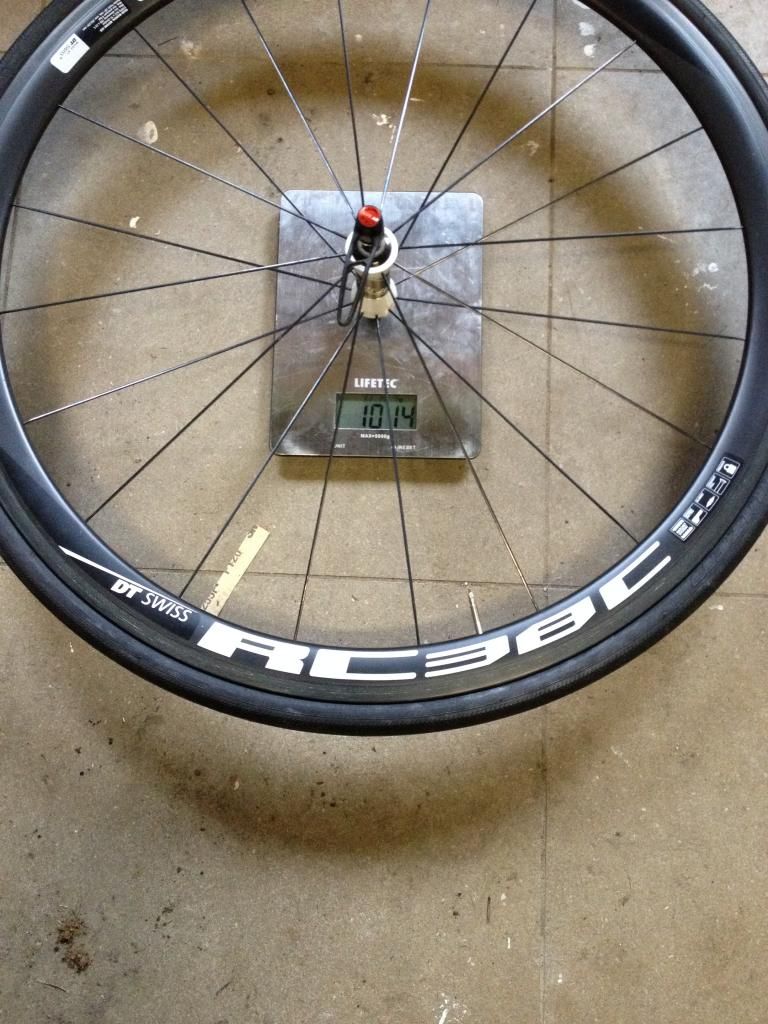 Back Wheel with tire: 1260g
Update follows as soon the groupset is arrived...